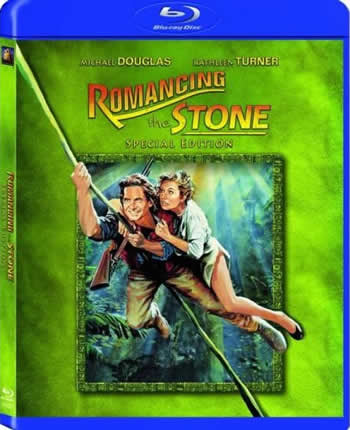 Romancing the Stone and Jewel of the Nile, on Blu-ray
Michael Douglas, Kathleen Turner and Danny DeVito star in this pair of broad romantic adventures that are now available on Blu-ray.
In Romancing the Stone, director Robert Zemeckis (who later would helm the Back to the Future trilogy, Forrest Gump, Contact, The Polar Express, Beowulf and more), brings us the tale of city slicker romance writer Joan Wilder (Turner), who is thrown into an outrageous Indiana Jones-type adventure when she heads to Colombia to rescue her kidnapped sister by delivering a treasure map to her captors.
Stranded in the jungle, lost and frightened, she meets Jack Colton (Douglas, who also produced the film), an American in the country to capture exotic birds and sell them to fanciers.
Thus begins the roller coaster ride that takes them from jungle to waterfall, from drug runner and romance novel fan, and finally to corrupt politician and zealous alligator.
And of course along the way Wilder and Colton fall in love, are torn away from each other, and towards the end you aren't sure if they'll ever be in each other's arms again.
It's very lighthearted, and sometimes borders on silly, but there's plenty of action and humor and, in all, it's a very entertaining romp in the home theater.
The Blu-ray release is good, too. It's clean, mostly, though there's some grain in places; but it doesn't spoil the fun and the film's overall excellent presentation - with good blacks and depth, rich colors and wonderful detail.
Fox, as usually, has chosen DTS-HD Lossless Master Audio 5.1 Surround for its Blu-ray, and it's okay. The audio quality is reasonable, though there isn't a lot of surround use, and it's kind of flat overall. The music sounds nice, though.
For extras, you get some deleted scenes, a "looking back" retrospective featurette ("Rekindling the Romance"), another feature on the screenwriter, Diane Thomas, a "Michael Douglas Remembers" feature and the three stars all talk about their favorite scenes. It isn't the best example of a "special edition," but it's okay.
The success of Romancing the Stone propelled the genesis of the inevitable sequel, Jewel of the Nile, which sees our heroes on an African adventure this time.
When we last saw Joan and Jack they were heading down a New York City street on his yacht, apparently about to embark on an around the world adventure. And apparently they did, 'cause when we next see them they've been spending an easy life on the yacht, but since familiarity breeds contempt, they're bored.
Then, Joan accepts an invitation from a handsome stranger to visit his North African kingdom, much to Jack's chagrin. But when she finds herself in danger as the chase for the mysterious jewel heats up, Jack sets off to rescue her and, aided by old nemesis Ralph (DeVito) is determined to save her.
It's pretty good, but like so many sequels it lacks the originality and charm of "Romancing the Stone.," Where in the original we saw Joan blossom from urban dweeb to adventuress, and Jack go from cynical loner to romantic hero, this time around they've already been there and done that.
The Blu-ray is 1080p, DTS-HD Lossless Master Audio 5.1 Surround, with extras such as a director's commentary, deleted scenes, two featurettes and the trailer.
Romancing the Stone, from 20th Century Fox Home Entertainment
106 min. 1080p widescreen (2.35:1, 16x9 TV compatible), DTS-HD Lossless Master Audio 5.1 Surround
Starring Michael Douglas, Kathleen Turner, Danny DeVito
Produced by Michael Douglas
Written by Diane Thomas, directed by Robert Zemeckis
Jewel of the Nile, from 20th Century Fox Home Entertainment
106 min. 1080p widescreen (2.35:1, 16x9 TV compatible), DTS-HD Lossless Master Audio 5.1 Surround
Starring Michael Douglas, Kathleen Turner, Danny DeVito
Produced by Michael Douglas
Written by Mark Rosenthal and Lawrence Konner, directed by Lewis Teague