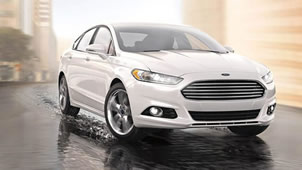 It may look like a James Bond-mobile when you first see it coming at you on the road, but don't confuse Ford's Fusion with high end sports cars. Fusion, in all of its guises, is a decidedly mainstream vehicle - almost pedestrian, if you can say that about a car.
And in its hybrid suit of clothes it's even less sporty, but could save you some money at the gas pump.
That saving, of course, is after you pay the initial "hybrid tax" in the way of a higher sticker price than its gas siblings, but it may pay for itself if you keep the Fusion long enough. more...
Three products designed to make life with your i or Android device even more rewarding than usual offer solutions to very different problems. But do they all pull it off well?
Yes, and no. Read on! more...
Jeep's new Grand Cherokee is a real competitor in the higher end SUV market, big and imposing and comfortable, and with about as much stuff as one could want stuffed into it.
It even features interesting little trim touches that highlight Jeep's long heritage, hearkening back to the days when the brand began by providing the famed little "general purpose" vehicle for the military.
Available with a trio of engine choices, Jeep Canada's "Summit" trim level test vehicle was of the diesel persuasion. more...
A trio of new headphone lines from Bose promises to bring great sound and comfort to consumers, and judging from one of the trio it appears that the company has pulled it off again.
This should surprise no one. Bose has made a reputation for itself as a manufacturer of premium audio equipment, kind of the analogous to the position Apple occupies in the computer world. This means the stuff is not only good, it's also a tad pricey compared to some of the competition, but in both Apple's and Bose's case, that premium means (at least so far!) you can be confident you're buying something good, and that will last.
So it is for these new headphones. more...

The smallest Nissan in Canada has been reborn after a several year hiatus, and its new incarnation is a fun little vehicle that packs a lot of punch - as long as you don't mean "horsepower" - into an affordable package.
And all for an advertised entry level price of under 10 grand! How can this be?
Well, it probably can't. But if you pony up a few thousand dollars extra you can have a pretty decent car that's actually quite a bit of fun to drive. more...
Tablets and smartphones continue to be platforms of choice for millions of people on the go, and the hardware has spawned an entire industry of apps and products designed to make life with the device even more pleasant, productive - or even safe.
The BACtrack mobile breathalyzer is one of these devices, a small handheld unit that can fit in your pocket easily, and which interacts via Bluetooth with a free app to let you know when you've had enough liquid fun. more...
The Toyota Camry, a car I've seen referred to in the past as "an appliance," is a world class family sedan that's comfortable and efficient and undoubtedly as reliable as a wood burning stove. And this current version is even quite attractive and decent to drive. For what more could anyone ask?
Well, if you're trying to assuage your eco guilt enough to put a few grand extra of your hard-earned after-tax income to get a gosh darn Gaia greener hybrid, the Camry is a darn fine choice there, too - and unlike some of the other hybrids in Toyota's large stable, it's still a pretty darn fine car to drive, too.
It's a fine vehicle, in fact, and while I might not buy one if I were looking in this niche, it's not because the Camry's a snoozefest; it isn't. It's surprisingly nice - as if Toyota has heard the whining about their cars being boring and are hitting back with vehicles that continue the company's tradition of offering excellent vehicles, but which now up the smiles per gallon ante as well. This doesn't only apply to the current Camry, either; the new Corolla and Avalon also exhibit this phenomenon and it's very welcome. more...
It may be quite surprising considering Hollywood's well-known liberal and secular bent, but there's a pretty mainstream movie out on Blu-ray now that not only sets itself in the middle of a Christian community, it doesn't make Christians out to be violent, knuckle-dragging wackos worthy of fear and derision.
And that alone makes "Heaven is for Real" worth mentioning. It's not only a real change of pace for today's Hollywood but, even better than that, it's a darn good film that just might make you ask some pointed questions about your own beliefs. more...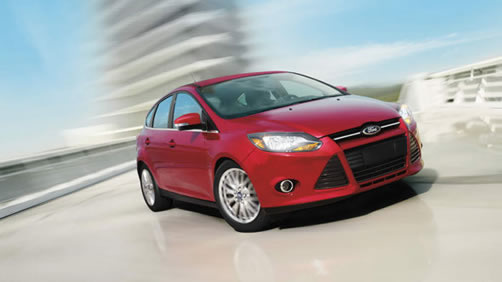 This "bread and butter car" competes in a very crowded market niche - everything but the kitchen sink, including the VW Jetta, the Hyundai Elantra, Kia Forte, Toyota Corolla, Honda Civic and many more - and it goes head to head with some pretty fine vehicles. Obviously, Ford's work is cut out for it to get this car noticed in such as rapidly improving throng.
Fortunately, Ford seems to be up to the task because the 2014 Focus SE Ford of Canada supplied as a test vehicle was a nice car to drive, handsome, equipped well, and priced competitively. Sounds like a winner - and from the number of Foci I see on the streets wherever I go, people must be noticing. more...
Just when you thought your HDTV would keep you state-of-the-art for the foreseeable future, at least, along comes Ultra HD, a whole new ballgame that ups the pixel count to a whole new level.
Also referred to as 4K, Ultra HD TV takes today's 1080p picture - which uses a resolution of 1920 x 1080 pixels to give us breathtaking pictures the like of which we could only dream just a few years ago - and doubles it to 3840 x 2160. And you thought your 1080p TV showed fine detail! more...
---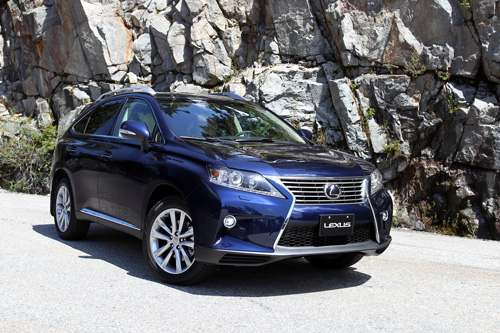 Lexus' top-selling vehicle in Canada gets a new trim level name for 2015, one that should help make it an even more compelling vehicle than it is already. And it was a pretty compelling SUV/Crossover to begin with, comfortable and luxurious and with great resale value.
And yet the new SPORTDESIGN version is the base model! It's one of three RX's, the base and hybrid SPORTDESIGN (the latter of which is now called the RX 450h SPORTDESIGN) and the RX 350 F Sport, which is supposed to be the one that's the most fun to drive. I haven't driven that one yet, but if it's like the rest of the F Sport models it likely won't be that much more fun than the base model. And that's a shame because, while Lexi are great cars, they aren't the greatest to drive if you're an enthusiast, even when they're wearing their  sportiest clothes. more...
Computers and tablets are a dime a dozen, so if a company wants to separate itself from the pack, it needs to offer something unique. Especially if it wants nearly $1000 for it!
That's undoubtedly the rationale behind Acer's Aspire R7, a large but quite nifty Windows notebook PC that can also double as a tablet. Heck, the thing has a footprint large enough that it could triple as a table - or a surfboard - but that's made necessary by its huge (for a tablet) 15.6 inch touch screen. more...
---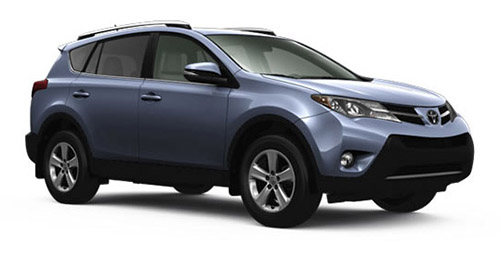 The more time you get behind the wheel of a particular vehicle the better you know it.
You have the luxury of being able to appreciate some of the finer details you might have missed in the initial run - and you may in the meantime have driven similar vehicles that give you an even better perspective of a particular vehicle and how it compares to its peers.
So it was when I reviewed the current generation of the Toyota RAV4, which I said at the time added boxiness and subtracted horses from the previous version. And it was true. That said, the current four cylinder engine is fine. The 2.5 liter unit cranks out 176 horsepower, and I doubt it will bother people who weren't born with lead feet when they're driving under real world conditions. more...
One of my favorite home theater hardware makers has a newer version of its "lower end" Blu-ray player, one that adds a fantastic video processing wrinkle to an already great player.
OPPO Digital's BDP-103D (the final "D" indicates the presence of the Darbee stuff) is a fantastic player - but don't just think of it as a Blu-ray or disc player. That's because, like its big brother the BDP-105 (and 105D) and its non-Darbee sibling the BDP-103, it not only handles your Blu-rays, DVD's and CD's, it'll play just about any audio and video format you throw at it.
I could use most of this column space just listing the player's features and capabilities, so I'll try to only hit the highlights - and there are plenty of them. Besides functioning as a 2D/3D Blu-ray player (it up converts 2D to 3D as well), it'll also hook into your network and let you access (depending on where you live and what you've subscribed to) Netflix, Vudu, CinemaNow, Roku, Pandora and Rhapsody services. It'll also play Kodak Picture CD's and AVCHD, MP4, AVI, MKV files. more...
---
Mazda's little bundle of joy has been putting smiles on enthusiasts' faces for more than 20 years, and it's still about the best iteration of the classic British sports car you can get without being left on the side of the road.
The car was an instant hit and since then has gone on to sell more than 900,000 units, which Mazda claims makes it by far still the best-selling two-seat roadster in the world.
What was in earlier versions called the Miata (and I have to admit I still think of it as that) has grown over the years, like every other car. And while that growth and the addition of new technologies have also made the car heavier, Mazda also upped the oomph ante so that today's MX-5 packs very nearly the same poop aspirated normally that the old Mazdaspeed Miata did with a turbocharger. more...
Apple's iPhone may have been a game changer when it comes to smart cellular phones, but that doesn't mean the competition has been standing still.
Samsung, among others, has been releasing nifty new phones at what seems like a furious pace, not only helping to advance the state of the art but to offer a variety of niche phones for just about anyone who wants such a beast. So it is with the new Galaxy S5, and the less new Galaxy SIII Mini, both of which are great phones for different customers.
Telus sent me samples of both phones and, while the S5 is definitely the more up to date and more robust of the two, it was actually the Mini that appealed to me. more...
---
It might sound a bit silly if you've never seen "My Mother the Car," but South Korean carmaker Kia really does have a soul in its product line, a little people hauler that offers a lot of fun, practicality and bang for the buck.
And that's good for the owners' soul! And pocketbook.
The front-drive Soul is a boxy little thing, kind of like Scion's xB or the silly-looking Nissan Cube, but not quite as boxy and displaying more, er, personality (you thought I was going to say soul, didn't you?). As such, it's kind of utilitarian, in that it's a rather mainstream "two box" (engine and passenger compartment) hatchback that offers a lot more room inside than you might expect. It's no minivan, but it's pretty good. It's kind of like a smaller Rio, except it only offers two rows of seats, which is probably fine for most people. more...
Paul Hogan and John Wayne - let alone Crocodile Dundee and G. W. McLintock - are very different characters, but they're both heroes in their own way and despite their vast differences in backgrounds (let alone eras!) they draw on many of the same strengths to live their lives.
Both are straightforward men, competent, at home in their environments. They're honest and decent and, while McLintock is more a leader and Dundee more of a loner, you feel you could do business with either and not fear being cheated. And they're both men worth emulating. more...
---
If you're looking for a four door car that gives you the reliability of Toyota's Camry, but ups the luxury quotient substantially, you really should take a look at the Lexus ES.
Available as the enviro-raping ES 350 or as the enviro-saving ES 300h, the ES a very nice place to conduct the business of both driving and "passenging" and this current generation is the nicest in a line of ES sedans that stretches back to Lexus' genesis (no Hyundai joke intended). The other original model, by the way, is the big LS. more...
Bose has a handy system for getting tunes from your computer and spread through your house, with typically Bose sound quality along the way.
It's the SoundTouch series of hardware and software, a terrific system that works well and will probably only work better as time passes as they add more supported services to their software. In the meantime, you can stream pretty well anything that's on your network - as long as their file formats are compatible - and I've also streamed a couple of my favorite radio stations' online streams. more...
---
We welcome your comments!
TechnoFile: "The Tech Magazine for the Rest of Us!"
TechnoFile publisher Jim Bray's print columns are available through the
TechnoFile Syndicate.
Note: Unless otherwise noted, prices in this publication are quoted in US dollars.

TechnoFile is copyright and a registered trademark © ® of
Pandemonium Productions. All rights reserved.
E-mail us Here!
---