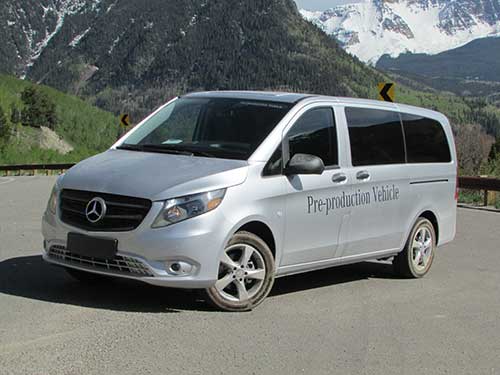 Don't call Mercedes-Benz' soon-to-be-released Metris a minivan.
That's the mostly unspoken but highly evident sentiment from Mercedes-Benz, which is unleashing its mid-sized alternative to the popular Sprinter commercial van in October of this year.
"The target group is really commercial customers," said Mathias Geisen, General Manager, Product Management & Marketing, for Mercedes-Benz Vans USA, adding with a smile that "we will not keep anyone from buying this van, because we're paid to sell cars." Geisen noted the company has a "real minivan variant in Europe, the V-Class, but it has a completely different instrument cluster, plus leather trim and stuff like that." There are no plans to bring the V-Class to North America at this time. more...
Call it better driving through technology.
A recent vacation trip to visit family on Vancouver Island and in Washington State really brought home the value of a couple of devices I've been using to help keep my car and my family safe - and clear of unnecessary "imperial entanglements."
One helped keep my speed within Smokey's parameters despite a flaw in my car's info systems, while the other correctly diagnosed a different flaw in my car, giving me peace of mind for the rest of our trip. more...
If you've always loved the VW Golf but want something with which you can carry more stuff, the German carmaker has a Golf model for you to love.
It's the Golf Sportwagon, which is a terrific car and I have to admit up front that if I didn't already have a VW-owned wagon in my life I might be stampeding for the nearest dealership to sign on the dotted line. That's how much I loved this car.
Sportwagons start at $22,495 Canadian for the base, "Trendline" model, but VW's sample was of the top, Highline persuasion, which starts at $30,495. VW's sample was even pricier, at $35,720, because it also included the multimedia package. Add about two grand if you opt for the diesel, in whatever trim level you care to choose. A lot of money for a stretched Golf? Perhaps, but it's a lot of car! more...
Fans of The Who will want to see Lambert and Stamp, a new documentary by director James D. Cooper that gives us a look at the duo who took a raw and unpolished gem of a rock band and honed it into the legendary musical and cultural force it became.
Lambert and Stamp are, or were to be more accurate, Kit Lambert and Chris Stamp, a pair of aspiring filmmakers who put their cinematic dreams on hold, kind of, after they saw The High Numbers perform in a London club and decided they wanted to manage the quartet of very diverse but gifted individuals. more...

Mitsubishi's entry into the crowded entry level SUV/Crossover market is a decent vehicle made even more so for the 2015 model year. The RVR (called the Outlander Sport in the U.S. market) now sports a mid-year added 2.4 litre four banger for the GT and SE Limited versions, adding a bit more oomph compared to the base two litre version that's still available on the ES, SE 2WD and 4WD models.
Mitsubishi says its decision to offer the two power plants was born from the engineering team's desire to "strike a balance of fuel efficiency and power - as well as offering a broader choice to consumers." So it is that the larger engine puts out 168/167 horsepower/torque compared to its little brother's 148/145, and who can argue with added get up and go, especially considering it still gets decent fuel mileage of 8.9 litres per 100 km in its all-wheel drive (or, in Mitsubishi lingo "all wheel control") livery. The two litre, by the way, is rated at 7.3 l/100 km. more...
It used to be the EL, then the CSX and now it's the ILX. Whatever you want to call it, it's Acura's lowest priced sedan and it's a darn nice one all things considered.
Sure, it's basically a gussied up Honda Civic, but if you have to start with something as the basis for a car, you could do a lot worse!
That said, the car reminds me of the original generation Acura TSX, which also didn't offer excessive power but which was about as much fun as you could get from a normally-aspirated four banger back then. The ILX doesn't feel as sporty and spry as the TSX, sadly, but it's pretty good nonetheless, especially if you press it. more...
(a special TechnoFile rant)
It may not save you money, but if you're looking for a way to fight back at the airlines that still charge baggage fees now that fuel prices have dropped, I have a strategy that may help - a way to get your bags where you're going without paying the pound of flesh to the airline, while making it even easier to deal with airport hassles.
My wife - genius that she is - suggested to me last Christmas that we should look into using a courier to ship my Dad's suitcase for his annual trip west. Dad's 95 this year and the thought of him dragging his heavy bag from the house to the taxi, then to the airport check-in, bothered us and I guess it took the baggage fee to finally spur us into action. So we were spurred. more...
BMW's 2 series is yet another example of how the German automaker can get away with calling itself "the ultimate driving machine." That's because, like most of BMW's vehicles I've been fortunate enough to spend time with, it's wonderful to drive, offering handling and performance that are the stuff of dreams and I can see why people love being behind their steering wheels.
Alas, there's another important aspect of modern cars in today's ultracompetitive market, and that's the experience of living with them - how do their interfaces work and how easy are they to learn? - and in that respect BMW still has a way to go. It's a shame. I love driving BMW's but really can't fathom the company's thinking in how they design the occupant interfaces. But let's talk about the great things about this car before I start dumping on it. more...
Sennheiser's RS 175 wireless headphones are a nice way to keep your tunes - or whatever you're listening to - private while freeing you from being tethered to your audio system. And they do a nice job of it. They sound good, too, as well as offering bass boost and fake surround sound settings.
I haven't tested a set of wireless headphones in 20 years or more, partly because the ones I tried back then weren't very good and that spoiled the technology for me. Twenty years is an eternity in technology, however, so when I got Sennheiser's press release about the RS 175 I was intrigued. Would these phones offer the sound quality as well as the convenience I want? And what are the tradeoffs? more...
Chalk up another hit for the "Zoom-Zoom" folk, if there's any justice left in the world. That's because Mazda's brand new CX-3 SUV/crossover is a terrific vehicle that should compete well in its market niche.  It's a fun little beastie that, like most Mazdas, is a relative blast to drive.
The new CX-3 occupies the "subcompact crossover" segment, so it's competing with things like the new Honda HR-V, which I have yet to drive but look forward to opining about, as well as the Nissan Juke and others of that ilk. And of the ones in this niche that I have driven so far, the Mazda is easily the best "driver's car" of the bunch. more...
---
The 2015 Ram 2500 Power Wagon is one heck of a truck, big and powerful and equipped very well. It's also so high off the ground that shorter folks might find it a real chore getting in and out of it.
Once you're ensconced in this large pickup, however, you're greeted with a comfortable and luxurious vehicle that contains pretty well all the technology you could want these days. The sample truck - officially called the Ram 2500 SLT Power Wagon Crew Cab 4x4 - came with a 6.4 litre HEMI V8 engine mated to a six speed automatic transmission. The Ram also has a "FuelSaver MDS" cylinder deactivation system, which is meant to make the massive motor munch a bit less manna than you might think it should given its 410 horsepower @ 5,600 rpm, torque of 429 ft.-lb. @ 4,000 rpm and the overall solid and heavy design and construction of the truck itself. more...
A special TechnoFile report.
There's lots of buzz about self-driving vehicles and how they can either be the best or worst thing about traffic problems and road deaths - but what do real people, as opposed to the vested interests - think about the concept?
That's the question asked of people in a new survey, "Motorists' preferences for different levels of vehicle automation," by Brandon Schoettle and Michael Sivak of the University of Michigan's Transportation Research Institute. "Self-driving vehicles are often discussed in regard to their potential safety, energy consumption, and environmental benefits, or the existing technical challenges that must be overcome for their successful implementation," the report starts, noting that "less attention has been paid  to considering the actual level of automation (if any) that drivers desire in their vehicle." In other words, in all this talk about how wonderful a self-driving car might be, has anyone bothered to ask the people who actually use - and buy - them? more...
---
It's no STI - or even a WRX, but the 2015 Subaru Impreza PZEV can still be a reasonably compelling drive despite its uninteresting power plant. 
The PZEV moniker means it's a "partial zero emissions vehicle," and though I know they're trying to differentiate themselves from "dirtier" engines, you could say that every other car that isn't all-electric is also a "partial zero emissions vehicle" - because "partial" does not mean "is" zero emissions. In fact, Subaru describes PZEV as producing "zero evaporative emissions, offering extremely clean emissions" and making "the most of every drop of fuel" and the company claims the car can get up to 8.5 L/100 km in the city and 6.4 L/100 km on the highway, even with its all-wheel drive configuration.
I can only imagine how much fun it would be to drive in a manner conducive to getting those figures… more...
A big item from my misspent youth - and that of other boomers - is soldiering on, a formerly analogue addiction now trying to survive in digital and streaming world.
It's the old fashioned jukebox, like we used to see in diners and clubs years ago. Whether they were floor standing models or mounted by the individual tables, the classic jukebox styles of old were almost as much of a gathering place for youngsters inside establishments as the parking lot outside was in days gone by. Jukeboxes, and AM radio, undoubtedly helped spur record sales in that era, too. more...
---
After debuting to much hullaballoo from enthusiasts, the Mazda6 sedan has soldiered on in near anonymity in its current generation - I see oodles of 3's on the road but it's rare to see a 6 around here, and that's a darn shame because the 6 is pretty well everything the 3 is, but bigger (though no hatchback or V6, alas).
Despite having no hatch or V6, the Mazda6 is a fine car. In fact, it was named the 2014 Canadian Car of the Year after competing in the Automobile Journalists of Canada Canadian Car of the Year TestFest. And it was a deserving winner. more...
It's cool and it's high tech, but to this middle aged user Samsung's Galaxy S6 Edge is as annoying as it is innovative and interesting. Of course, maybe that's just me, because nearly everyone I showed the phone to thought it was the greatest thing since sliced bread.
Go figure.
You may have seen the S6 Edge in commercials; it's the phone whose screen wraps around at the edges, like it's been extruded from the phone's body, and it looks great. It also feels very solid and built well and the screen is simply lovely. more...
---
We welcome your comments!
TechnoFile: "The Tech Magazine for the Rest of Us!"
TechnoFile publisher Jim Bray's print columns are available through the
TechnoFile Syndicate.
Note: Unless otherwise noted, prices in this publication are quoted in US dollars.

TechnoFile is copyright and a registered trademark © ® of
Pandemonium Productions. All rights reserved.
E-mail us Here!
---