Updated May 17, 2018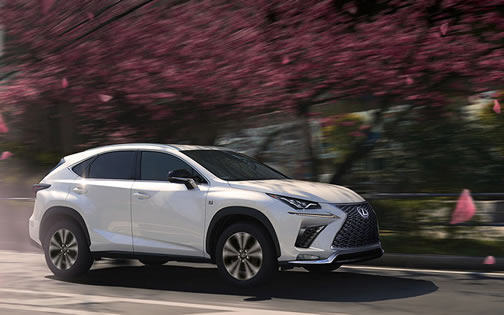 The good news is that my favourite Lexus has received some tweaking for 2018, and the Japanese luxury brand has wisely refrained from messing too much with the successful NX SUV/crossover.
The bad news is that doesn't mean there's nothing to whine about, which comes in handy for a reviewer who doesn't want to seem overly hyperbolic about a vehicle. And in this case, one of my complaints is easy enough to correct: buy the turbo gas engine version rather than the hybrid, with its whiny continuously variable transmission.
It's a complaint I have with just about every vehicle I've driven that has a damn CVT. These "gearless" transmissions not only suck most of the fun out of the driving experience (instead of shifting, they feel like your vehicle is sliding along a big elastic band), they also howl like an outraged banshee when you prod the accelerator pedal, which isn't what a vehicle – especially a luxury vehicle – should do.
Lexus Canada's sample NX 300h (the vehicle was called the NX 200 originally, but that name has been upgraded even though the engines haven't been), was the hybrid and therefore I went in with more than a small chip on my shoulder. Making that sliver into a full cord of wood was the trackpad on the centre console, which is Lexus' current offering for those who want to operate the LCD that's mounted atop the centre stack. more...
Do you still print stuff out? If so, you're undoubtedly like most of us who, at least periodically, still need to print out a hard copy of some digital document – whether for archiving, legality, to put into a cookbook, or whatever.
Yet we've been promised for years that all of us using computers would mean that all those beautiful trees could be saved, presumably so we can hug them and live in them in the green paradise envisioned by some.
What happened? more...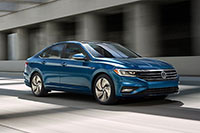 It may be German inside and out, but VW's new small sedan makes me think in French.
French, as in "Je t'adore" because (putting it into pun-dit English) "Jetta adore" is how I came away from my week with the new, 2019 Volkswagen Jetta. This probably surprises no one who reads my columns regularly, because you know that I'm a big fan of VW's, just about any VW – and that includes Audi and Porsche as well (and would probably include such other VW brands as Lamborghini, Bugatti and Bentley, if I were ever lucky enough to get seat time in them).
But this piece is about the Jetta, which is all-new for 2019. I'm always afraid when a new generation of a favourite car comes out, concerned that the manufacturer will have taken a great car and (for whatever reason) made it worse. So, I entered this Jetta review with some trepidation that was, fortunately, short-lived.
Essentially a Golf with a trunk, the Jetta now rides on VW's MQB platform, which is shared by the Golf, the new Tiguan and the new Atlas, as well as a couple of Audis and other VW group brands that aren't sold here (such as Seat and Skoda). Upon that platform Volkswagen's designers have built the most handsome Jetta ever (beauty, of course, being in the eye of the keyholder), a car that also looks as if it should be more expensive than it is. more...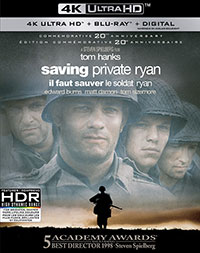 This is the perfect time of year, approaching America's annual Memorial Day celebration and the anniversary of the Normandy invasion, for Paramount to reissue a 20th Anniversary edition of Spielberg's film with an absolutely spectacular conversion to 4K disc with HDR – a UHD treatment that's a very pleasant surprise, indeed.
Steven Spielberg's Saving Private Ryan got a lot of good press when it came out, for its tribute to those who fought and died to save our western civilization from the German Nazis. It also garnered praise for its powerful and graphic depiction of what it was probably like (Hollywood influences notwithstanding) to have made that deadly but vital beach landing on June 6, 1944. more...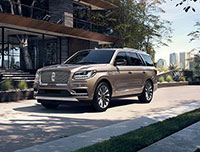 This was certainly the nicest bus I've ever driven!
Lincoln's new Navigator, redesigned for the 2018 model year, is a really nice vehicle for those looking for a motorhome-sized SUV that coddles with the best of 'em.
It isn't a motorhome, of course, just a reasonably conventional LARGE three row SUV for the luxury-minded buyer.
And it features the great new interior treatment I first saw on the company's Continental, though I don't believe it's identical to that one. I may be a voice barking in the wilderness, but I think these new Lincolns feature one of the best interior designs I've been in. In fact, if this interior keeps trickling across the Lincoln line to the little MKC (the smallest Lincoln SUV, which will apparently be renamed upon the debut of its next generation), they might have one of the most compelling interior lines in the business.
If only the Navigator didn't drive like the HMS Titanic! more...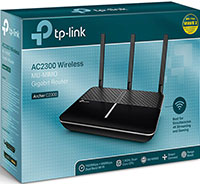 Wi-Fi is everywhere these days, it seems, and that's a great bit of convenience. But as much as we may like free Wi-Fi when we go out and about, it's even more important to have a fast and reliable connection at home, where many of us do most of our personal computing, surfing and/or streaming.
Your router performance can depend on such things as bandwidth, number of antennae, and the location you set it in your home. This is why you need a good router, though finding one can be a chore because there are so many models available.
Into this fray comes TP-Link's Archer AC2300 dual-band Wireless MU-MIMO Gigabit Router. more...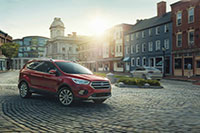 Ford continues to expand and update its line of SUV/Crossovers for 2018, with a minor refresh of the Escape but also with a brand new Expedition.
The two units bookend the Edge and Explorer, ensuring there's a model for every person's size preference, from small to absolutely humongous. And they're pretty nice vehicles as well.
I spent a week with each of these units, an Escape wearing the Titanium trim level and an Expedition Limited, both of which come with about as much tech and toys as one can want. Of the two, the Escape would be my personal choice because, as a small person, it's much more a size I'd find useful – but that doesn't mean that larger folk (or folk who need to carry more folks and/or stuff) won't find the Expedition worth a look.
The Escape starts at a reasonable $25,199 and upgrading to the Titanium gives you stuff like 19 inch Ebony Black premium-painted aluminum wheels, halogen projector headlights with black bezels, LED signature lighting (with "non-configurable" daytime running lights), black-tinted taillights, unique black front fender grilles, gloss black painted upper grille with chrome inserts and surround, gloss black front and rear lower fascia, black roof rails, leather-wrapped steering wheel and gear shift knob and partial leather-trimmed heated seats.
If you want or need something a LOT bigger – skipping right over the Edge and the Explorer - the Expedition is a heckuva vehicle. It's far larger than anything I'd consider (heck, I'm so small that if it weren't for the Limited's automatically extending/retracting running boards I'd have to either use a block and tackle or take a running jump to get into it) but if this is the niche in which you live, the Expedition has a lot going for it. more...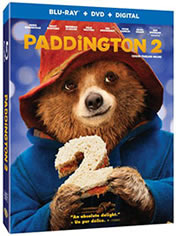 If you decry the lack of quality family entertainment these days, you really should fire up a copy of the new Blu-ray release of Paddington 2, from Warner Brothers.
Paddington is an animated bear who I understand is a staple of British culture via a series of books I never read. Heck, I never saw the first Paddington movie from 2014, either, and never really felt the urge to. Then Warner Home Video sent me the new Blu-ray of the sequel and I put it on hoping it might be something I could watch with my grandsons.
And boy, is it ever! I enjoyed Paddington 2 so much that I'm going to seek out the original flick as well because, well, sequels as a rule are generally not as good as the original (in my experience), and so all things being equal I should enjoy the original even more than this sequel.
Watch that blow up in my face! more...
Who'd have thought a Toyota Prius could be an engaging vehicle to drive?
I never did, until this current generation came along a year or so ago, and after having a second kick at the car a couple of weeks ago I came away liking the Prius even more. Heck, if it didn't have a loud and obnoxious continuously variable transmission, and such a strange-looking exterior, I might even think about putting one in my garage.
Oh, I'd come to my senses long before plunking down after-tax lucre on a Prius, but at least now I can see why people would buy one other than as a way to save Parent Earth and/or save gas, the latter of which the Prius does very well. Heck, I drove the car mostly as if it weren't a hybrid (and as if it were a Porsche!) and I still managed to get about 5.4 litres per 100 kilometres which, given my lead foot, is a bonus. 
What we have, then, as I mentioned in my first review of this generation of Prius, is "a hybrid that gets better gas mileage than ever and is more interesting to drive than ever. If it were priced around the same as a reasonably loaded Corolla, which is sized approximately the same, I'd call it a win-win." more...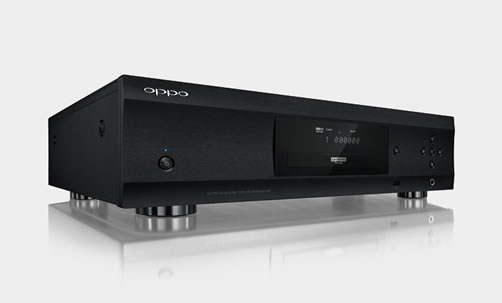 Perhaps you could call it a coda to an outstanding symphony of audio/videophile tech.
Oppo Digital, the company whose products have won it many awards over the years – and which deserved them – has announced it's winding down its operations. Say it isn't so, Oppo!
The announcement on the company's website as of April 2, came as a big surprise to me. I've been reviewing the company's products since they first appeared on the North American scene and have yet to find one that wasn't a great addition to whichever market niche it was invading. From TV's to DAC (digital-to-analogue converters) and high-end headphones, the company has offered a consistent string of remarkable performance and value, culminating in their release last year of two 4K UHD universal networked disc players. more...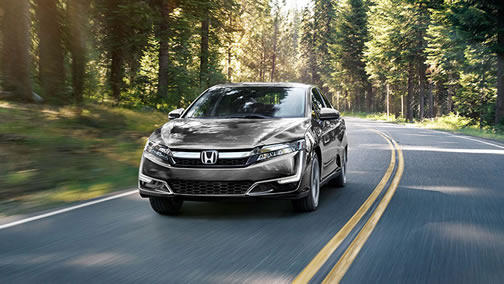 It's loud. It's whiny. Its interfaces are incoherent. But it'll help you save the world, and you might be able to make other people help you pay for it!
It's Honda's new Clarity, in this case a plug-in hybrid model. Honda calls it the newest member of their "completely redesigned lineup," even though it sports exactly the same dashboard abomination – as in no knobs for tuning the stereo or tuning the volume up or down - that the company is finally moving away from with its new Accord and other models.
Claritys (Clarities?) start at a Canadian MSRP of $39,900 and if you want to step up to the top line version – the Touring trim level – it'll cost you and/or your peers $43,900 (your peers, according to Honda, thanks to "up to $13,000 of government incentives"). For that price you'll get what Honda says is "a big step forward for the company's electrified fleet, entering the Canadian market with the best overall combined range and interior volume in its class."
How's that for clarity? more...
If you've ever found your eyes tiring by the end of a movie in your home theatre – and it has nothing to do with the writing, acting, or production – you may want to look into something like a bias light.
I knew about bias lights once but over the years, and through several changes in TV's over the years, I had forgotten just how much a bias light can improve one's enjoyment. Back then, I had (among other TV's) a 57-inch CRT rear projector, but while watching it I noticed that the picture would tend to dazzle my eyes, and not in a good way.
The bottom line is that by "washing out" your TV's picture with external lighting, you aren't getting the most out of your TV purchase. Sure, you can read while the TV's on, but that kind of defeats the purpose of watching something.
Back in that CRT rear projection days, the solution was to put a special fluorescent light behind the TV, in my case a product from a company called CinemaQuest, whose Ideal-Lume bias light was (as I reviewed it back in the early years of this millennium) "an unassuming little gadget the looks to all intents and purposes like a conventional fluorescent tube in a small bracket." more...
It's green and powerful, and it isn't the Incredible Hulk. Instead, it's the new Bullitt edition of Ford's legendary pony car, the Mustang. And it looks like it'll be a heckuva ride!
The tie-in comes as the iconic Steve McQueen cop film Bullitt celebrates its 50th anniversary, assuming a movie can celebrate its own birthday, so what better time than now to exploit, er, honour, a dead actor and what's undoubtedly his most famous movie vehicle other than his LeMans Porsche and the motorcycle with which he leapt tall barriers with a single bound in The Great Escape.
Before the Bullitt was unchambered, Gerald Wood - Ford's General Manager, Western Region - previewed the new Ford Ranger compact pickup truck that's being reintroduced after several years. "We're here in the heart of truck country," Wood noted. "As Albertans we love our trucks and…building on a heritage of more than 100 years of Ford trucks, with endless focus on engineering excellence, the all new 2019 Ranger is returning to the Ford lineup."
I also got to meet with Kia Canada's Mark James at the auto show and we discussed the company's rapid growth in capabilities and credibility, much of which can be attributed to the company's wise and audacious move of hiring Peter Schreyer away from the Volkswagen group several years ago. more...
"Just because you're paranoid doesn't mean that they aren't out to get you." In this age of hacking and cyber corruption – and the deep state trying desperately to defeat the forces of light - it's becoming increasingly clear that there appears to be folks out in cyberspace who don't have your best interests in mind.
Now, these companies are private businesses and can do whatever they want as long as it's legal. But that doesn't mean you have to make it easy for them. You may have nothing to hide, but that doesn't mean black hats should have access to everything you do with your computer or smart device. It's really no one else's business, as long as you aren't breaking the law either.
Into this scenario comes the Vivaldi browser, which is partnering with search engine DuckDuckGo to help you protect your privacy. I'd never heard of Vivaldi before receiving their press release, but it looks like a pretty interesting and flexible browser, and the privacy features appear quite compelling. more...
South Korean carmakers have come a long way in a relatively short time. And they've earned their current success by offering cars that are built well, competitive in price and even more competitive in features.
Hyundai, the subject of this particular rant, has developed from the old and unloved Pony and Stellar of the 1980's, and their later and rather bizarre "relax, you'll get there someday" jingle I took to mean that, undoubtedly unconsciously, Hyundai was admitting their cars were lacking in oomph. Yes, Hyundai used to be a joke, automotively speaking.
Now, however, Hyundai and its stablemate Kia are doing to the Japanese (and other) carmakers what the Japanese carmakers did to the Once Big Three – and, later, the European luxury car makers – starting back in the 1970's. They're beating them at their own game, and they're doing it by building vehicles people like and want to own, not just because they may undercut the competitions' prices.
But one thing Hyundai didn't offer until recently (not counting its more up market Genesis entries) was a car designed to quicken the pulse of the "practical enthusiast", the he/she/it for whom driving is more than just getting from here to "there and back again" (sorry, Tolkien..), but who still wants a vehicle that offers at least four doors and works as more than just a corner carver.
Hence the Elantra Sport (sedan) and the Elantra GT Sport. more...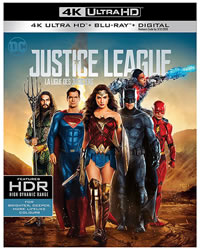 Warner Brothers' ongoing attempts to play catch-up with the Marvel cinematic universe continues with Justice League, their version of The Avengers, in which a group of superheroes teams up to fight a super villain bent on mayhem, conquest and destruction.
The question is, is it any good, and how does it stack up to the Marvel movies? And in the case of this sparkling new 4K version of last year's Justice League film, the answer is a decidedly firm "meh."
It's a shame. As a kid I was a voracious consumer of comic books and most of them were on the DC side of the competitive ledger. more...
Marvel's third Thor outing is one "Val-helluva" way to get into the 4K disc market, and it's also the best of the Thor outings to date.
And it's a movie that doesn't take itself seriously and even imparted quite a few laughs on its audience.
I was never a Thor comic book reader and thought Kenneth Branagh's first Thor movie was visually lovely but nearly as forgettable as the second Thor movie ("the Dark World"). The best thing about both movies (and this one, too) is Chris Hemsworth as the title God. Whether he's being tossed out of Asgard or driving a star ship or Formula 1 car, the Aussie is a very good actor and he inhabits the Thor character very well, indeed. more...
BMW's first SUV - though they refer to it as an SAV - has been given the plug-in hybrid treatment and the result is a large utility (er, Activity, in BMW-speak) vehicle that might even save you some gas money.
The X5 xDrive40e is the first plug-in hybrid production model from BMW's core lineup. Starting at an estimated MSRP of $74,950 CAD, before options, it's a darn fine vehicle and equipped well even at that trim level (it's a premium vehicle, after all). And BMW seems to be listening to some of the folks who've whined about its interfaces in recent years. That would include me, who has muttered maledictions about the iDrive system, the complexity of merely storing a radio station preset and the annoying folly of having to pull door handles twice to get out of the vehicle and the start/stop button twice to get the thing to actually shut down.
I had none of those issues this time, though I still don't care for the iDrive interface - and I did have to pull the door handle twice from the back seat (once to unlock it and once to actually open it which, in this case, may be to keep the kids from zipping away from you when you park).
Sounds like numerous niggling little nits are making my praise rather niggardly, doesn't it? And you're right. But when you add them all up they become, at least to me, a deal breaker - and that's a shame because I've never reviewed a BMW that wasn't a blast to drive, including this new "electric" X5. more...
You've shelled out good, after tax disposable income on a home theatre setup but instead of that room-rattling bass you've been promised you're only getting a thin gruel oozing its way to your ears. Did you get ripped off?
That's always a possibility, but even an inexpensive "home theatre in a box" can deliver good, room filling sound with chest thumping low frequency effects, so before you box it up again and toss it back across the counter at the retailer from whom you purchased it, take a while to do some tweaking to ensure it's performing to the best of its capabilities.
It's best do this during your grace period - the time the retailer allows you to change your mind - otherwise you may be stuck with equipment you don't like, though you may be able to make some friends on places like eBay, Kijiji, etc.. more...
Looks like Honda might be wise to buy a bigger display case to hold all the international awards its new Accord is receiving.
That's because, after being named 2018 North American Car of the Year at the car show in Detroit, as well as scoring its way onto the Car & Driver 10 Best Cars list yet again (for about the 1,000th time) Honda's all-new Accord sedan has won the 2018 Canadian Car of the Year award, presented under the auspices of the Automobile Journalists Association of Canada (AJAC).
Meanwhile, Chrysler's Pacifica minivan was named as the 2018 Canadian Utility Vehicle of the Year. It beat out two Mazdas for the title (CX-5 and CX-9), either of which I would have chosen over the Pacifica, though I also have to admit that I actually enjoyed driving the Pacifica hybrid when I had it. more...
What does the average cannabis user look for in a vapourizer? Is it vapour quality, price, efficiency, accessories, or even the coolness factor of the machine itself?
It's probably all of the above to a certain extent - I'm certainly no expert on the topic, but in preparation for Canada's pending legalization of the evil weed this summer, I've been gathering together a group of folks who do claim a lot of experience with cannabis products. The idea has been to get their opinions on a reasonable cross section of the vapourizers that are available these days - what's the cheapest, which have the best results, which are the easiest to use, etc..
Over this series (this is the fifth such column) we've looked at portable units, tabletop vapourizers, and quite a bit between. In this column I'm going to focus on a high end and very cool unit, the Firefly 2, as well as the sequel to a vape we covered in one of the previous columns: the Arizer Air II. more...
---
The Automobile Journalists Association of Canada's Best Car award is now down to three finalists.
Well, six, technically - but that's a pretty steep winnowing from the 182 vehicles that were eligible for this year's Canadian Car of the Year Awards. And it means there are now only three contenders (or a contender and two pretenders?) for the titles of Canadian Car of the Year and the Canadian Utility Vehicle of the Year.

Mazda leads the way with three vehicles that are still in the running - and as a Mazda fan I'd be happy with any of them taking their categories. Alas, the prevailing "wisdom" seems to be aimed elsewhere, at least in the "car" of the year category.
That's because the new Honda Accord (Best Large Car in Canada) also made the short list and it's winning all sorts of awards from various groups inside and outside of Canada. It's a fine car, too, but I'd rather own a Mazda 3, the Best Small Car in Canada. Alas, the 3 isn't "all-new" this year, while the Accord is, so that may also work against Mazda winning yet again. Still, Mazda took three categories in 2014 (two for the Mazda 3 and the overall Car of the Year went to the Mazda 6), and it's a perennial finalist and category winner. more...
What happens when you watch a particularly hot - or controversial - video on YouTube and just have to have it for yourself, forever? Or what happens when you want to listen to your favourite streaming talk show but have to be away from the computer while it's on?
That's the rationale behind Applian Technology's Replay Capture Suite, a series of interacting apps that will do all that and much more. It's a pretty impressive set of tools and it appears to work well.
The $79USD suite, individual modules of which are also available separately, includes tools for capturing video or music from any website, as well as conversion and editing tools you can use to file the serial numbers off your purloined programming. And that still isn't all the suite can let you do! more..
---
What would you do if you found yourself with an extra $35,000 burning a hole in your pocket? Would you give it to charity, buy stocks or other investments, or maybe just blow it on a four wheeled toy?
A good friend of mine, Blair, posed that query to me a couple of days ago and it got me thinking about what I'd do in such a situation if I didn't have to consult with anyone about how (or if…) it should be spent. I don't know if Blair has an extra 35 grand burning a hole in his pocket or if he was merely "goal setting," but his challenge was: "you have $35K and want to buy a sports car for occasional use. What would you choose?" He also mentioned I didn't have to use the full 35 grand of "play money" but I imagine that by the time all is said and done I'd have spent that amount and maybe a little more. more...
Don't tell my wife, but I've just spent a couple of weeks with a new "grill friend." It's a kitchen appliance that could clean up some precious shelf space because it blends the duties of disparate appliances into one unit.
Panasonic's Combination Oven NN-DS58HB, despite its $699.99 CAD retail price, is a pretty compelling piece of equipment, though it isn't without its issues. Heck, depending on your lifestyle and food habits, it could do a lot, if not most, of your cooking all by itself.
The unit really does function as a steamer (for those who are into fish or veggies), a microwave, a grill, a defroster, and a reheater - a neat bit of multitasking that's pretty darn intriguing - and I wish I'd had more time to explore the oven's many virtues. As it is, I was very impressed with some of its capability, and not as impressed with others. more...
---
We welcome your comments!
TechnoFile: "The Tech Magazine for the Rest of Us!"
TechnoFile publisher Jim Bray's print columns are available through the
TechnoFile Syndicate.
Note: Unless otherwise noted, prices in this publication are quoted in US dollars.

TechnoFile is copyright and a registered trademark © ® of
Pandemonium Productions. All rights reserved.
E-mail us Here!
Our Privacy Policy