Updated March 7, 2019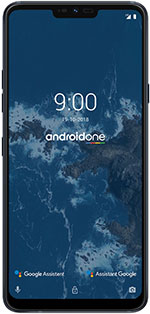 South Korean techmaker LG's G7 One cell phone is an interesting beast, offering a big and very readable screen, the usual smart phone features that are popular today, and audio technology that makes it one of the best "sounding" cell phones I've tried in recent years.
I don't know about you, but I probably use my cell phone to stream music and other audio – apps such as Tune-in and Accuradio to name but two – as I use it as an actual phone, so stuff like audio quality are very important to me. And I really liked how the tunes streamed from the LG – even via Bluetooth – sounded on my various vehicles and audio systems.
LG says the G7 One, aka the LMQ910UM, is the first Android One phone available in Canada. According to Wikipedia, "Android One is a series of smartphones that run the unmodified Android operating system. It is a hardware and software technical standard created by Google intended to provide a consistent user experience and improved security through frequent updates and Google Play Protect. Android One was launched in 2014 and focused on entry-level devices for emerging markets, but later evolved into Google's principal mobile program."
I guess this means the phone's OS won't become obsolete suddenly, like I suppose many older Android phones do, and that one Android One phone will operate much like another, regardless of brand. This is as opposed to older Android phones that come with a different Android version with a different cute/silly name; I always assumed it was a way to keep customers going back to the well to get an updated, more fully featured, phone. more...
---
In the world of sport utility vehicles there's something for practically everyone, whether you want to focus on the sport or the utility.

Toyota aims to fill both those niches with its wide variety of vehicles, and I got to spend some quality time during our last bitterly cold spell in one of the first SUV's I can remember, as well as a follow up week with one of their big pickup trucks. Neither is particularly sporty, but if you're looking for a vehicle that'll probably outlive you while taking you up the sides of a mountain, you may want to give them a look.

The 4Runner has been around forever, nearly, and while this generation is getting a little long in the tooth it's still a pretty compelling ride for people who value robust off-road performance more than creature comforts. Toyota Canada's sample 2019 4Runner wore the new "Nightshade" trim level which, fortunately, is not as deadly as its name might indicate.

4Runners are of a body on frame design, which basically means it's more like a pickup truck (it's like a fully enclosed Tacoma) than it is like a "crossover" (which seems to indicate unibody construction, like the vast majority of today's cars and SUV's, where the vehicle's entire structure is the "frame"). more...

A couple of interesting new titles have premiered on 4K disc this week, one of which is a rehash of an old theme while the other one is also a rehash of an old theme – but with a decidedly weird twist.

Let's start with Overlord, which Paramount sent in 4K. It's a movie that will probably appeal to fans of the Wolfenstein video game franchise and, if that applies to you, you pretty well know where this movie is going.

Overlord starts off like a conventional World War II movie and it probably would've worked just fine if it had stayed that way. But nooooooo! Part way through the film veers directly into the Twilight Zone.

Meanwhie, Bradley Cooper's A Star is Born remake is a lot more accessible for a mainstream audience, but did we really need yet another remake – especially of a film that's been remade so many times (I count four, at least)?

That said, this is a good remake and it's a good story. more...

If you have some reasonably substantial after-Christmas cash left over – or at least a decent line of credit – and Santa didn't bring you that new TV you wanted, LG is more than willing to ride to your rescue via its latest OLED TV's.

I was lucky enough to play with one recently and now I won't be happy until one takes up residence permanently at Chateau Bray. Or until the next generation comes along…

It ain't cheap compared to your "garden variety" 4K LED TV, but I've seen LG's 55-inch OLEDs on sale for about two grand Canuck (depending on the model, they can sell for about a grand more as well) and I think it's a bargain for the picture quality you get.

I kid you not. I've been reviewing TV's and video products for the better part of 30 years and have spent more than twice that amount on a TV during that time (much to my wife's chagrin, of course, and only to watch the prices plummet the day after…). And if I had three grand burning a hole in my pocket today the OLED55C8PUA LG sent me to play with would never have left our home theatre. more...

---

Warning: Regular readers of my stuff may want to stand back from the screen a bit because I'm about to risk a lightning strike by writing a positive review of a pick-up truck and I wouldn't want you to become collateral damage.

The Ram 1500 is new for 2019 and, at least in the Limited Crew Cab 4x5 suit of clothes Fiat Chrysler Canada sent for review, it's a real tour de force – a utility vehicle that's also so nice to drive it's easy to forget it's a big-butted truck. Oh, I still wouldn't run out and buy a truck after my week with the Ram (it's still to big for my needs and taste), but I came away mightily impressed with its comfort, up to date features, and – the most surprising thing to me – its driveability.

It seems that I'm not the only car guy impressed with the new Ram 1500. It was also named as North American Truck of the Year at last month's big car show in Detroit, it made Car & Driver magazine's list of the 10 Best Trucks and SUV's, and the Rebel version was named Four Wheeler magazine's Pickup Truck of the Year. And yes, you can have a hemi. more...

My favourite Subaru is back with a new set of clothes, and it's a nice new wardrobe for a vehicle that was pretty nice already.

That said, Subaru continues to inflict a continuously variable transmission on its non-manual transmission vehicles and even though it's better than many it's still as whiny and annoying as I am when faced with honest work.

According to the company, the Forester has been re-engineered from the ground up for 2019, including a new BOXER engine, where (like many Porsches) the cylinders are mounted "flat" rather than in a "V" or a line, so the pistons face off against each other, like boxers duking it out. There's also a new CVT Subaru says works with the new PUGILIST engine to create more power while also increasing efficiency.

The vehicle is also new inside, which is a good thing because past Subarus have seemed to me (perhaps unfairly) to be a tad long in the tooth in how they felt compared with some other carmakers' offerings. more...

From the director of Zombieland comes a new comic book movie that, while part of the overall Marvel universe, is a distinct change of pace from the usual heroic exploit.

And in the process, it takes a character from what's perhaps Marvel's worst outing to date (of the ones I've seen) – Sam Raimi's Spider-Man 3 – and turns him into an unlikely hero. Here, however, we have no Spidey at all; rather, it's Eddie Brock's story alone this time, and at the beginning of the movie we discover that he's a TV investigative reporter of the 60 Minutes ilk – willing to destroy people in order to get his story – and his typically outsized "journalists' ego" leads to him losing his job, his fiancé, and basically everything in his life that was important to him.

Yeah, it was all self-inflicted, so that part's good. more...

Is calling a Mini big an oxymoron?

After all, among other things, the name Mini means – according to my Random House Webster's Unabridged Dictionary –"of a small or reduced size in comparison with others of its kind." Not only that, but the original Mini of classic car fame was a truly small car – a very small car. Heck, when I was in school, we used to marvel at how our music teacher (who seemed at the time to be about nine feet tall) managed to fold himself into his Mini.

BMW's reimagining of the Mini is – and sure feels like – a much larger car, not that it reminds me of a land barge at all. Fortunately, every modern Mini I've driven has also been a blast to drive (like pretty well every BMW I've driven, in fact), and the little critter has also evolved since then, adding "SUV" and "wagon" versions, among others.

So, it was that the 2019 Mini CountrymanJohn Cooper Works ALL4 Midnight Black Edition found its way to Chateau Bray for a week heading into the Christmas holidays. . more...

---

Looking for something to do with that left-over Christmas money? I have a couple of suggestions and in this and a couple of subsequent columns I'll outline them. And while some are relatively high end, some (such as those mentioned in this column) are pretty darn inexpensive.

First up, something new and something not new but very worthwhile: The Scout charger and the Roku. more...

Consumers looking for a three row SUV/Crossover have a new choice in Subaru's latest new model.

The Ascent, new for 2019 and, according to Subaru, their largest vehicle ever, is aimed straight at such vehicles as Mazda's terrific CX-9, the Honda Pilot, Toyota Highlander, VW Atlas, etc. etc. etc. etc. etc. Yep, it's a pretty crowded niche.

And that's great! More choices are certainly better than fewer. more...

(Part One of Two)

Buying a vehicle can be an intimidating and frustrating experience, but if you keep your wits about you and refuse to be frustrated and/or intimidated you can negotiate a deal that could save you thousands of dollars.

Fortunately, the actual negotiating process can be fun – and it's cool to see the look on the other party's face when you have the audacity to offer less than the asking price.

I have some recent experience in the car buying process which led a friend to suggest I string my experiences together into a couple of columns that could (not "will") help empower you the next time you sally forth into the car market.

You have to be willing to make the first offer, though, because no seller in his/her/its right mind – private or dealer – is going to unilaterally lower the price just because he/she/it likes the cut of your jib. Unless, of course, they're hungry for the sale, which you can use to your advantage.

You also need to be willing to walk away from the deal, regardless of how much you love that particular vehicle and want it to become a new resident in your garage or parking spot. There's always another fish at sea… more....

Last week, I wrote part one of this series on buying a vehicle, outlining some of the things you can and should do before going to the dealer or private seller. This week, I'll outline a few dickering/haggling tips that I've used successfully for vehicle purchases (and other things) that might help you in your quest for new wheels.

Remember, these comments are based on my personal experience and may not work for everyone – haggling does require a bit of nerve, after all, and you also need to be willing to stand up and walk away from a deal with which you aren't comfortable.

That said, haggling can be a lot of fun – whether you're buying a car or a refrigerator. I try to haggle nearly everywhere! Sometimes it works, a lot of the time it doesn't (clerks in stores usually can't dicker and their lives start flashing before their eyes when you try, which is pretty funny), but one success out of a few attempts is still worthwhile.

I've dickered successfully at stores like Sears more than once and even got a discount on a Sony LCD TV that was being blown out at a nearby drug store a few years ago. You never know if you don't try!

A caveat: if you try some of these tactics and they blow up in your face, don't come looking here for restitution: as with everything else, your mileage may vary. more...

---

Tom Cruise' Mission Impossible movies are kind of like cotton candy.

Huh, you say? Well, the MI movies are a bit like the kind of empty but fun calories (fun, unless you have a beard!) you get from an order of cotton candy – fun while it lasts but not particularly nourishing.

That isn't really being completely fair to Mission Impossible: Fallout, however, because, while we're here for the stunts and the action scenes (stuff that's traditionally top shelf in this franchise), there's actually a modern, believable plot on hand as well. It just kind of gets lost in the action.

It's almost as if they wrote a one-hour movie, but then filled out the film's 147-minute running time with mayhem. And though I often decry stories that lack story, in the case of the Mission Impossible franchise it works more often than not. Heck, I'd even go so far as to say the last couple of MI movies have been better, and more entertaining, than the last couple of James Bond movies.

Still, you'd think by now the Powers That Be would know the missions aren't really impossible and, perhaps, rename them Mission Really, Really Difficult or something.. more...

It was one of the two original Lexus models first introduced at the end of the 1980's, when Toyota and Nissan both had the audacity to take on the European luxury marques head to head. Now, it's just one of many Lexus offerings but, as it has always been, the ES 350 is a really nice car – and it's even quite affordable in this niche.

You can still get a normally aspirated V6 to power it, too! This is a wonderful thing in an era in which carmakers are downsizing and turbocharging their power plants.

The ES – originally the ES 250 – seemed originally to be mostly a placeholder, a car Lexus dealers could showcase alongside the legendary and innovative LS 400 (now the LS 500, the luxury sedan car that rewrote the rules of automotive luxury, quality, and marketing). There are enough different Lexi now to choke a horse, including sedans, SUV's and even a couple of coupes, so the ES is now just another entry – yet it's a darn fine one, comfortable and luxurious and nicer to drive than one might imagine from its "more luxury than fun" demeanour.

Oh, it surely isn't perfect – take a boo at the typical Lexus "alien predator" grille that, in this instance, looks like it's made out of whalebone corset thingies from days gone by, as well as the damn trackpad with which Lexus insists on saddling too many of its vehicles. more...

Acura's biggest and most powerful sedan is a very nice ride.  I'm not sure that's enough to make the car stand out in a niche full of really nice luxury sedans, though.

Still, you get a lot of niceness for your after-tax disposable income.

The RLX succeeded the RL a few years back, a luxury sedan I liked a lot, and this replacement has much to recommend. Oomph is plentiful, comfort and luxury abound, and the car will probably outlive its owners. So why do I come away from a week with it feeling kind of "meh?"

Simply, because – as nice as it is, the RLX Sport Hybrid also really annoys me, and it's mostly due to interface design and usability choices Honda/Acura has made in recent years.

That doesn't mean the RLX is a worthless pretender. Far from it. And Acura has given the sedan some tweaks this year that are meant to keep it interesting. These changes include new front and rear styling the company says reflect its new design direction and its "signature" diamond pentagon grille. The hood has a couple of creases on it that give it a kind of weird, "pre-crumpled" look, but it's hardly offensive.

There are also new seats, and they're available in Saddle Brown leather now. You can also choose from two new premium exterior paint options. Pretty exciting stuff! more...

Mazda's largest bundle of joy goes into the 2019 model year with some new tweaks the company thinks will make this three row SUV/Crossover even more compelling than before.

Tough to do that with a minor upgrade, especially since the CX-9 was such a terrific beast already, but the purveyor of Japanese "Zoom-Zoom" pulled a few rabbits out of their design hats for the new model year and they combine to make this big, three row SUV even nicer.

It still needs paddle shifters, though. Zoom-zoom without paddles for the automatic transmission? Give me a break!

That said, driving the CX-9 is like driving any other Mazda: it's more fun than you might imagine for such a vehicle. It's also plenty comfortable and luxurious, and even more tech-equipped than ever. This vehicle is put together so nicely that if I were shopping in this niche it would be top my short list – even before some other, supposedly more luxurious (but with more annoying interfaces) Japanese brands that cost thousands more.

One thing you don't get with the CX-9 that you do with those unnamed competitors is a V6 engine. Mazda dumped that with this current generation, and as much as I love the smoothness of a nice V6, the CX-9's turbo four – which is now shared with the Mazda6 sedan – is a lovely performer. more...

---

Ford's "fuller sized" SUV/Crossover, the Explorer, continues to be a compelling vehicle for people looking for a well-appointed ride that can handle up to seven people.

The Explorer, which was really one of the first so-called SUV's, isn't all-new for 2018, but it soldiers on as a solid and capable vehicle that also offers good off-road performance, as well as most, if not all, of today's popular vehicle/connectivity/entertainment technology.

Ford of Canada was kind enough to lend me a Platinum trim level Explorer for the week and a half my wife and I were sentenced to spend in Ontario a few weeks ago. I'd driven the Explorer a few times before and liked it, though it's a larger vehicle than I prefer, and this time helped cement its basic goodness into my psyche as we visited my elderly Dad and tooled around the area between Ottawa and Trenton, Ontario. more...

Mitsubishi's new Eclipse Cross SUV is the Japanese automaker's entry into the entry level compact SUV market, a niche currently occupied by such other Japanese models as the Honda HR-V, Toyota C-HR, Mazda CX-3 and Nissan Qashqai. How does it stack up compared to that competition?

Well, I haven't driven a Qashqai, but I have driven the Honda, Mazda and Toyota and the Mitsubishi compares with them fairly well. And to sweeten the deal, owners get Mitsubishi's extensive warranty policy: a 10-year, 160,000-kilometre limited warranty on the power train, a five-year 100,000-kilometre new vehicle limited warranty with five-year unlimited kilometre roadside assistance.

That's good news. more...

Kia's new sporty flagship is a nice four door hatchback – a sports sedan that isn't quite a sedan but which looks, acts, and (even better!) drives like a sports sedan.

Move over BMW? Probably not, though there's sure a lot to like about the Kia Stinger, including interfaces that are easy to figure out and to use – something to which a lot of the competition should take notice.

The Stinger is Kia's first rear wheel drive car, though Kia Canada's sample was all wheel drive (that's all you can get on this side of the Canada/US border). And it drives like an all wheel drive sports sedan should: sticks to the road really well, with maybe a dash of understeer to help keep things interesting. more...

It's getting hard to ignore Roku's effect on the home electronics market. Not only does the company make a wide variety of devices that can turn your dumb TV into a smart TV, but the technology is showing up built right into many TV's these days.

Clearly, the company must be doing something right – or at least something that consumers like – with its products.

And, though it isn't a completely brand-new addition to their product line, the company is offering an upgraded version of their entry level "Streaming Stick" with the Streaming Stick+, which ups the tech ante from the base unit quite nicely. more...

---

It's amazing how the simple shot of oomph Mazda has added to its wonderful little MX-5 gives its driver an even bigger shot of adrenaline.

Yet there it is:  a car that has always been a joy to drive, yet has never been accused of being over powered, still isn't overpowered - but it's powered enough, and for this reviewer that's the best news si nce the demise of the turbocharged Mazdaspeed Miata of years gone by.

I loved it! In fact, this new soft top MX-5 (why, oh why, can't they keep calling it the Miata?) is my favourite MX-5/Miata to date. And that surprised me.

The surprise came from the fact that my favourite MX-5 previously, besides that old turbo model, was the last generation MX-5 with the retractable hard top. I'd loved it for that retractable top which, for an increasingly follically-challenged dude like me who prefers not to have the sun beating down on the cranium too much, offered the best of convertible and hard top worlds. The extra weight undoubtedly affected its acceleration, but not enough to make the car suck in any way. more...

The second Star Wars spin-off movie since Disney bought the universe from George Lucas – not to be confused with the two "Episode" movies that have come out as well – is a flawed attempt with a troubled gestation. Yet it's still well worth watching.

If only the filmmakers hadn't bitten off so much that they didn't need to chew (no Wookiee joke intended).

Yet even with its issues, and in its final form as found on this otherwise great Disney Blu-ray (alas, no 4K disc was sent for review), it's better than the last "official" Star Wars film, The Last Jedi. It isn't nearly as good as Rogue One, however, which in my never humble opinion is the best Star Wars film since the original tri logy.

Obviously, Solo is a look into the past of the character who's arguably the most interesting in the Lucas-created universe: Han Solo. more...
---
We welcome your comments!
TechnoFile: "The Tech Magazine for the Rest of Us!"
TechnoFile publisher Jim Bray's print columns are available through the
TechnoFile Syndicate.
Note: Unless otherwise noted, prices in this publication are quoted in US dollars.

TechnoFile is copyright and a registered trademark © ® of
Pandemonium Productions. All rights reserved.
E-mail us Here!
Our Privacy Policy