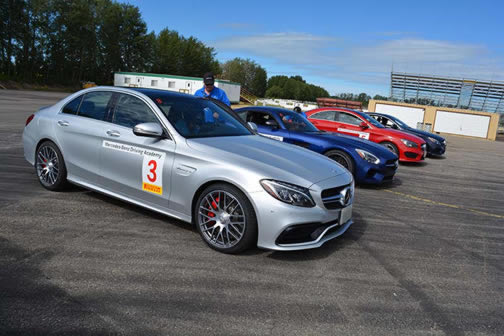 Mercedes-Benz just taught me how to drive like Jackie Stewart!
Okay, maybe not - few people can drive like the legendary "wee Scot" who won the Formula 1 championship three times in the late 1960's and early 1970's.
But thanks to Mercedes-Benz's Driving Academy and their recent "Mastering Performance" course at Castrol Raceway near Edmonton, I learned some great techniques aimed at making me a better driver - and one of those techniques was pioneered by Sir Jackie himself.
It's called "trail braking," and if you can drive a manual transmission you'll find it quite similar to using the clutch.
The Driving Academy's "Mastering Performance" course is one of a few put on by the German manufacturer (they also offer ones for new drivers, for winter driving, and there's one geared for owners of the brand's AMG performance division). Prices and availability differs, but you can find out all about the courses at their website. I've taken a few of these over the years and every time I learn something new that I can apply to my real world driving. more...
Do you get tired of sitting all day and would like a desk that raises and lowers to help facilitate your working while standing? There are many such desks on the market, including the subject of this rant, Uncaged Ergonomics' CHANGEdesk.
According to the press materials accompanying the desk's announcement, a report from the American Journal of Preventative Medicine claims that sitting for more than three hours per day is responsible for 3.8 per cent of all-cause mortality deaths (I wonder what a non-mortality death is). Also according to the release, researchers estimate that reducing sitting time to less than three hours per day would increase life expectancy.
I guess that means I'll be dead before nightfall… more...
Range Rover has a solution for buyers of big, luxury sports utes who don't want to pay through the nose at the gas pump to get their big and heavy luxury vehicles around: get a diesel!
When Jaguar Land Rover Canada offered me the use of a new Range Rover HSE during part of my recent trip to Ontario and Indiana, I jumped at the chance, though with reservations. I was worried about the cost of the gasoline I'd have to put into the big and heavy vehicle because I figured I'd be driving the version with the lovely five litre supercharged V8.
But it was not to be! The V8 comes on the Supercharged Range Rover and my sample this time was a deliciously all black HSE diesel, and it was a fine choice; if I were shopping for a Range Rover, I'd probably choose this one because it cost me a LOT less to keep on the road than I expected. I didn't actually track my mileage religiously, but my out of pocket fuel purchases were substantially lower than I expected to pay. Range Rover claims just shy of a 25 per cent increase in mileage over the gas engine, and that's probably not too far off. more...
One is a big and brash look at some American heroes left out to dry by their government and the other is an animated take on one man's bittersweet attempt to feel like he belongs. And though they don't have a lot in common, 13 Hours: The Secret Soldiers of Benghazi and Anomalisa kind of bookend the movie business: a larger than life action movie and a smaller than life artsy fartsy "think piece."
Of the two, I preferred 13 Hours, not so much because it's a better movie or a better story, but because it's a more important film, a whistleblowing on a corrupt political regime for whom the military are pawns to be used and abused. I had hoped for more from Anomalisa, being a sucker for stop motion animation, but came away wondering why they bothered making it that way; about the only thing that made stop motion necessary was an explicit sex scene the filmmakers probably couldn't have gotten away with and maintained their 14A rating using real actors. more...

Once the mainstay of so-called soccer moms, the minivan seems to have fallen somewhat out of favour in recent years, judging by the few models still on the market.
But if you have a bunch of folk and gear to carry around often, it's hard to argue with the utility of the typical minivan, with its big sliding doors and three rows of seats that can configured in a variety of ways.
So it was that the 2016 Toyota Sienna minivan arrived outside Chateau Bray for a week, timed perfectly for a couple of grandparents to take the kids and grandkid on some amazing journeys through southern Alberta. And while I'd rather be torn apart by wild dogs than actually own a minivan, I came away from my time with the Sienna liking it for what it is - a good family vehicle, albeit a bit of a wallower. more...
Ultra High Definition, a.k.a. 4K, programming is finally oozing its way into the consumer marketplace, and Paramount has jumped into the 4K disc market with the release of the first two Star Trek reboot titles - just in time to cross promote this year's new entry, Star Trek Beyond.
I love 4K, but the dearth of software has meant there's been little incentive (other than the "gee whiz, look what I have" factor) for anyone to upgrade to the new video standard unless they're buying a new TV anyway. This is typical of any new format, of course. more...
History, tradition, innovation. Three words that apply not only to the Indianapolis 500, the greatest spectacle in racing, but also to the British brand Jaguar, whose history includes plenty of racing as well as such fantastic designs as the historic E Type sports car that was arguably the most beautiful vehicle ever made till then - and long after then.
Click on the image to the right to open a slideshow of the Jaguar and Indy.
And though it appears Jaguar never actually competed in the iconic Indy 500, Jaguar Racing did contest the Indy road course from 2000 - 2004. That was during its Formula 1 days, when the company was owned by Ford (who bought the team from another legend: Sir Jackie Stewart, who has competed in the 500) and before it evolved into team Red Bull. But for a few years, it was Jaguar. That's my hook and I'm sticking with it!
However you slice it, and whether you talk about the 2.5 mile oval or the 2.6 mile road course that also occupies the huge facility in Speedway, Indiana, there's a lot of tradition there. And what better way to honour such tradition than to take one of Jaguar's current offerings to the 100th running of the Indianapolis 500 at the end of May? more...
Top down motoring continues to be a popular pastime for Canadians and others, especially at this time of year. It's a niche that was nearly dead some 20 years ago, yet now it flourishes. And that's great! It's always nice to have choices.
I'm not the right guy to be prattling on about convertibles despite the sunshine beckoning. Fortunately, the folks at autoTRADER.ca have a handle on what Canadians are looking for when it's time to go topless in a car - regardless of what you're wearing. more...
Lexus' top selling model has a new set of clothes for 2016, as well as some new toys and capabilities. But has the redesign done anything to make the SUV/crossover a more interesting and/or fun vehicle to drive than before?
Not really, alas, though it's still a very fine vehicle and will undoubtedly please its owners over the short and long terms.
But I remember when the RX was a tad more fun, when I drove the customer shuttle for the local Lexus dealer some 10 or so years ago. I'd do one day a week, to get me out of the home office and get some real human contact, and the shuttle then was an RX 330 Sport model, which even had a decent manual shifting mode. On the other hand, Lexus dealers have a better vehicle to use as a shuttle now - the new RX is roomier and, thanks to its lack of driver involvement, it can undoubtedly be a little more relaxing for the passengers being shuttled by lead-footed drivers. more...
Carmakers who want to convince consumers their creations are the champs need a compelling website with which to do it, according to the 2016 Canadian Manufacturer Website Evaluation Study released last week by J. D. Power.
Their websites need to actually facilitate consumers finding the info presented on the site, too, and that's something that doesn't necessarily happen. Unfortunately, carmakers' site are by no means unique in this criticism, which is mine and not J. D. Power's. After all, what's the point in spending money on a website if your visitors leave in frustration? more...
If your company is looking for a utility van that rewards the person behind the wheel, look no farther than Mercedes-Benz new Metris.
It's a work van that takes a lot of the work out of driving, offering a more compelling experience behind the steering wheel than I expected out of a utility vehicle. And it starts at a reasonable $33,900 CAD ($37,900 when you configure it as a passenger van).
My recent week of Metris seat time was actually my second time behind the wheel of the van, though it was also my first opportunity to drive it for more than a few minutes. The Mercedes-Benz folk invited me to the model introduction in southwest Colorado last year, where we got to sally forth through and around the Rocky mountains in a high altitude adventure that convinced me the van would be a pretty nifty vehicle for those contemplating such a product. more...
Think of it more like a strongest link, rather than the "wekast" one.
WeKast is a new hardware and software solution for people who make presentations on the go, whether in corporate boardrooms or wherever. It's a way to leave the cables at home and just carry along with you your smart device and the little WeKast dongle.
And it appears to work, if my rather quick and limited tests of the system are any indication.
Here's how the company positions the product on its Kickstarter page: "We have all been there. You have an awesome presentation, you're dressed to kill and then the technology fails. The Wi-Fi is down, you have the wrong plug or it is plain taking forever. Now, you're stressed and the clients that you are supposed to impress are…staring at their watches, or worse -- glaring at you. Not a good way to make a first impression. Even if you get it to work - you've lost your edge." more...
"Half the doors. Twice the fun." That's how Honda Canada's website describes the new Civic Coupe and it's a pretty decent description of the newest version of the award-winning Civic.
It's still over styled and has annoying interfaces, but I agree with Honda that the coupe provides a lovely helping of the fun to drive factor that can make small cars such a blast - and which the new sedan version lacks. It's a Honda that feels more like Hondas of old, and that's great.
According to Honda Canada, virtually everything about the 2016 Civic Coupe is new. It "sports" a new architecture, a new interior (though it's pretty much like the new sedan's) and new exterior styling. It looks better from inside than out, thanks to Honda's decision to add creases and stuff to the exterior. Its bum looks particular chubby, but that seems to be a common thing in today's society, and I'm not talking about cars… more...
Don't sit too close to this column lest you become collateral damage from the lightning strike it may prompt.
Why? Because for the first time ever, I spent a week driving a Toyota Prius and I didn't hate every second behind the wheel. And I have to be honest enough to tell you that.
What's going on here?
What's going on is a new generation of Prius. Oh, it's hardly the perfect vehicle, and it has undergone an appalling uglification process in the creation of this fourth generation of Toyota's world-beating hybrid (what's with this current trend among some Japanese manufacturers to over style their vehicles with excess pleats, wrinkles and the like?), but I have to admit that I had a comparative blast in this car compared to my usual problem of staying awake while behind the wheel of previous generation Prii.
I still wouldn't buy one, but for once I liked the car. Mostly. more...
---
Endless entertainment! That's how Roku's Canadian website describes their service, a hardware and software-based solution that competes head to head with such other systems as Google's Chromecast. And they're right about the "endless" part, at least to a point: there's so much stuff you can access with your Roku it might make your head spin.
The downside to all of this, if you can call it a downside, is that some of the content isn't free and a lot of the stuff that is free adheres strictly to Sturgeon's Law, which I paraphrase as saying "90 per cent of anything is crap."
Yet as Roku says, there are "2000 channels and counting." more...
In an era where SUV's and crossovers dominate the utility market, there's still a classification of vehicle that offers most - if not all - of that utility while still imparting the driving experience of a sports sedan. Unfortunately, this small niche seems to get ignored in the North American market, with only a few entries still available.
I'm talking about "station wagons," also known as "touring," "estates" or "shooting brakes" in other parts of the world. Today's wagons are a far cry from those 1960's land barges with their rear-facing bench seats and stuck on fake wood accents. Today's wagons, at least as far as those from the German Big Three are concerned, are just as great to drive as their more "trunk-ated" versions and, in fact, thanks to a bit of extra metal and other stuff at the back, may even offer slightly better weight distribution than their sedan counterparts - though with the penalty of higher overall weight as well. more...
---
So this is how they do it!
Hyundai and its sister carmaker Kia have come a long way in a relatively short time, from the days in which their wares were basically automotive jokes until today, where they're whipping members of the established competition on a regular basis. And if you've ever wondered how they do it - which also (purely coincidentally, I'm sure) is their current advertising theme - one drive in the 2017 Elantra will show you why.
And while I hate the ad campaign, in which they dump all over their apparently dimwitted and stereotyped competition (just tell me why you're better than them and spare me the dirt), I certainly can't argue with the vehicle quality.
I'm not surprised, really. A few years ago, Kia hired a guy named Peter Schreyer away from a long and honoured career with Audi and the Volkswagen group, where he was responsible for creating some of the most beautiful Audis ever, and he's also behind the exquisite styling of the past few years' worth of Kias. more...
Audio giant Bose has announced a tweak to its SoundTouch line of Wi-Fi-enabled music systems, adding some extra value to an already-great product line.
According to a release by the company, the new software update adds new functionality to the "old" equation via a clock that shows up on the little OLED screen on the units' front. So the SoundTouch 20, 30 and Portable can now give you the time when you have the inclination.
Here's how Bose describes it: "It taps into the Internet, so it's always accurate and never needs setting. It automatically changes in and out of Daylight Saving Time. And the readout wanders slowly across the display to avoid long-term "burn-in." We experimented with dozens of movement variations before landing on this one—just the kind of attention to detail we believe really makes a difference." more...
---
Volkswagen's Jetta was a terrific car before the 2016 model year, but the addition of a brand new engine to the mix makes creates even more powerful reason to give the car a look if you're shopping in this market niche.
The engine is a 1.4 litre turbocharged four cylinder unit that replaces the two litre power plant that populated VW's before. It's a peach, too, upping the engine output ante from the old unit's 115 horsepower to a much more interesting 150 horses - and an even more interesting 184 lb.-ft. of torque (compared to the old engine's 125) that comes on at a low 1400 rpm.
The new engine doesn't really make the Jetta feel like a GTI, or even a Jetta GLI, but it isn't meant to. Rather, it's a modern take on the entry level engine species and as such it's a real joy. more...
G, wouldn't you love to have a top line Mercedes-Benz off roader to support you on your globetrotting adventures?
Mike Horn certainly seems to love it. The "21st century adventurer" brought his pair of "G" Classes - which will be joined on his upcoming global circumnavigation by a sailboat as well as his own physical abilities and guts - to a press event at Calgary's Lone Star Mercedes-Benz dealership on Monday, April 4, after having tested a pair of the German carmaker's G-Class units in Alberta's mountainous wilderness. more...
---
Are Toyota's two biggest vehicles too big, or just right?
It depends what you're looking for. One - the Tundra - is a full sized pickup meant to compete head to head with the likes of the Ford F-150 and Nissan Titan. The other - Avalon - is a full sized family sedan that offers a lot of room and a lot of other nice stuff, not including a real fun to drive factor. 
And while they're still the same vehicles as ever - big haulers of people and/or stuff - both of these mega-Toyotas enter the 2016 model year refreshed and enhanced to ensure they remain up to date in a marketplace that seems to change overnight. more...
Smart TV's are all the rage these days - it seems as if that's practically all you can buy - but what if you have a more old fashioned TV that doesn't come with a bunch of apps built in, yet you still want to exploit the capabilities of the online (or merely networked) world?
There is a variety of solutions available to drag your TV kicking and screaming into the current age, whether it be app-enabled Blu-ray players such as those offered by Oppo Digital and others, a dedicated media player-in-a-box such as those offered by Western Digital and others, or a "dongle" type of device you plug into a vacant HDMI port. more...
---
We welcome your comments!
TechnoFile: "The Tech Magazine for the Rest of Us!"
TechnoFile publisher Jim Bray's print columns are available through the
TechnoFile Syndicate.
Note: Unless otherwise noted, prices in this publication are quoted in US dollars.

TechnoFile is copyright and a registered trademark © ® of
Pandemonium Productions. All rights reserved.
E-mail us Here!
---