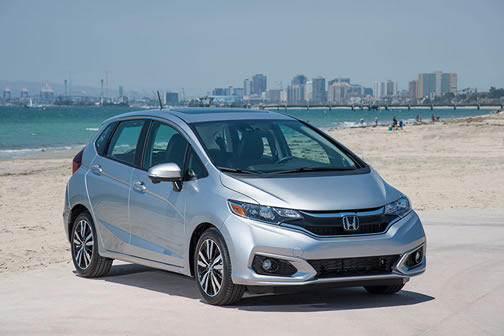 Does Honda's mid-cycle refresh of its little Fit mean the car's a little Fitter now?
Indeed. The Fit is a good little car - despite the Honda-isms of the company's current line that continuously drive me crazy - and Honda has indeed made it even better than before. They've even returned the volume control knob to the centre stack, proving that they either do listen to their critics or that they've actually started driving their own products for a change.
Once upon a time Honda's entry level vehicle in North America was the Civic, but as that popular and iconic car grew it re-opened the niche it occupied originally, creating room for a newer, smaller model to, well, fit in there.
This growing of segments is, of course, not unique at Honda at all. For example - and this is only one of many such examples - Toyota's smallest offering in North America was the Corolla many years ago, but over time it grew as well, making room for the Tercel (then the Echo and the Yaris). And so the market goes.
So the Honda Fit fits in this "entry level" niche, going against such vehicles as the abovementioned Yaris, as well as the Nissan Versa, Hyundai Accent and the brand new Kia Rio - and more. How does it fit? Quite well. more...
Warner Brothers plants its corporate feet even more firmly in the 4K UHD disc marketplace with the release of Harry Potter and his little friends' first quartet of adventures. These four titles join the final four that were released on 4K earlier this year.
Alas, while they're all terrific movies - and these new versions are definitely their best video incarnations yet - they aren't the stuff of 4K dreams. But if you're a Potter fan (a Potter person?) and you haven't yet added the series to your library, this is the best way to get them all without worrying about them becoming obsolete due to the onward march of technology. more...
Toyota, please don't even think about 86ing this great little smile generator!
The Toyota 86 - the Scion FR-S before Toyota said sayonara to the Scion era - and its virtual twin from Subaru (named after a Business Revitalization Zone or something) are relative rarities in this era of high tech gadgetry: they're raw and unsophisticated, but they also hearken back to the days when cars were simpler, more direct and, dare I say, visceral.
Not that the 86 is primitive. Indeed, it comes with everything that someone who enjoys the act of driving needs. Sure, it could use a little more oomph and better rubber, but like its chief rival in the marketplace (Mazda's little bundle of joy MX-5, of course!) it's so much fun in which to zip around that I'm surprised it hasn't been banned yet.
And in Toyota's case, it's shining proof that the company can still make an exciting car as well as ones that'll run like watches for 1,000 years. Heck, when the next sportiest model your line is a Camry, or a Yaris, there's room for a little smilemobile. And this is a fine one! more...
It may not be the strongest Pixar outing, but Disney/Pixar's third Cars movie offers a fantastic home  theatre experience.
Indeed, the folks at Pixar are really on the top of their game here, and Disney's 4K Ultra HD disc release is truly reference quality - so much so that I'll be using it as one of my test discs going forward. It isn't just the 4K picture, it's how the 4K picture takes advantage of the Pixar folks' hard work creating the "virtual world" of Lightning McQueen, Radiator Springs, and the "pseudo-Nascar" spectacle. It's remarkable.
In Cars 3, Lightning McQueen (once again voiced by Owen Wilson) is still racing and winning, but like legends such as A.J. Foyt, Mario Andretti and Helio Castroneves learned in a real life racing series (IndyCar), you can be talented and legendary and still quick, but there's always a young whippersnapper yapping at your heels (or, in this case, bumper) and there comes a time to toss in the racing helmet. more...

Canadian Tire Motorsport Park, Ontario: Some of the best or most interesting new or substantially-changed vehicles for 2018 turned out at this vintage Ontario racing facility for a two day marathon driving session designed to choose the top candidates for AJAC's annual Canadian Car of the Year Awards.
This is the place, as noted in historic pictures around the facility, where guys like Gilles Villeneuve, Jackie Stewart, Stirling Moss, Mario Andretti and A. J. Foyt plied their trade. The track owners were smart enough not to let us anywhere near that track (damn their wisdom!), but we did get to take some of the coolest sets of wheels onto the Driver Development Track, a fun series of innumerable turns designed more to teach you mettle than test your metal. more...
How do you cope with stupidly low speed limits, endless semi-trailers choking the two right lanes (even if there are only two), and drivers who seem to think that, because they're from the Centre of the Universe™, they have a right to drive as moronically and/or in others' faces as they want?
Oh, and how about the endless signs peppered over the roadsides cajoling you how to drive, how to live, how to do everything except drive distracted (because it appears to only be okay when it's the government doing the distracting)?
Well, you could try driving in a Lincoln. It won't make the drive better, but it can certainly make it a lot more pleasant.  more...
Or maybe it's a "coupe de grace!"
However you pun about Mercedes-Benz' 2018 E 400 coupe, it's an exquisite and luxurious two door E Class, and that is nothing at which to sneer. Sure, you won't get much change back from your 90 grand to get one configured as Mercedes-Benz Canada's quite loaded sample was, but that's what a car like this costs these days - and for that amount you're getting an incredible vehicle.
Can't afford that? No problem! All the technology and comforts the E Class has today will trickle down to entry level cars sooner than one might expect, judging by how quickly such stuff as lane departure warning, adaptive cruise control, rear view cameras and the like have now started cropping up at the lower end of the market.
But if you want the higher end goodies in a sporty coupe - without getting into the hyper car realm - this isn't a bad place to start.
I'm a sedan kind of guy - actually, I like wagons even more - but the lines of this coupe really stir my automotive drool response. It may be a tad meaty on its haunches but the overall look is modern and high tech and continues Mercedes-Benz' current golden age of interior and exterior design. This is no turgid Teutonic tank, it's a beautiful example of today's state-of-the-art auto design.
Beauty, of course, being in the eye of the keyholder. more...
First came the SoundLink, then a while later came the SoundLink Mini. So it was probably inevitable that Bose would follow up eventually with this new, micro-sized Bluetooth speaker.
It only makes sense, what with technology's continuous process of miniaturization and optimization. A computer that used to fill a room is now outclassed by a smart phone and room-filling speakers can now fill rooms from enclosures a fraction of the size of other types of loudspeaker. With audio, however, the fly in the ointment is bass.
Meanwhile, here are a few words about Warner Brothers' new comedy release, "The House," which comes to Blu-ray on October 10. It stars Will Ferrell and Amy Poehler, both alumni of Saturday Night Live, a show that used to be funny sometimes. more...
Honda's luxury division may have sparked the Japanese invasion of the luxury and high end sports car markets - and led the way for several years after that - but you might wonder what the company has done lately.
Well, besides the new NSX supercar, the company has continued to release well built, luxurious vehicles that are stuffed with technology. The problem is, everyone else is doing the same thing, only some have now passed Acura's lead enough that the folks at Honda's top niche may find themselves a tad lost in the customer shuffle. And that's a shame.
It's easy to see why, though. Honda/Acura still make great cars, but they seem to have forgotten about the people who actually use them, via unfathomable ergonomics and electronics controls and safety nannies that are so obtrusive at times that I wanted to smash my fist into the poor, innocent steering wheel.  
The TLX is a prime example of what Acura and Honda are doing now, both good and bad: it goes like heck, has everything you could want (and then some), and is a compelling vehicle to drive. Yet in its niche, competing against such worthies as the Audi A4, BMW 3 series, Jaguar XE, and Lexus IS, it seems to practically disappear. more...
Disney's first two 4K disc titles, Guardians of the Galaxy Volume 2 and Pirates of the Caribbean Volume 5 are welcome additions to the burgeoning 4K title library, though one is much better than the other as both a home video presentation and as a movie. Still, it's nice to see Disney stepping up to the 4K world. The company may be many things, but stupid it is not. And it knows how to make money.
But there was a time when the company misunderestimated the marketplace so badly that it ended up suing a tech company for having the audacity to create a new technology! more...
The VW Tiguan has always been a great compact SUV, and for 2018 the German carmaker has redesigned the vehicle completely, crafting a new generation Tiguan that seems fully capable of slugging it out in this niche of the market.
As a VW fan, I'm always nervous when they release a new model because I'm afraid they'll screw it up. It's like your favourite sports team coming off a championship-winning season, and you just know the team will be different next year thanks to retirements, free agency, etc., and you dearly hope the new team will be everything the old one was. Fortunately, at least in Volkswagen's case, their history is generally one of steady development and refinement rather than the company rushing to throw the new baby out with the ancient bath water.
Some might think that makes VW's designers and engineers some of the laziest in the world - heck, a Golf still looks like a Golf even after decades of development, but can you say that about, say, a Civic? I think it means they're steady and don't throw something out just for the sake of newness. I like that.
So here we have an all-new Tiguan, hot on the heels of the all-new Atlas I drove a few weeks ago. It's bigger, bolder, more muscular-looking and with newer technology than the outgoing Tiguan. And you can even get it with a third row of seats! more...
DC Comics has a decidedly spotty track record when it comes to movies being made from their catalogue. Going into this review, I could count on one hand the DC superhero movies I've enjoyed over the decades: the Richard Donner Superman from 1978 and the Christopher Nolan Batman trilogy from the 2000's, with perhaps an honourable mention for Tim Burton's first Batman from 1989. That leaves more than a few Superman movies out, as well as such forgettable titles as Green Lantern.
Then, along comes Wonder Woman - starring a woman, directed by a woman and featuring a nicely mixed cast racially and ethnically - and I figured it would just be another of "Hollowwood's" attempts to preach social justice warrior propaganda to the unwashed masses.
Except that I was wrong. more...
Minivans. These people haulers have been around for years and for a while were some of the most popular vehicles on North American roads. Then came the "crossover," a combination of car and SUV, and the minivan segment in which an abundant number of automakers had participated started dwindling down until today there's only a handful of models available.
One of the more interesting is from Chrysler, via its Pacifica - a name that once applied to one of the early crossovers, a seven seat people hauler that was more a long and a tad taller car than a minivan. I reviewed the first Pacifica back in 2007 and thought it was pretty neat - a decent carrier of people and not necessarily their stuff. But that Pacifica is long dead and the new one comes down firmly into the minivan segment - and it also offers what the company says is the first hybrid minivan on the market.
That's the version that Chrysler sent me to drive for a week, a model that starts at $56,495 CAD, which is surely not chicken feed. Granted, the Pacifica actually starts at $36,595, but that's still a bit of a premium compared to other minivans on the market. The Toyota Sienna, for example - according to Toyota's Canadian website - starts at $33,690 and tops out around $51,715, while the Honda Odyssey starts at $34,800 and tops out about $52,156 (also sans extras and taxes). Kia's Sedona make the gap even wider: a starting price of $27,995 that rises to about $46,995 with the top trim level. more...
If your home is plagued by Wi-Fi dropouts and other router issues, you may want to think about an upgrade, perhaps to one that offers multiple bands to up your choices and, with luck, performance.
Hence TP-Link's AC5400 Wireless Tri-Band MU-MIMO, also known as the Archer C5400 Gigabit Router. This sucker offers a total of six distinct networks, kind of: 1 x 2.4 GHz, and 2 x 5 GHz, with all three options available for both regular use or as specially noted "Guest" networks, so you won't get in trouble for some overnight interloper's porn downloads. Or whatever your issue may be. Of course, offering a guest network means your visitors can have Wi-Fi without having to know your Wi-Fi password - and in this case you can also choose whether to allow guests to see each other and/or whether to allow them access to your local network (you can let them use the internet but not get at your files). more...
Here we go again, another Mazda review, another vehicle that does everything it should well, but which adds a little extra "zing" to the equation or, as Mazda has put it for so long, with "Zoom-Zoom."
Sure, it could use a little more "Zoom," but it's still pretty good, and it's a darn fine mid-sized SUV as well.
I love Mazdas and have only found one over the years I've been reviewing them that was lacking enough in "Zoom-Zoom" for me to whine about it - even though I'd love to see a little more of it in most of their current vehicle line. It was the original CX-5, back in 2012, the first Mazda product to offer its SKYACTIV technology. The two litre engine in question only put out 155 horsepower, which prompted me to quote the book of Daniel: "For what doth it profit a man, if he gain the whole world, and suffer the loss of his own soul?"
My point was that I hoped Mazda, while attempting to appease the greenies with its SKYACTIV technology (which, to be fair, involves more than just their engines), didn't enrage their fans at the same time. I know they annoyed my best friend, who drives a first generation Mazda3 and is seriously looking at a new CX-5 for his next vehicle, because after he drove that original CX-5 he referred to it as "Snooze-Snooze," and he doesn't even have my lead foot.
Fortunately, that, as they say, was then and this is now. more...
Relatively hot on the heels of its outstanding UDP-203 universal player comes Oppo Digital's UDP-205, a sequel that not only equals the previous player's great video quality but which also ups the audio ante substantially.
And how often can one say that a sequel is better than the original?
The UDP-205 is also the successor up to the company's BDP-105, which was a heckuva tour de force in its own right. But like its little brother, the UDP-205 adds 4K disc playback capability to the mix. That could be enough to justify it for folks who've embraced - or are planning to - the 4K disc format (and if you're a "home theatrephile" you really should). But 4K is only one thing that's great about this high end disc player that's also perfectly happy to function as a media hub and more. more...
---
Volkswagen's first all new SUV since the Tiguan is here, and it's bigger, more angular - and more modern in VW's inventory, than the Tiguan and the Touareg.  Will it be enough to help turn around any negative public impressions there may be coming out of the diesel kerfuffle of the past couple of years?
Who knows? I doubt one model could do that - though the Atlas is a darn fine place to start. Besides, I think the whole diesel thing was BS anyway - and a shame from consumers' standpoints. That's because, if I were to buy a vehicle today that was offered in gas or diesel, in most cases I'd opt for the diesel. Sure, they're down on horsepower, but they generate gobs of torque, which is more important for the lead footed, plus they get terrific fuel mileage. And, though prices wobble wildly, diesel is often cheaper than gasoline.
But back to the Atlas, which Volkswagen Canada said in its press release "launches a big new chapter in the company's history." The new, seven passenger Atlas replaces the two row Touareg, at least temporarily, and also points the way toward where Volkswagen is taking its vehicle design. To that end, it has a more angular and chiseled look than either the Tiguan or the outgoing Touareg (the 2018 Tiguan will adopt the theme as well) - but it also looks more "modern" since both other models are very due for updating (though I think they've aged gracefully). And it still looks like a Volkswagen, which is a bonus. more...
Dumping cable and/or satellite appears to be quite the trend these days but what happens, once you've gotten rid of the service, if you want to record your favourite programs for watching later? Equally important: how are you going to watch the shows in the first place?
Well, that's the idea behind Nuvyyo's Tablo DUAL, which the company claims is the first network-connected over-the-air (OTA) DVR to also include 40 hours' worth of onboard high definition recording storage. In other words, it has a hard drive built in by which you can record your favourite TV broadcasts that spew into the air from your local TV stations.
Kensington's International Travel Adapter with Dual USB is aimed at the international traveller who spends time in hotel rooms or other venues around the world whose electrical systems and outlets aren't like those we use here in North America. Well, that's not entirely true. The $40 USD device also works in North America. In fact, Kensington, on the unit's box, claims it'll work in 200 countries. more...
---
One is the sportiest version of Ford's mainstream mid-size sedan, while the other's Lincoln's variation on the theme. So, when it comes to a choice between the Fusion Sport and the Lincoln MKZ, which is the better car?
Waffle time (syrup, anyone?)! As is so often the case, the answer is a clear "it depends." Mostly, it depends on your budget, I suppose, because the loaded Ford Fusion sport Ford loaned me to wring out for a week is priced at $42,388 (sans taxes, etc.) while the MKZ stickered for $59,300. That's a pretty big spread for what beneath the surface are two cars who share a lot of their DNA.
The Fusion Sport is the top line Fusion - well, there's also the Platinum and Energi Platinum trim levels that can raise the ante a bit - but they don't offer the performance upgrades of the Sport, chief of which is the 2.7 litre twin turbo EcoBoost V6. This engine is quite lovely; Ford rates its output in the Fusion Sport as 325 horsies @ 5,500 rpm with 380 lb.-ft. of torque @ 3,500 revs.
If you want even more bang - not necessarily for the buck, though - Lincoln's MKZ is an uber-Fusion, a luxury sedan that's solid and comfortable and chock full of the most up to date features (not that the Fusion is any slouch when it comes to tech and nannies). more...
Perhaps you could call it an "unreceiver." Or maybe a "deceiver."
However you refer to it, Rotel's RAP-1580 is a one box solution to most current audio needs.The only mainstream feature it doesn't have on it is a radio tuner, which would make it a "receiver." And as popular as receivers are, I can't see why many folks would care about that in 2017, since the RAP has Bluetooth capability by which you can stream your favourite radio stations from around the world via a smart device and the Internet. more...
---
If you're looking for a compact or mid-sized crossover from Ford but want something a little more exclusive, Lincoln just may have what you're seeking.
The MKC and MKX, which are up market versions of the Ford Escape and Edge, respectively, are both comfortable and luxurious vehicles that drive well and will coddle your bones nicely. I spent a week in each of these vehicles recently and came away quite impressed. I think they'd be even more impressive if the manufacturer would integrate more completely the terrific new interior found in the excellent Continental, but in the meantime you get a better and nicer Ford for a not-too-unreasonable premium over the garden variety Fords.
My favourite of the two is the MKC, for the mere reason that it's more a size I like. It isn't hard to see the Escape under the surface, but the MKC manages to Escape its more mainstream brother by adding a more attractive body style and a bunch of luxury and creature touches designed to raise this vehicle's premium profile - which it does quite well. The MKX is to the Edge as the MKC is to the Escape, and of course there's nothing wrong with that. more...
A remake of an old comedy and two movies I hope are never remade are on tap for this week's Blu-Ray releases. "Going in Style," "Unforgettable" and "King Arthur: Legend of the Sword" come from Warner Brothers ("Going in Style" is being released this week, while the other two appear to have escaped, rather than been released). more...
---
Ah, that new car smell! There's nothing quite like it.
As a car nut, it's one of the nicest aromas I can think of, and as someone who reviews cars regularly it's a welcome odour I get to experience all the time. The only "new" smell that can match it is the spit up from a newborn family member - but, unlike a new family member, you don't have to hose yourself down after experiencing new car smell.
It appears I'm not alone in this penchant for "l'odeur de voiture nouvelle" (or however it translates into Canada's other official - and the preferred one, it appears, if you're with the government -language). According to J.D. Power's 2017 U.S. Automotive Performance, Execution and Layout (APEAL) study, consumers are finding the lure of the new set of wheels even more compelling than before.
"Car owners' love affair with new vehicles is stronger than ever," says J.D. Power's press release, "as evidenced by a nine point increase in the APEAL index from last year—tied for the largest gain ever." The industry average APEAL index increased to 810 points this year (on a 1,000-point scale), helped along by significantly better scores in nine of the 10 categories the group measures. Not only that but 19 of the 32 brands included in the study made positive gains in their performance compared with 2016.
So it's not only that people like new cars, it's also that new cars are getting better and more appealing. And are therefore more appealing to people. And isn't that how it should be? more...
It may have started life as a Japanese comic book, but Paramount's Ghost in the Shell is a compelling and eye-dazzling adventure that's much better than I had expected going in.
The movie, debuting on 4K and conventional Blu-ray (our sample was the Blu-ray, darn it, which comes with a DVD and digital code in the package as well - and a 3D version is available, too) hearkens more than a little to Blade Runner, in its look and overall storyline, but more in an "inspired by" or "homage" manner than being a complete rip-off. It made me curious to see how the Blade Runner sequel will turn out when it debuts later this year.
Speaking of a not-too-distant future, Ghost in the Shell is set in just such an environment. Look at the streets, with their obtrusive (but perfectly logical given the way our society is going) holographic ads all over the place - and the abundance of neon and other signage, and it looks exactly like a 21st century take on the 21st century envisioned by Ridley Scott and his collaborators back in the 1982 Blade Runner (though I don't remember seeing flying cars in "Ghost"). There's less rain in this vision of the future, it seems, but that's okay because perhaps it means the seas didn't really rise after the United States withdrew from the Paris Climate accord. more...
---
We welcome your comments!
TechnoFile: "The Tech Magazine for the Rest of Us!"
TechnoFile publisher Jim Bray's print columns are available through the
TechnoFile Syndicate.
Note: Unless otherwise noted, prices in this publication are quoted in US dollars.

TechnoFile is copyright and a registered trademark © ® of
Pandemonium Productions. All rights reserved.
E-mail us Here!
Our Privacy Policy
---