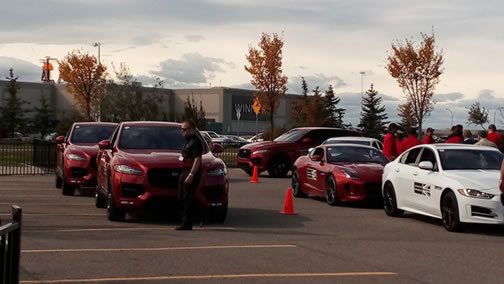 Jaguars, as in the big cats, are apparently solitary animals for the most part, but when you bring them together in a group it's referred to as a "pride," just like with lions.
And I'd be lion if I told you I didn't have a really great time at Jaguar Land Rover Canada's Art of Performance tour, which stopped in Calgary over the September 17 weekend. In fact, my buttocks had to be "pride" from the seat of an F-Type before I'd leave.
The Art of Performance tour is billed by the company on its website thusly: "Thrill your senses. Introducing the all new XE, XF and F-Pace, our new generation of vehicles at the Art of Performance Tour." And that's what it turned out to be, a two and a half hour first impression of the marque's newest vehicles, with a bit of "fake off road" Range Rover performance thrown in for good measure. more...
Budweiser is bringing new meaning to the term "light beer," while LampChamp is bringing new flexibility to your travelling power needs. Somewhat.
Which to tackle first, a convenient item for those toiling on the road, or a fun fan thing for hockey nuts? My wife and my mother would undoubtedly admonish me to get the work done first, so I'll start with a couple of quick impressions of the LampChamp. Then we can relax over a tall cool one! more...
Chalk up another win for Kia. The South Korean carmaker's 2017 Sportage is a handsome and enjoyable vehicle that's full of modern technology and safety features. It's decent to drive, too.
And fortunately, it comes with a warranty - not that that's unique. But read on!
Available in three trim levels - LX, EX and SX Turbo, both in either front or all-wheel drive configurations (the SX is AWD only, though) - the SUV/Crossover starts at a reasonable $24,895 CAD for the FWD LX and climbs to $39,595 for the top line SX Turbo. The SX is the one Kia Canada sent for test purposes and other than a flutter in the two litre engine that would undoubtedly be fixed easily under warranty, I found it a really nice vehicle. more...
Remember turntables, those hardworking platter spinners with which many of us grew up? It appears that reports of their demises are, if not completely wrong, at least overstated - and Audio-Technica is taking steps meant to ensure the old fashioned disc player is still relevant in a digital and wireless world.
I finally sold my turntable a few years ago, though I still have a few record albums around that my wife really wants me to get rid of. But I rarely throw anything away; heck, I still have a bunch of laserdiscs, a once high end video format that committed suicide almost the day that DVD's hit the market.
But unlike laserdiscs, which are showing no signs of being reanimated, vinyl records are staging a comeback. Oh, I doubt they'll ever become truly mainstream again, but they seem to be finding an audience, as evidenced by the turntables still (or newly) on the market and the bins of vinyl records being sold in many music stores. more...

The bad news is that you can no longer get a V6 engine in Mazda's biggest SUV. The good news is that you may not care.
I must admit that I was worried when I heard that Mazda was dumping the V6. I liked the old CX-9 a lot - I have yet to drive a Mazda I didn't like - and I was concerned that trimming it down to a turbocharged four cylinder engine would lead to a vehicle that wouldn't be as much fun to drive. But I needed have worried! After spending a week in the new CX-9, I commend Mazda for their choice because the new CX-9 loses nothing important in the way of performance, yet it shed weight and undoubtedly upped its fuel mileage in the process.
Therefore, we have a new turbo four, the first turbocharged SKYACTIV engine from Mazda, and while its horsepower rating of 227 may not set the world on fire considering the size of the CX-9, its 310 lb.-ft. of torque, available at a nice and low 2,000 rpm, makes up for it very nicely. more...
LG's newest line of 4K TV's ups the company's ante when it comes to state-of-the-art smart TV's, offering excellent video, better than average audio and a host of other features designed to make life with the TV more pleasant.
The company sent me a sample of the 55 inch 55UH8500, a fine TV marred only by an annoying, mouse-like remote control that's meant to make accessing the set's myriad features easier, but which in my never humble opinion actually works against that ease of use.
Fortunately, the conventional remote from my older LG plasma worked fine. more...
In the tradition of the little engine that could, Ford really could call its Flex crossover the minivan that isn't.
That's because it isn't a minivan, but it might as well be. Even better, it isn't an SUV either, as compared with most "other" SUV's on the market. And it's a station wagon, too! Really, the Flex is one of the few true "crossovers" I can think of, a vehicle that transcends the niches between the various and supposedly "soccer mom movers" that make up a so much of the marketplace.
Ford could be accused of trying to maximize sales by straddling the line between two or three, niches, but that would only be fair if the company had come out with some mishmash that didn't do any job adequately. Fortunately, the Flex is, if not formidable, at least very good - and surprisingly driveable as long as you keep its turning circle in mind when you're angle parking. more...
It's a company known best for making spectacular universal networking disc players, as well as some personal audio products, and OPPO Digital has now branched into the crowded speaker market with a networking system designed to go head to head with other, more established systems.
By "more established", I mean the Sonos and Boses of the world (not just them, of course, but they're perhaps the most high profile), companies that not only offer good speaker systems, but speakers systems that interact with your music regardless of where it may be: on your network, your smart device, in "the cloud," on a USB drive, whatever. more...
It's big, it's brawny - and, for those who want maximum hauling performance, now you can get it with a torquey and businesslike Cummins diesel engine.
It's the Nissan Titan, and I just spent a week in Nissan Canada's sample 2016 Nissan Titan XD Platinum Diesel Crew Cab 4x4 (one of five versions offered), tooling around the city and environs, cutting a swath through lesser vehicular traffic - which is most vehicular traffic!
If you're a regular reader of my stuff - and thanks, by the way! - you'll know I'm not really a truck guy, so to ensure as much fairness and accuracy as possible I enlisted the help of a couple of friends, one of whom owns a first generation Titan and one of whom owns two big Ram trucks, including a diesel. I defer to their knowledge and experience, though of course I also have my own opinons for whatever they're worth. more...
The latest generation of 4K televisions is in stores now and if you're in the market for a new TV it's hard not to recommend embracing the new, ultra high definition format. And if you're thinking of doing just that, Panasonic's $2499 TC-55CX850U is well worth a look.
After spending a couple of months with my posterior parked in front of the Panasonic I may be over my devotion to plasma as the best picture you can get with a flat panel TV. Plasmas may have been the best you could get before 4K, but they're effectively dead now anyway - and this Panasonic's 4K picture, even up converted from lower resolution sources, is spectacular enough that I probably won't mourn the passing of the plasma. more...
It wasn't exactly a mid-life crisis, but it sure may have looked like it to people not inside the car.
I'm referring to my recent week in the 2016 Ford Mustang GT convertible, which just happened to coincide with my 64th birthday and came at a time when the weather cried out for a ragtop.
Mustang has always been my favourite muscle car, sometimes called Pony car - but only because the Mustang is the original pony car, appearing first in 1964 and changing the fun car market ever since then. Well, mostly. There were some Mustangs during the 1970's that weren't fit to carry the horse logo and, I have to admit, none of the Mustangs really turned my crank between 1970 and the car's reboot in the early 2000's.
But that's just me. The Mustang has cantered on all through those years regardless of what I thought of it and now the car exists with its most attractive styling ever; it's also full of modern electronics and gewgaws, yet it retains its pony car demeanour and heart - an interesting balancing act Ford seems to have pulled off with aplomb. more...
Netflix may be the several hundred pound gorilla in the world of TV content streaming - and with good reason - but competitor shomi has a lot going for it as well. I don't think it has the depth and breadth of what Netflix offers, but there's still plenty of programming to peruse.
Most people will undoubtedly want to compare content - the amount of stuff you can watch from the particular service - and in that regard shomi comes up short compared to Netflix. more...
---
Mercedes-Benz certainly seems to be on a roll these days. The German luxury car manufacturer is currently making some of the most attractive vehicles in its history, beauty being in the eye of the beholder of course, and they're integrating the latest technology into their models without making most of it unnecessarily annoying and/or obtrusive.
And that's on top of their long-held reputation as the maker of some of the finest cars on the market - an impression they continue to foster via their slogan "The best, or nothing."
The result of their work can be seen in cars such as the new C 300 coupe, with which I spent a week recently. It's a beautiful car, though its roofline seems a tad Honda Accord Coupe-like to these eyes (which would be a compliment were I not also whining about it being a bit derivative), and it drives very nicely too. Oh, it isn't a "real sport coupe" like a BMW M4, but it doesn't claim to be - and it's undoubtedly easier to live with than a BMW thanks to its easier-to-figure-out interfaces. more...
Tablets are everywhere these days, so much so that it can be hard to decide between them. Do you want Apple or Android, big or small, cell/data service built in or not, whatever?
Into this crowd LG has released the G Pad III 8.0 FHD, a nice little unit that falls into the marketplace as a smaller tablet, yet one that has plenty of features going for it. more...
---
Ford's top selling Fusion has a new look and new capabilities for 2017, and if my all-too-brief experience with the car on its introduction in British Columbia last week is any indication, it should continue to be a popular choice with consumers.
Ford of Canada invited me, and a gaggle of other car writers, to sample the 2017 Fusion, which isn't a complete redesign but is still a major rethink of what was a pretty decent car already. Ford has made a number of tweaks they think - and they're probably right - will help keep the car competitive in this bread-and-butter market niche that also features such great vehicles as the Toyota Camry, Honda Accord, Mazda6, VW Passat, Kia Optima, Hyundai Sonata etc. etc. etc. more...
It may be getting a bit long in the tooth, but Panasonic's PT-AE8000 3D 1080p front projector can still be a great way to get truly huge pictures in your home theatre.
Introduced a few years ago, the unit goes head to head with such other home theatre projectors by Epson, JVC, Sony and the like - there's plenty of competition - and just because it isn't a brand new model doesn't mean it doesn't offer compelling features. Indeed, it does. more...
---
Mercedes-Benz just taught me how to drive like Jackie Stewart!
Okay, maybe not - few people can drive like the legendary "wee Scot" who won the Formula 1 championship three times in the late 1960's and early 1970's.
But thanks to Mercedes-Benz's Driving Academy and their recent "Mastering Performance" course at Castrol Raceway near Edmonton, I learned some great techniques aimed at making me a better driver - and one of those techniques was pioneered by Sir Jackie himself.
It's called "trail braking," and if you can drive a manual transmission you'll find it quite similar to using the clutch.
The Driving Academy's "Mastering Performance" course is one of a few put on by the German manufacturer (they also offer ones for new drivers, for winter driving, and there's one geared for owners of the brand's AMG performance division). Prices and availability differs, but you can find out all about the courses at their website. I've taken a few of these over the years and every time I learn something new that I can apply to my real world driving. more...
Do you get tired of sitting all day and would like a desk that raises and lowers to help facilitate your working while standing? There are many such desks on the market, including the subject of this rant, Uncaged Ergonomics' CHANGEdesk.
According to the press materials accompanying the desk's announcement, a report from the American Journal of Preventative Medicine claims that sitting for more than three hours per day is responsible for 3.8 per cent of all-cause mortality deaths (I wonder what a non-mortality death is). Also according to the release, researchers estimate that reducing sitting time to less than three hours per day would increase life expectancy.
I guess that means I'll be dead before nightfall… more...
---
Range Rover has a solution for buyers of big, luxury sports utes who don't want to pay through the nose at the gas pump to get their big and heavy luxury vehicles around: get a diesel!
When Jaguar Land Rover Canada offered me the use of a new Range Rover HSE during part of my recent trip to Ontario and Indiana, I jumped at the chance, though with reservations. I was worried about the cost of the gasoline I'd have to put into the big and heavy vehicle because I figured I'd be driving the version with the lovely five litre supercharged V8.
But it was not to be! The V8 comes on the Supercharged Range Rover and my sample this time was a deliciously all black HSE diesel, and it was a fine choice; if I were shopping for a Range Rover, I'd probably choose this one because it cost me a LOT less to keep on the road than I expected. I didn't actually track my mileage religiously, but my out of pocket fuel purchases were substantially lower than I expected to pay. Range Rover claims just shy of a 25 per cent increase in mileage over the gas engine, and that's probably not too far off. more...
One is a big and brash look at some American heroes left out to dry by their government and the other is an animated take on one man's bittersweet attempt to feel like he belongs. And though they don't have a lot in common, 13 Hours: The Secret Soldiers of Benghazi and Anomalisa kind of bookend the movie business: a larger than life action movie and a smaller than life artsy fartsy "think piece."
Of the two, I preferred 13 Hours, not so much because it's a better movie or a better story, but because it's a more important film, a whistleblowing on a corrupt political regime for whom the military are pawns to be used and abused. I had hoped for more from Anomalisa, being a sucker for stop motion animation, but came away wondering why they bothered making it that way; about the only thing that made stop motion necessary was an explicit sex scene the filmmakers probably couldn't have gotten away with and maintained their 14A rating using real actors. more...
---
Once the mainstay of so-called soccer moms, the minivan seems to have fallen somewhat out of favour in recent years, judging by the few models still on the market.
But if you have a bunch of folk and gear to carry around often, it's hard to argue with the utility of the typical minivan, with its big sliding doors and three rows of seats that can configured in a variety of ways.
So it was that the 2016 Toyota Sienna minivan arrived outside Chateau Bray for a week, timed perfectly for a couple of grandparents to take the kids and grandkid on some amazing journeys through southern Alberta. And while I'd rather be torn apart by wild dogs than actually own a minivan, I came away from my time with the Sienna liking it for what it is - a good family vehicle, albeit a bit of a wallower. more...
Ultra High Definition, a.k.a. 4K, programming is finally oozing its way into the consumer marketplace, and Paramount has jumped into the 4K disc market with the release of the first two Star Trek reboot titles - just in time to cross promote this year's new entry, Star Trek Beyond.
I love 4K, but the dearth of software has meant there's been little incentive (other than the "gee whiz, look what I have" factor) for anyone to upgrade to the new video standard unless they're buying a new TV anyway. This is typical of any new format, of course. more...
---
We welcome your comments!
TechnoFile: "The Tech Magazine for the Rest of Us!"
TechnoFile publisher Jim Bray's print columns are available through the
TechnoFile Syndicate.
Note: Unless otherwise noted, prices in this publication are quoted in US dollars.

TechnoFile is copyright and a registered trademark © ® of
Pandemonium Productions. All rights reserved.
E-mail us Here!
---