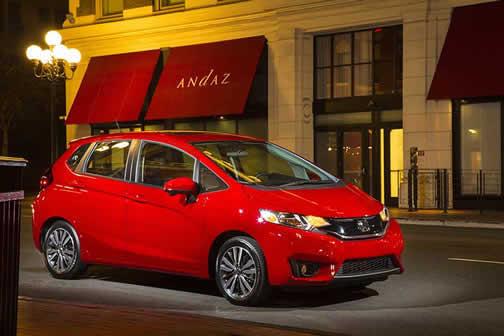 The Honda Fit is a great little car – inexpensive and decent to drive. Unfortunately, it has also been tweaked for 2015 in a manner sure to bother its front seat passengers, if not its drivers.
The Fit has been around for several years now and fills a niche opened up for Honda as the once-entry-level Civic grew in size and features. This is hardly unique to Honda, of course; you could also look at the Toyota Yaris as a response to the Corolla's inevitable growth, and that's only one other example.
So you might think that driving a Fit is reminiscent of driving an old Civic – and you'd be right to a certain extent. more...
It's a utility vehicle a mudder can love!
That's the impression Mercedes-Benz gave media attendees at its fascinating introduction to the new 4x4 Sprinters, an event at which the company made it clear that neither rain, sleet, snow nor even deep and wet mud can prevent the vans from performing their appointed rounds.
Maybe Canada Post bought their letter carriers the wrong equipment… more...
Selling stuff is the rationale for many businesses and it's completely understandable. Heck, that's why they're there! And since I live for buying stuff, it's usually a great relationship.
But what happens after the sale can be just as important – how the company treats its customers when something goes awry. We've all heard the horror stories about customers being left adrift by companies who hide behind loopholes or make customers jump through hoops to get any satisfaction.
That's why I was prompted to write this column outlining my experience with a major company: Epson. Now, my experience is still unfolding, but the important part of it is over and I've been extremely impressed with how they handled my complaint. Well, it actually was more of a query than a complaint, but it led to Epson's customer service folks jumping quickly to attention in manner I hadn't expected. more...
It's hard to argue that Toyota's Prius family has been the most successful crop of hybrid cars since Honda first inflicted the Insight on the world more than a decade ago.
The reasons may be many, but chief among them must be high gas mileage, perhaps coupled with the perception that they emit less foulness than the average car (foulness being in the eye of the beholder, perhaps?). This is in an era in which gas mileage is going up all over the automotive marketplace while emissions are going down – and "global warming" is being exposed as the hoax it always was.
Over the past couple of years, Toyota has expanded the Prius range to include the smaller Prius c and the small wagon Prius v, both of which I cover in this column. more...

Take two long in the tooth Japanese luxury sports sedans and toss them into a blender and what do you get? A single replacement that takes bits of both parents and puts them into an attractive new package.
So is the whole of the Acura TLX more than the sum of its parts?
I think so, at least as far as Acura Canada's review sample is concerned. The TLX is the replacement for both the TL and the TSX, the former of which was originally a very nice mid-sized luxury sedan while the latter was originally a very nice but more "entry level" luxury sedan. And the resulting "hybrid" version of the two cars into one turns out to be a pretty nice car. It isn't a traditional hybrid, in that it isn't a gas/electric vehicle, but it's a hybrid in that it blends two quite different cars into a single entity. more...
The latest version of Corel's graphics suite is an evolutionary step up from previous versions, offering not only new features and capabilities but a tweaked interface that should make the product easier to use than before.
CorelDraw may not be the most well-known of illustration and photo manipulation packages, that honour going traditionally to Adobe for its Illustrator/Photoshop apps and its Creative Suite. But the Canadian-based Corel company's offering has sported similar capabilities for many years now and there are a lot of compelling reasons for designers to look at it when they're shopping for a new powerhouse app. more...
Sport utility vehicles are a dime a dozen these days, but it seems as if utility is found more universally in the niche than is sportiness.
Nothing wrong with that, of course; flexibility of use is one of the things that make SUV's and/or crossovers so great, and so popular.
But what if you want as much sport in your sport ute as you do ute? That narrows the list somewhat and may help lead to a perception that these "tall cars" are anything but sporty – and that they may even be prone to rolling if you try inflicting some enthusiastic driving on them. This is poppycock, of course.
Now Porsche has invaded a new SUV/Crossover niche with the Macan, a downsized – nearly "cute ute" – sport utility vehicle that's very nearly as much a tall sports sedan as it is a small Cayenne. more...
What do you do if you're an audiophile who's forced to pry his/her or its buttocks out of the listening chair and go out into the world of sunshine and lollipops?
If you're like most of us – forgive the generalization – you sally forth with your smart phone or portable music player and a set of ear buds or other headphones, and maybe a USB cable or Bluetooth to connect to your car.
This works, and it works fine for the most part, but the fidelity can be spotty depending on the device and its connections. Let's face it, even if your car has a high end audio system, it's limited by the "garbage in-garbage out" (GIGO) phenomenon, which means it's only as good as the digital files you're playing. It's also limited by the quality of the output device – smart phone or whatever. more...
It doesn't have a lot of power, or creature comforts, but Toyota's entry level car has been nipped and/or tucked nicely for 2015 and continues to be a compelling little car.
Available in three or five door versions, the Yaris is the successor to the Echo which was the successor to the Tercel, making the Yaris the latest in a long line of wee winners from the world's biggest car maker. Toyota Canada's sample was of the five door persuasion, in LE trim with few options. There's a higher end SE trim level as well, and the base three door model also comes in CE trim. Prices start at $14,545 for the lowest end Yaris, going up to $17,665 for the five door SE. The LE trim of the sample starts at just shy of 16 grand. more...
Christopher Nolan's first movie since his epic Batman trilogy is an epic science fiction adventure that either hearkens back to or steals liberally from some previous epics in the genre. And some not as epic ones as well…
Interstellar blends some 2001: a space odyssey with a tad 2010, a bit of The Black Hole, Contact, Queen's song 39, Heinlein's novel "Time for the Stars," and a smattering of few other sci-fi stories good bad and indifferent. The result is an epic film that offers a compelling yarn and looks and sounds gorgeous at the same time. It's a very big movie that deserves to be seen on as big a screen as you can muster. more...
Gobsmacked, I tell you. That was my reaction after a week driving Acura's RLX Sport Hybrid, the top version of the company's luxury sedan line. That's because I came away from the experience actually preferring the hybrid to the gas-only version of the car.
Better not stand too close lest you become collateral damage from the pending lightning strike!
Honda's flagship division's biggest sedan is a really nice car in whichever livery you dress it, with good performance, lots of technology and the type of creature comforts you'd expect from a nearly $70,000 vehicle. And it doesn't seem overpriced considering its competition. more...
Talk about a mid-cycle refresh! The 2015 Toyota Camry looks and very nearly feels like a brand new generation, even though a new generation is still over the horizon.
And you know what? It's great!
There are good reasons the Camry sells so well, including the fact that it's a Toyota – which means it's built well – and it's a car that people who aren't car nuts can buy and then pretty well forget about other than regular maintenance. As a bit of a car nut, however, I've often referred to the Camry as being vanilla – highly popular and used many places, but not exactly exciting to a fan of butterscotch. more...
---
Are you addicted to your smart phone and/or tablet? Do you find yourself tossing and turning at night because you're still wired from spending time with your wireless device? In other words, are you completely hung up on your iPhone or iPad or its other OS'd cousin?
Well, friend, if these scenarios describe you, you may be interested in these five tips on how to live better with your wireless virtual little friend. I got these tips from a Beverly Hills, California, PR company on behalf of Shane Broesky and Steven Devries, co-founders of the Canadian-based company Färbe Technik, which they bill as "the leading global manufacturer of mobile accessories for Apple, Blackberry and Samsung."
I have no idea who died and made these guys the sleep gurus, but their advice does have some merit. more...
Volkswagen has knocked its next generation Golf out of the park, with an evolutionary new design that's clean and modern – just like its new base engine.
The new Golf is the first Volkswagen to be built on the company's, "extremely advanced" MQB platform that's lighter and stronger than previous generations, which means better handling and less fuel consumption. VW says the MQB also gives the Golf more passenger room and cargo space, though you certainly won't mistake it for a VW microbus. VW also says the new platform is less complex than previous ones, which  (according to their media materials) means they can build it for less - and sell it for less.  I'd still advise you to dicker, though… more...
---
Acer's new Chromebook 13 is a good way to be productive away from the desk, as long as you don't mind your data living in cyberspace, where it could be vulnerable to bad people.
Chromebooks are basically small, light and inexpensive notebook computers, kind of the spiritual successor to the Netbooks of years past. They look like a laptop and act like one, too, but instead of coming with a big hard drive and bloated Windows operating system, the run Google's Chrome operating system and are designed for online connectivity and storage. more... 
What do you do for an encore when your F-150 pickup has been the best-selling vehicle in Canada for nearly 50 years, especially when it faces absolutely furious competition?
It appears you up the ante by lowering the weight, then sweeten the deal by cramming the truck full of modern amenities, from LED lighting to handy steps to the box – and a lot more.
Ford of Canada invited me to join a gaggle of auto journalists as it put on a wintery demonstration of the new model that started in Quebec City and ended in a rock quarry in the Charlevoix area a couple of hours away. It was very cold and humid, and snowy as heck – a real shock to a guy whose home town of Calgary experienced record-breaking high temperatures about a week before. more...
---
We welcome your comments!
TechnoFile: "The Tech Magazine for the Rest of Us!"
TechnoFile publisher Jim Bray's print columns are available through the
TechnoFile Syndicate.
Note: Unless otherwise noted, prices in this publication are quoted in US dollars.

TechnoFile is copyright and a registered trademark © ® of
Pandemonium Productions. All rights reserved.
E-mail us Here!
---