Updated August 31, 2018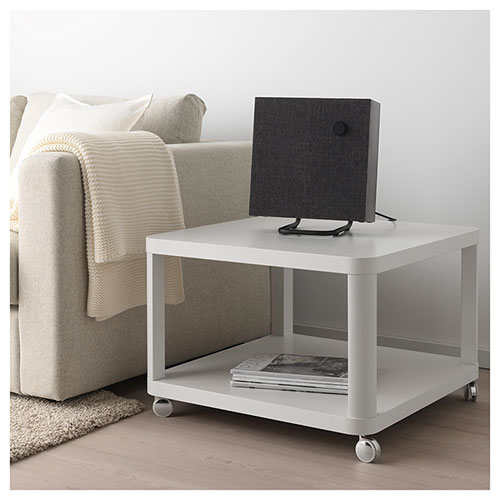 One may not think of IKEA as a place to shop for audio equipment, but the Swedish company best known for its furniture is throwing caution to the wind and introducing a new Bluetooth speaker system anyway.
It's the ENEBY line of speakers which, as of the August 1 kick off in Canada, consists of two models, both of which are available for under $100 CAD. The smaller of the two (called the 20x20) includes the capability for wireless power as well as wireless tunes – as long as you buy the optional ($20) battery pack for it.
Since IKEA is about the last company I expected to offer a speaker system, I jumped at the chance to review one, and the company was kind enough to send me the larger of the systems, the 30x30 ($99 CAD) to try out. Both models are available in either black or white (my sample is black), feature what at least one other reviewer seems to judge as attractive styling, and will probably look really at home on that IKEA stand you may have sweated over when you brought it home and had to put it together.
Another plus: you don't have to assemble the ENEBY!
Another option: the larger, 30x30 speaker can also be had with a $10 stand to make sure it stays put when the tunes start a-rockin'.
You can also remove the speakers' grilles so you can impress your friends with their tiny little drivers. Okay, tiny little drivers is actually a plus if you're talking about reproducing high frequency sounds – the tweeters are the smallest of the drivers in a speaker cabinet – but in this case the woofers (the large drivers that handle the low frequencies) are about the size of many speakers' midrange drivers. At least there are two of them in the 30x30 system, helping to enhance the bass performance. more...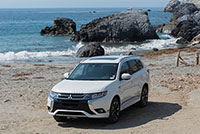 Mitsubishi has unleashed its plug-in hybrid version of the Outlander and I have to admit it's the nicest Mitsubishi SUV I've driven to date.
Not that a plug-in hybrid is near the top of my list of things to look for in a new vehicle, but judging by the number of plug-in hybrids available these days it seems clear that a) people either want such a vehicle or b) car makers are being pressured to add such vehicles to their offerings whether they sell or not (otherwise, why would we need government incentives that force your neighbours to help you pay for your purchase through their taxes?).  
Mitsubishi's "green" version of the Outlander has apparently been available elsewhere in the world for years, but this was the first model year the product has been offered to Canadian consumers. And according to the company, it appears Canadians are embracing the vehicle. "With 598 units delivered in the month of July (2018), Outlander PHEV leads the plug-in hybrid segment with more plug-in hybrids sold year-to-date than any other nameplate", the company said in a release, "helping Mitsubishi Motor Sales of Canada to achieve its (sixth) consecutive best month sales record."
That just shy of 600 units means the Outlander PHEV accounted for nearly a quarter of Mitsubishi's total sales for the month.  more...
Music lovers who use their cell phones as a source for their tunes have a nifty new tool at their disposal in LG's newest smart phone, the G7 ThinQ.
That's because its innards are also designed kind of like a transmission line speaker, enhancing the bass output from what you might expect from tiny little phone speakers. LG says "the G7 ThinQ uses its inner space as a resonance chamber to amp up the bass and deliver a premium, loud, and room-filling audio experience."
It's a great theory and similarly-themed techniques have been used by audio speaker manufacturers over many years. Perhaps the most famous is Bose, but I remember some DCM speakers I owned once that also used this type of transmission line strategy that basically works like a tuba does: the sound begins at the source (the tuba player's mouth and lips, in this example) and the follows a circuitous route round and round until it comes out the bell – as pure and clean, and loud and deep, bass. more....
---
I've just washed my car from top to bottom without using water, a pail, or a hose. Or by using someone else's efforts on my behalf, or someone else's washing facility. It was really cool!
And while I think I'll still use the touchless wash down the street a lot of the time, I've learned that you really can get your car clean just by wiping it with a cloth. If it's the right cloth.
In this case, the cloth was one of Armor All's Wash Wipes, one of a bunch of products the company sent me to test on my car. And my car, while not disgustingly dirty, was definitely not clean – I'd taken it on a road trip high into the Rocky Mountains and it came back dusty and rain-spotted, with enough bugs on the front end to have envirowhackos picketing me for causing bug species to become endangered.
It all started a couple of months ago when Armor All's rep emailed me to ask if I'd be interested in putting a bunch of their stuff through its paces. Being lazy and sedentary, I immediately balked, thinking this would cause me to do more physical labour than I was meant to do. But then I thought that, if the stuff worked as advertised, I might be able to keep my beloved A4 Avant in top shape without leaving my property or getting as wet as I do usually when I deign to wash it in the garage. more...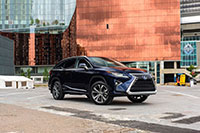 Lexus' top selling SUV, the RX series, has received a boost for the 2018 model year in a move that instantly makes it competitive with three row luxury people haulers.
It, as you probably guessed, is the RX 350 L, the L indicating that the vehicle has been stretched a few inches (about four, in fact) to allow for the installation of a third-row bench. It isn't a third row like you'll find in a minivan, but it's in line with some of the competitors whose Steerage class seating is more of the "emergency-public-transit-alternative-type" of vehicle.
That means adults won't want to spend a lot of time there – we checked this out with my son, just to make sure – but they can if the have to. And in the meantime, those of the smaller and/or shorter persuasion should be fine for a while, and for the times you don't need the extra bum holders the power-folding third row can be stowed flat for extra storage.
The RX has always been a great vehicle, though not really a "driver's car" per se. So, if you're looking for Porsche-like performance or feel, you're better off looking somewhere else. That said, if spirited driving isn't as high on your list as comfort, creature comforts, quality of construction, and technology, this Lexus could be the top choice. Heck, there's a reason it has been selling so well for so long. more...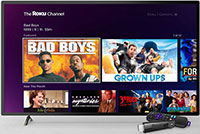 Roku customers who can't find enough stuff to watch and/or listen to on the platform have a new weapon in their search for stuff: the Roku Channel.
The Canadian version of the channel went live on the morning of July 23 (the U.S. version has been available for a while) and offers a selection of movies, TV shows and the like in one location – kind of like about a thousand other channels you can put onto the Roku, such as Shout! Factory TV and ,many, many others. And the content is all free!
That doesn't mean you don't pay for it, however (since nothing in life is ever free!): you do have to suffer through commercials, though Roku claims its Roku Channel is, according to the press release, "expected to average about a third less advertising per programming hour than ad-supported linear TV in Canada." more...
---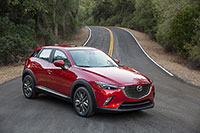 Compact SUV's are a dime a dozen, but if you're looking for one that's not only capable, roomy and efficient, but is fun to drive as well, the list gets decidedly shorter.
Small and fun SUV's are available, but most of the lower end ones I've driven – the mainstream stuff from mainstream companies such as Toyota, Honda, Kia, Hyundai and the like – seem to focus more on the "UV" (Utility Vehicle) than the "S" (Sport), which is perhaps why the term "crossover" has become so popular.
And while you can get small SUV's that are a blast to drive, you often have to look higher up in the automotive food chain, such as the Porsche Macan, BMW X1 and X3 and the like. What's person to do if he/she/it can only afford about $30,000 yet still loves the joy of the drive?
As is often the case, Mazda rides to the rescue with a pair of great SUV's, the compact CX-5 and, the subject of this rant, the even more compact CX-3. You can get into a CX-3 for as little as $19,995 CAD and while you don't get a lot of toys or creature comforts for that amount of coinage, or even all wheel drive, you do get everything you really need – and it's augmented by a real, honest-to-goodness manual transmission. more...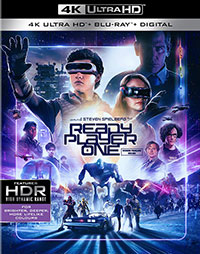 Ready Player One is a real home theatre treat, and the best way to catch it is on Warners' new 4K UHD disc with HDR.
As the headline says, it's kind of a blend between Tron – in which we're treated to a fantastic virtual world – and Roald Dahl's chocolaty morality tale in which contestants are bent on finding a golden ticket (keys, in this case) that will give the winner a huge reward.
Steven Spielberg's 2018 virtual reality flick also shares a bit of DNA with James Cameron's Avatar, in that we have real world folk using alternate personalities (and bodies, though in this case they're virtual) to interact with others from around the world. And, like Avatar, the villain of the piece is a huge corporation (IOI, which looks suspiciously like LOL on their logo) bent on maximizing their profits at all costs.
The movie is set in the year 2045, probably to give today's virtual technology time to mature, but considering the age of the cast members and the pop culture stuff they espouse throughout the film, there must have been nothing popular created in culture since before the turn of the century. So, we get The Iron Giant, The Shining, and an abundance of other references from the era, including a Zemeckis Cube (a Rubik's cube that bends time) and the Back to the Future DeLorean (kind of). There's also King Kong, a T-Rex and so much more. more...
---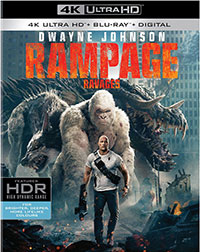 Ray Harryhausen would undoubtedly be smiling.
Rampage, the 2018 Warner Brothers release starring Dwaye "The Rock" Johnson, is an old time, rock 'em sock 'em monster flick that hearkens back to such glorious titles as King Kong, 20 Million Miles to Earth, Godzilla and many others.
I loved it!
It's also the latest movie to appear that's based on a game. This time, however, it's based on an old arcade-type, freestanding console game in which you control a horrible monster that's wreaking havoc on an "old tech-graphic" cityscape. I'd never heard of Rampage before this movie, despite my video gaming and generally nerdy past, but according to the supplements on the Blu-ray that accompany this terrific 4K HDR disc, Rampage appears to have been kind of analogous to what a Wreck-it Ralph game would be were Ralph the "hero" instead of the bad guy.  
Not my idea of a game, but Johnson and a good part of the cast and crew wax nostalgic for all the quarters they dropped into the consoles 'way back when - and their affection is contagious. more...
It's being touted as Acura's new direction and, as such, it's an interesting case study in how a company responds to the ever-evolving competition.
I was on Acura's junket to San Francisco when the original RDX came out. It was Acura's first turbo four, and it was a wonderful SUV that featured what at the time was probably the best audio system I'd experienced in a vehicle.
That ELS audio system is still around, kind of, but it has also marched along with the marketplace – which to me is a double-edged sword.
But overall, this 2019 Acura RDX is a terrific premium SUV, though as with many Honda/Acuras of the past few years I came away with less hair than when I went into the review because some fuzzy design or execution had me tearing at it.
Your mileage may vary, of course, which is why it's so wonderful having so many great choices in the automotive marketplace.
Acura Canada says this third-generation RDX represents "the most extensive Acura redesign in more than a decade" and is "the first in a new generation of Acura products inspired by 'Precision Crafted Performance' (signalling) the beginning of a new era for the luxury automaker. more...
---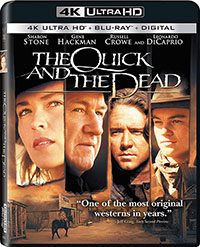 Sam Raimi's The Quick and the Dead is an interesting yarn featuring some tight writing and fine performances from an ensemble of very good thespians. It also sports a really good 4K HDR transfer that makes it even better.
The Western drama stars Sharon Stone (who also co-produced), Gene Hackman, Russell Crowe and Leonardo DiCaprio. All are, or were, gunslingers who congregate in a nondescript one-horse town called Redemption for a gunfighting competition in which all comers shoot it out with whoever challenges them, the winner taking home a huge pot (well, chest) of money.
Stone is a woman bent on revenge against Hackman, whose character owns the town and everyone in it and who is also the target (figuratively and/or literally) of nearly every other gunslinger who shows up. Well, some are just there for the money, but Hackman's character is such a horrible person that it seems as if everyone wants him dead - and if they didn't want him dead when they got to Redemption, they undoubtedly did once they'd stuck around a bit. more...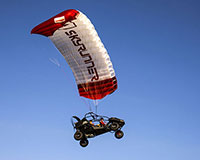 We've been promised them for years, and periodically we get to see an interesting new supposed prototype appear in the media, or as a "character" on TV or in movies. But the real, consumer-friendly flying family car never seems to actually come to market. Why is that?
Well, it's a pretty tough nut to crack, and there are questions of what infrastructure would be required (if any) and of course there's also the question of whether or not we want to inflict a bunch of bad drivers onto the sky as well as the roads. I mean, if you think automated cars are a challenge, expand that to three dimensions!
Yet every couple of years we see reports of whatever new and exciting flying car is just about ready to, well, take off. But you never see flying car dealerships and if you look up into the sky, you don't see any Jetson-like cars flying.
It's a topic that's always been near and dear to my heart. Not only have I been a car and aviation buff for decades, I also flew light aircraft for a few years. And I would love dearly to review whatever flying car might finally make that leap skyward into the marketplace! Bring it on!
Since itisn't as if no one is even trying to build a flying car. The question remains: will they ever hit the market? more...
---
Cord cutters are referred to usually as people who've dumped cable TV, either going only with off the air signals or using alternative services such as Netflix, YouTube and the like as ways to get their programming fixes.
But there's another type of cord cutting that could be quite attractive to some consumers, and that's the cutting of the cord between your smart device/music player/whatever and your headphones. It's a legitimate cutting if, like me, you tend to get your cords tangled and twisted all the time.
Then the folks from OnePlus got in touch with me to offer a review of their new, and first-ever, wireless earbuds: the Bullets Wireless. These $99 CAD buds connect with your source device via Bluetooth which, while perhaps not the ultimate in audiophile audio quality, is certainly a wonderful convenience. more...
What do you do if you loved your little Toyota Matrix hatchback and want to get a new one, only to sally forth to your local Toyota store and find that, like the Pontiac Vibe with which it shared its DNA, it's no longer available?
Well, you could check out the Corolla iM, which right now is the closest thing Toyota offers to that great little wagon. It started life as the Scion iM, but once Toyota decided to say sayonara to the Scion era (sorry…) it dumped all that line except for this little hatch and the wonderful little FR-S sports coupe that's now known as the 86.
The iM isn't going to set the world on fire, but during my week with it I actually fell under its spell, kind of. Oh, I had issues with it, especially when it came to its oomph output with four adults on board, but overall, I could live easily with an iM if it fit my budget and lifestyle. It's a nice little car.
If you really want the driving experience – such as it can be with a little wagon that oozes only 137 horses onto the road via its front wheels – you should opt for the base model, with its six-speed manual. Otherwise, you get the CVT, a transmission that always rubs me the wrong way. Well, nearly always. more...
---
As the Justin Trudeau regime lurches toward its promise of legalizing cannabis use in Canada, a steady stream of products and services meant to help the public exploit the new freedom in as many ways as possible hits the marketplace. That means there's an abundance of vapourizers on the market to facilitate such activities, and it appears that more are appearing all the time.
My friends are bubbling about a new vapourizer that not only does its job well, it hearkens back to the past days of pot parties. That's because it's kind of analogous to a vape version of the old-fashioned water pipe, or bong. From Cloudicious 9, the Hydrology9 joins products such as Arizer's Extreme Q (which is reminiscent of a hookah) as a kind of blast from the past (or, perhaps, "getting blasted like we did in the past") unit. Who'd have thought a state-of-the-art dope devourer could also be memorabilia?
This $349 Canadian vapourizer is billed as a portable unit, and it's true that you can pack it around with you, but it isn't nearly as "portable" as the manufacturer might want you to think. more...
Maybe it's Toyota's way of ensuring the long-term viability of "old growth" forests, but the Tundra-based Sequoia SUV seems more like a blast from the past than a state-of-the-art "people and stuff hauler."
That doesn't mean it isn't a great vehicle – it's a Toyota, after all, and so if nothing else the thing'll probably serve its owners forever – but it's a vehicle that, to make a Sequoia analogy, seems to have a few more rings in its trunk than some of the "new growth" gigantic SUV's with which it competes.
I think specifically of the Ford Expedition and Lincoln Navigator I drove a month or so ago – mostly because those are the only city-sized SUV/Crossovers I've driven in the past few years. None really appeal to me as vehicles, being far too large and tall for my lifestyle and diminutive stature, but the Ford/Lincoln seemed more up to date, especially in their interiors.  
For example, the Sequoia's centre stack-mounted LCD screen is not only small, it's nearly impossible to read while you're wearing polarized sunglasses. This sunglasses thing used to be common but is getting less so these days – except for the Sequoia (there may be other such offenders, too, but I haven't driven one in recent memory – though some Head's Up Displays display similar issues). more...
---
Warner Brothers' 2018 Tomb Raider release is a remake, reboot, rethinking of the Lara Croft films that came before it. It's also an origin story, as well as yet another girl power movie in which the only real alpha being around is on the distaff side of the humanity ledger.
Not that there's anything wrong with that, of course. But wouldn't it be a laugh if Hollywood had given the new Lara Croft the gender bending Ocean's 8 or Ghostbusters treatment and made her an Asian heterosexual male? I can imagine the heads exploding!
On the upside, Tomb Raider is also another great example of how good a film can look when given the 4K UHD HDR treatment. It's just too bad the writing and some of the production values don't match up to the 4K HDR quality.
Alicia Vikander stars as Lara Croft in this outing, replacing Angelina Jolie from the originals. I apparently saw the original Tomb Raider movie on DVD because I reviewed it many years ago, but I remember nothing about it beyond that it was okay. I'd echo that here, both that it's okay and that I probably won't remember much about it in a couple of years. more...
Truth in advertising gets even more truthful for Mazda with the release of the 2018 6 sedan and its optional choice of a turbocharged engine.
The engine, which comes from the company's big SUV/Crossover CX-9, ups the 6's entertainment/engagement ante substantially, which I imagine is the entire point behind Mazda's move.
I've never driven a Mazda that didn't put a smile on my face (well, their old pickup truck was pretty ordinary, but that was quite a while ago), and even though I'd have preferred a bit more oomph from the current generation 6 when I first reviewed it back in 2013 I still liked the car and found it to be a rewarding driving experience.
That 6 (and the current base model) uses the same Skyactiv 2.5 litre four cylinder engine that's found in the 3 sedan and the CX-5 SUV. And it's fine in both of them (though I'd love to see this more interesting turbo offered on them, too!), but the larger 6 has more girth to pull around via its front wheels and that can affect the final "Zoom-Zoom" quotient. Hence the new turbo offering.
The 6 is a lovely car and for the life of me I don't understand why Mazda doesn't sell as many 6's as Toyota and Honda do with the Camry and Accord; it's in the same market niche, but the 6 is better looking and more fun to drive than either of those other Japanese competitors. more...
---
In our increasingly divided and partisan society, it appears that some forces are stepping up their efforts to silence others, shutting down debate rather than taking part in it. It's a mark of folks who know they have no winning argument, so therefore have to project, obfuscate and name call rather than actually address issues.
Snowflakes!
This is nothing new, but in the Trump era – in which the losing side of the 2016 presidential election still thinks of itself as the side of goodness despite increasing evidence to the contrary – U.S. President Trump's efforts to drain the deep state swamp seem to be causing new and ever more ominous fits on that side of the ideological ledger. It's quite entertaining to watch! more...
The Honda Accord, all-new for 2018, provides substantial evidence that the Japanese carmaker does indeed listen to its customers (and maybe critics, too!). That's because, after a few years of making vehicles that are nearly as annoying as they are pleasant, the new Accord is a lovely breath of fresh air.
I used to love Hondas and always looked forward to driving them. Then the company seemed to go off the rails, doing things that defied logic (as defined by me, anyway) such as removing the volume and tuning knobs from the audio system, forcing you to use a touch screen that wasn't particularly usable – especially while the vehicle was in motion, even if you could figure out the interface.
Then there were the nannies, such as the voice that admonished you to do up your seat belt even if you're undoing it upon arrival at home, at a speed of about two kilometres per hour (not that I ever actually measured the speed), or flashed BRAKE!!! at you because it thinks you're about to rear end someone even if you have things well under control.
Then there's the styling. Take a look at that new Civic. I rest my case. more...
---
Despite a winter that seems to have pushed spring out of the way to make room for an early summer, the usual stuff you do during spring still need to be done.
This could be the first car wax job of the year, the final throwing out of all that Christmas wrapping you were hoping to use for re-gifting, or just the first mowing of the lawn. And according to IT security company ESET, there's some stuff you can and maybe should be doing to help ensure your technology is brought into the new year as well, whether it be kicking and screaming or not.
An email I received from ESET's PR folks pitches the plaintive plea "do we ever think about spring cleaning our electronics?" And it made me think. Heck, I've never actually considered spring cleaning my stuff (my dear wife would probably say I never think about cleaning at all – including showering – let alone spring cleaning), preferring to let things pile up until they can be ignored no longer. more...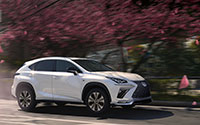 The good news is that my favourite Lexus has received some tweaking for 2018, and the Japanese luxury brand has wisely refrained from messing too much with the successful NX SUV/crossover.
The bad news is that doesn't mean there's nothing to whine about, which comes in handy for a reviewer who doesn't want to seem overly hyperbolic about a vehicle. And in this case, one of my complaints is easy enough to correct: buy the turbo gas engine version rather than the hybrid, with its whiny continuously variable transmission.
It's a complaint I have with just about every vehicle I've driven that has a damn CVT. These "gearless" transmissions not only suck most of the fun out of the driving experience (instead of shifting, they feel like your vehicle is sliding along a big elastic band), they also howl like an outraged banshee when you prod the accelerator pedal, which isn't what a vehicle – especially a luxury vehicle – should do.
Lexus Canada's sample NX 300h (the vehicle was called the NX 200 originally, but that name has been upgraded even though the engines haven't been), was the hybrid and therefore I went in with more than a small chip on my shoulder. Making that sliver into a full cord of wood was the trackpad on the centre console, which is Lexus' current offering for those who want to operate the LCD that's mounted atop the centre stack. more...
---
Do you still print stuff out? If so, you're undoubtedly like most of us who, at least periodically, still need to print out a hard copy of some digital document – whether for archiving, legality, to put into a cookbook, or whatever.
Yet we've been promised for years that all of us using computers would mean that all those beautiful trees could be saved, presumably so we can hug them and live in them in the green paradise envisioned by some.
What happened? more...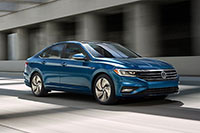 It may be German inside and out, but VW's new small sedan makes me think in French.
French, as in "Je t'adore" because (putting it into pun-dit English) "Jetta adore" is how I came away from my week with the new, 2019 Volkswagen Jetta. This probably surprises no one who reads my columns regularly, because you know that I'm a big fan of VW's, just about any VW – and that includes Audi and Porsche as well (and would probably include such other VW brands as Lamborghini, Bugatti and Bentley, if I were ever lucky enough to get seat time in them).
But this piece is about the Jetta, which is all-new for 2019. I'm always afraid when a new generation of a favourite car comes out, concerned that the manufacturer will have taken a great car and (for whatever reason) made it worse. So, I entered this Jetta review with some trepidation that was, fortunately, short-lived.
Essentially a Golf with a trunk, the Jetta now rides on VW's MQB platform, which is shared by the Golf, the new Tiguan and the new Atlas, as well as a couple of Audis and other VW group brands that aren't sold here (such as Seat and Skoda). Upon that platform Volkswagen's designers have built the most handsome Jetta ever (beauty, of course, being in the eye of the keyholder), a car that also looks as if it should be more expensive than it is. more...
---
We welcome your comments!
TechnoFile: "The Tech Magazine for the Rest of Us!"
TechnoFile publisher Jim Bray's print columns are available through the
TechnoFile Syndicate.
Note: Unless otherwise noted, prices in this publication are quoted in US dollars.

TechnoFile is copyright and a registered trademark © ® of
Pandemonium Productions. All rights reserved.
E-mail us Here!
Our Privacy Policy