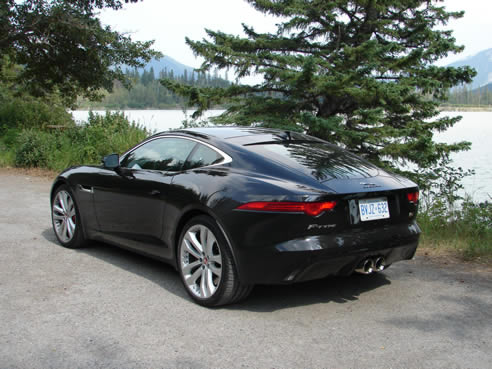 It's hard to find a bad car these days, such is the nature of technological advance in a highly competitive automotive marketplace.
That said, some cars are better than others for a particular individual, depending on that person's personality, budget, taste, etc. and sometimes a vehicle will just rub you the wrong way for whatever reason.
Just like you, I imagine, I find various cars variously interesting. Hence this year end look at the vehicles that I found most interesting, or nicest, of the ones in which I was lucky enough to get some quality seat time.
Remember, this list comes from cars I've actually reviewed, so it isn't a truly "best of" in the manner that AJAC's Canadian Car of the Year aspires to and achieves mostly. Rather, it's the vehicles I found the most interesting in calendar year 2014, whether they were 2014 or 2015 model year units. more...
What are the most interesting tech gadgets of 2014? It depends where you surf and who you ask, of course, but in the case of TechnoFile, it was a year, technologically, that had its charms.
Hence this year ender, where I take a look back and focus on the devices, gadgets or whatever that turned my crank the most this year, for whatever reason. This, like my look back at cars, isn't meant as the be-all and end-all of things technological in The Year of Our Lord 2014, just the stuff that I found most interesting of the stuff with which I was lucky enough to play. It definitely doesn't cover everything that was introduced this year, just the stuff I tried - which is still a pretty interesting list. more...
The Dodge Journey and Honda CR-V are both good examples of the SUV/Crossover beast, though executed in very different ways. And after a week with each, I came away thinking that despite the good things about both models, I think I'd look elsewhere were I to be shopping.
Not that they're lousy vehicles, of course - it's hard to find a truly bad vehicle these days - but neither of them really spoke to me in a way that got my pulse quickening, and that's something that should happen even in this market niche. Or maybe I'm just picky.
Dodge's Journey has come a long way - but then again, so has its corporate owner, so perhaps it shouldn't be too surprising. But after spending a week in a vehicle I would have walked a mile to avoid driving only a couple of years ago I came away with a fresh respect for what is, in fact, a very nice crossover. And for about the same price ($35,790 as tested) you can get the Honda CR-V Touring, which is a smaller "cute ute" than the more mid-size Journey, but a popular choice nonetheless. more...
Wouldn't it be great if you had access to the same type of vehicle diagnostics that your car's technician uses to find problems with your beloved wheels? Well you can - at least somewhat.
There are multiple products on the market that can help you find out why your baby is throwing a tantrum, from computer software programs that couple your laptop to your car via a big, specialized cable to the subject of this piece, the BlueDriver from Lemur Monitors of St. John's, Newfoundland. The $99 BlueDriver consists of a little black plastic thingy you attach to your car's on board data port (all cars in North America have had these since before Y2K) and interacts with an app you install on your Android or iOS smart phone or tablet.
This is a very cool device and it's very easy to use - easier to use than it is to understand some of the stuff it reads out! more...

Last year's award-winning Mazda3 enters 2015 mostly unchanged, and that's just as well because the 2014 version was an outstanding car that needed little work. Heck, I named that car my "TechnoFile Car of the Year" last year.
This rant recounts my rematch with the Mazda, a report on how my second week-long experience with this great little hatchback/wagon worked out. Naturally, it worked out fine.
Heck, I didn't even run afoul of the law this time!
Mazda Canada sent the Mazda3 Sport GT version, the top trim level, and it starts at $26,995.
That's a very good price considering what you're getting: a great driving car that's also economical and efficient and equipped excellently. more...
When one thinks of drones these days one undoubtedly thinks about pilotless vehicles used against terrorists, or maybe futuristic freight delivery devices. But there are other drones available that are decidedly more consumer friendly - basically toys you can use to delight and amaze (and maybe annoy) your friends, neighbors and pets.
Parrot, for example, makes a few such drones, two of which they sent me to play with: the approximately $250 Jumping Sumo and the approximately $160 Rolling Spider. more...
The "fluidic" design is mostly gone, but what Hyundai has left in its new generation of Sonata is a simpler-looking yet still handsome sedan that, in the company's tradition, offers a lot for the money.
It's hard to argue with that strategy, and judging from how many Sonatas there are on the road it's probably pointless to argue it. Fortunately, the new Sonata isn't just a plain deal, it's also a very nice family sedan. So what if it might not stand out as much as the outgoing version? And it isn't as if this is a bland or ugly car; it's actually quite handsome, just not as in your face as the previous generation.
The new Sonata is available with two engine choices in Canada. There's a two liter turbo four for those who want sportiness in their drive, and a 2.4 liter four for those whose needs are more basic. Hyundai Canada's sample wore the "Limited" livery, which meant it had the 2.4 liter engine. more...
Tired of missing calls on your smart phone? Confused when it comes to paying your restaurant or bar bill? If so, Olens Technology and Tip 'n Split are gadgets that could be right up your alley.
Olens' Renny Home is a remote connection/ringer for cell phones that lets you leave the phone on its charger (or wherever) but have it still accessible if someone phones. Tip 'n Split, meanwhile, is basically a dumbed down calculator designed with one purpose in mind: helping you and your little friends split your restaurant or bar bill into equal shares. It also comes with a little magnifying glass and light for when those bills' printouts are just too darn small - and the ambience of the venue a tad too dark - to read comfortably. more...
It began life as a Camry-based entry luxury sedan meant to expand the young Lexus line beyond its game changing flagship LS 400, but some 25 years later it has evolved into an extremely compelling Camry-based entry luxury sedan in its own right.  
Not that the original ES 250 was any slouch, but to compare that car with today's ES 350 would be as silly as comparing a, well, 1990 Camry with a 2015 Camry. Cars have evolved and so have the Camry and the ES. Yet while they're both terrific cars that share DNA, you wouldn't think they're connected other than through Lexus being owned by Toyota. The ES feels even more substantial, is definitely more luxurious, and is generally a more refined place to be than the Camry, which undoubtedly is the point.
Videophiles looking for the best picture possible have a new tool they can use, a device that actually tweaks your already HD picture and makes it better.
A device that tweaks your picture might sound like heresy, but I've been using two versions of Darbeevison's technology and have gotten to the point where I wouldn't want to watch my screens without it - and I'm the kind of guy who shuts off all the picture enhancement stuff that comes on TV's today the minute I set them up. more...
---
Ah, the GTI. Sure, it's basically a Golf, but an outing in this Golf  is sure to achieve a hole in one in the hearts of driving enthusiasts. Not that I'm advocating having a hole in your heart!
Available in three or five door versions (which means two or four doors plus the hot hatch's hatch), the 2015 Golf GTI wears a two liter, direct injection, turbocharged four cylinder engine putting out 210 horses and 258 lb.-ft. of torque. That might not sound like a lot in an area where turbocharged four bangers are putting out nearly 300 gee-gees, but as always horsepower is only part of the story. more...
There are movies that are rip-roarin' adventures, there are movies that try to be, and there are movies that offer such incredible video and audio performance that they belong in everyone's home theater. The ideal for home theater buffs, of course, is to have the first and last points covered.
Alas, Hercules, the new Brett Ratner/Dwayne Johnson "sword and sandal" epic, falls clearly into the second and third categories. It tries to be a fantastic cinematic spectacle - and in many ways succeeds - but in the end it's more an opportunity to showcase just how great your home theater can be when you give it the best source possible - as long as you don't pay too much attention to what's actually happening on screen. more...
---
NIAGARA FALLS, ONTARIO - They came from Canada, the United States, Europe, Japan and South Korea, all duking it out for the titles of the 2015 Canadian Car, Truck and SUV/CUV of the Year.
Some 49 worthies showed up and strutted their best new stuff before an assembled multitude of Automobile Journalists Association of Canada members who were there to put them through their paces.
Well, that may overstate things. We put them through their paces as much as we could when there are half a hundred entries and we have to drive as many of them as we can over TestFest's few days. I managed to drive 42 cars, trucks and SUV/Crossovers, and in that time all you can really get is a reasonable first impression.
Think of it like a series of short test drives similar to what you'd get at a dealer, except that TestFest also has a more scientific part to it as well, where all the vehicles are put through a series of measured tests. That objective data is put into a blender with all of our subjective opinions, of which there's an abundance, and the results will be tabulated by KMPG so the 15 individual category winners can be announced on December 2, with the overall winners proclaimed at Toronto's "Centre of the Universe" auto show next February. more...
---
The words "Porsche" and "fuel efficiency" may not be the closest of kissing cousins in many peoples' minds, especially when you're talking about a big, four door sports sedan. You may be surprised, however, to find that you can get better gas mileage with the Panamera e-hybrid than with many smaller, supposedly more efficient gas-only cars.
How good? My dear wife and I took the mighty Panamera into the Rocky mountains, heading west from Calgary to Lake Louise, and we managed not only to travel about 20 miles on electrical power alone, but once the juice ran out and the car switched back to the gas-powered engine a quick press of the "e-charge" button on the center console charged it back up again about as quickly as I depleted it, which let us switch back to e-power and run the battery down again. more...
Paramount, one of the champions at finding new ways to exploit old titles, has re-released the 1954 movie "White Christmas," a wonderful holiday classic that over the years has become one of my "desert island" discs. It doesn't appear to sport a new set of remastered and restored clothes, but it's still a darn fine presentation, and the new, diamond anniversary version includes some stuff never released before.
The Michael Curtiz-helmed film stars Bing Crosby, Danny Kaye, Rosemary Clooney and Vera-Ellen, with the possibly even more important talents of Irving Berlin providing the musical score. It's a song and dance extravaganza that may not be as much about Christmas as its title may hint, but which is a fantastic and heartwarming movie that gets better with subsequent viewings. more... 
---
Love 'em or hate 'em, Subarus have earned a loyal following for their tradition of offering all wheel drive vehicles that can take you virtually anywhere at any time. And for 2015, two of the company's top models have been tweaked to make them an even better choice for those susceptible to the brand's charms.
That has never really included me - though I like the Forester quite a bit - but I can certainly see why people love their Subarus. They're built well, offer most - if not all - of the technology a modern car should, and they'll probably perform yeoman's service for their owners virtually forever. more...
New York, NY - "Never lose your imagination. Always dream of things that are better and think about ways to reach those things." Those words came from the late Dr. Amar Bose, the visionary and long time MIT professor who started what is now known worldwide as a company with a dizzying array of products that push the state-of-the-art in a variety of directions.
I have no idea when he said that, but it certainly seems appropriate that he did, considering what Bose has accomplished over the 50 year life of the company. And that golden anniversary was the excuse for Bose to throw a big party in Manhattan, inviting journalists and writers like me to enjoy the festivities while learning more about the company itself. more...
---
It isn't the smallest car Mercedes-Benz sells in North America, but the CLA-class "four door coupe" is a very nice vehicle that, despite big time turbo lag, moves its passengers along smartly and in great comfort.
Designed to compete with such worthy cars as the Audi A3, Acura TLX, Lexus IS and the like, the CLA wears the "four door coupe" look the company pioneered with its original CLS a few years back. And while I think the four door coupe concept is silly - why not just call it a sedan and be done with it, since there's nothing wrong with having four doors? - it's a handsome car inside and out. And it starts at a reasonable (for a Benz, anyway) $34,300. more...
Panasonic's latest 58 inch UHD TV is a real treat for the eyes, though it's probably still too early to think about moving to the new 4k standard if you aren't an early adopter or in need of a new TV anyway.
That said, if you do want to jump into 4K now, you'll probably find this particular TV a good, albeit expensive, investment as long as you have help unpacking it and setting it up. That's because it comes with a bizarre stand that's ultra heavy and difficult to attach, and which weighs down one end of the box - so pick the light end to lift and leave your buddy the heavy end! more...
---
We welcome your comments!
TechnoFile: "The Tech Magazine for the Rest of Us!"
TechnoFile publisher Jim Bray's print columns are available through the
TechnoFile Syndicate.
Note: Unless otherwise noted, prices in this publication are quoted in US dollars.

TechnoFile is copyright and a registered trademark © ® of
Pandemonium Productions. All rights reserved.
E-mail us Here!
---