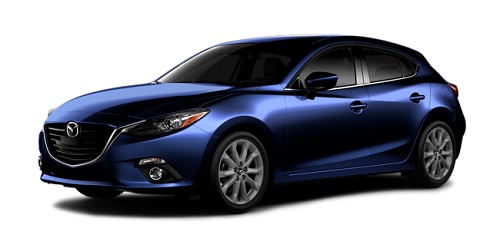 Mazda's bread and butter car, the 3, is back with a terrific new edition that ups the already successful little car's ante substantially over its previous generation. It's an excellent car that looks, drives and feels more expensive than it is.
The 3 is available in two versions, sedan and hatchback, which Mazda calls, respectively, the Mazda3 and the Mazda3 Sport. They're both very nice, but the Sport is a five door hatchback (a.k.a. a "wagon"), so it's also a tad more practical for those who like to haul stuff.
The Sport is also the better looking of the two styles, in my never humble opinion. The front end is pretty well the same on either version, but the Sport's rear end somehow seems to finish off the car's bum better. more...
This week's tech column isn't really about technology. Instead, it's about a couple of interesting products that help you handle your technology.
One, the Lap Dawg O-Stand is an interesting tablet holder that looks like something out of a sci-fi movie. The other is a really great backpack you can use to carry around your personal technology, and other stuff. I like using the first when lounging with my iPad on my couch, while the other goes with me nearly everywhere, including aircraft. It's like a big purse for men. more...
Porsche's 911 is definitely iconic, and a classic. And the new, 991 version of the 50 year old beauty is a wonderful car that's even more lust worthy than the previous generation.
It's a car that has been refined over its half century of existence, from a tail happy death trap (well, that may be an overstatement) to a world class super coupe. I'd never driven a 911 before the last generation, so I missed all the supposed driving angst because Porsche seems to have worked out the bugs (pun intended; you could almost consider the rear engined 911 as the original VW Beetle taken to the extreme).
And as anyone who's read my stuff knows, I think the new 911 makes that gorgeous "old" one look nearly frumpy, "frumpy" being relative of course.  Any 911 I've spent seat time with has been sheer driving pleasure, powerful and comfortable and with responses that feel almost hard wired into the brain. I simply love the car. more...
If you like Bose's original noise cancelling headphones, you may like the company's new model even more. That's because they not only work better than the already-excellent QC 15 over-the-ear phones, they're also small enough to pack in your pocket.
Noise cancelling  headphones are a wonderful tool when you're travelling, and they can also come in handy in other applications - such as when the kids are asking for money. I've been using the QC 15's for a few years now and absolutely love them, but they are large and heavy, and the airlines I've flown won't let me use them until the plane's off the ground and the seatbelt light is off and they make you take them off again long before you're back on the ground. more...

Small cars are practical and efficient, usually, but many people like a sense of fun in their wheels as well. This led to the "hot hatch" category, as well as a number of sporty cars that weld shut the rear doors in the hope of adding some of that elusive fun.
So we have the subjects of this piece, Ford's little hot hatch Fiesta ST and Honda's reasonably fun little two door Civic - one coupe and one sedan - and despite two doors sometimes translating into more fun than four, it's the most-portaled car that's the hotter of the two. More doors to adore, as it were! more...
A couple of new titles that should appeal to baby boomers this week, one a classic comedy bit from a classic comedian, and another season of the Star Trek sequel series coupled with yet another two parter made into a feature.
"Bill Cosby…far from finished" shows the famed comic is still in good form in a concert that's billed on the Blu-ray's box as his first comedy special in 30 years. Meanwhile, Star Trek the Next Generation continues to ooze onto Blu-ray, with season five now hitting stores just in time for Christmas. In many, if not most, ways, this season is quite a bit better than the good but more spotty fourth year, and it has been given Paramount's typically great treatment. more...
Toyota's Prius V continues the Japanese company's success at selling hybrids that make people feel good about their environmental impact. It's a wagon version of the popular Prius hybrid, so you can haul even more stuff than before, as long as you don't mind doing it excruciatingly slowly.
Toyota is arguably the most successful company at making and marketing hybrids, with a lineup of the gas/electric cars long enough to turn a tree hugger's hair green. Besides the Prius - its first hybrid - they now offer hybrid versions of the Camry, the Highlander and various Lexi (can't wait for a hybrid Scion FR-S!), so there's pretty well a model for well-meaning folk in just about every income group. more...
Buddy movies are a dime a dozen, but rarer are the ones that are actually worth watching.
Ditto for movies based on comic books - er, "graphic novels"  - which are also a dime a dozen. Fortunately, there are plenty of these that have made good movies, including the likes of Hellboy, The League of Extraordinary Gentlemen and, of course, the many, many adaptations of famous comic book franchises from the Marvel and DC universes.
Into this fray enters what looks like a straightforward and violent buddy flick that, thanks to a good script and cast, rises above the more mundane competitors, making it well worth your while as long as you don't shrink at the sight of violence. If you do shrink from it, you may be about two inches tall by the time the closing credits roll here… more...
It may not look on the surface like it's undergone major changes, but Kia says its 2014 Sorento is over 80 percent new or redesigned significantly from the 2013 model. And that's a lot! The changes make the SUV/crossover an even more interesting choice than before - and the "old" Sorento was no slouch.
Besides a new engine, Kia says the new Sorento's interior has been redesigned substantially, a next-generation infotainment system offered, as well as Kia's first blind spot detection system - which in this instance uses sonar. There's also a new top-of-the-line SX Limited trim level, and the whole shebang rides on a supposedly all-new chassis. more...
Touch screens have become the rule rather than the exception when it comes to handheld devices. And now they're also appearing on new generations of desktop PC's, bringing a unity of user experience across major platforms.
Such is the case with Acer's Aspire Z, a neat all-in-one Windows 8 (64 bit) PC that's about as close as you can get to a gigantic tablet without actually being a tablet (or needing a horse to haul it around on!). Instead, it's a real, honest to goodness PC - the sample Acer having sent for review boasting a delicious 23 inches of diagonal screen size offering a satisfying resolution of 1080p.
Meanwhile, Samsung's Galaxy Mega smart phone could almost function as a PC, the darn thing is so large. The phone blurs the line between smart phone and tablet quite successfully, which is surprising because so often "compromise" products end up doing nothing well. And with its beautiful 6.3 inch screen it's a really nice portable unit with which to surf the net. more...
Talk about a car that speaks for itself! Here's one that roars!
Thanks to voice technology, many cars have the ability to speak, but their vocabulary is limited to whatever has been programmed in, and it probably has little to do with the car's actual performance on the road.
Then there's the Jaguar XKR, a beast that's come in from the wild but which hasn't been domesticated fully. This is a car that does, indeed, speak for itself and in a most visceral way, one that reflects its personality and raison d'être . Yep, fire this thing up from the center console-mounted push button and you're poking the beast with a stick, waking it from the type of peaceful slumber for which cats are known. more...
Take a really neat concept, bog it down with soap opera-like subplots and characters, and what do you get?
In the case of "Under the Dome," the TV series adaptation of Stephen King's novel, you get an excruciatingly frustrating 13 hours (less the broadcast commercial and promo time) in the home theater.
It's a shame. The concept is fascinating, but the execution is ham-handed, spending far too little time on the dome and what makes it tick (and what can be done about it) and far too much time gazing into the navels of the characters. Add in a bunch of stereotypes and liberal political points that bludgeon the audience with typical subtlety and you have a failed attempt at what should have been a ripping yarn. more...
---
Niagara Falls, Ontario - What's the best new 2014 vehicle sold in Canada?
That's what some 80 Canadian car writers converged on this honeymoon paradise to find out, putting some 58 new cars, trucks and SUV/CUV's through their paces on city and country roads and a handling course. The occasion is the annual Canadian Car of the Year trials, presented under the auspices of the Automobile Journalists Association of Canada.
The venue was new this year; since I've been attending TestFest (as it's called), it has been held at nearby Niagara on the Lake, using the local airport for the handling course. Circumstances dictated the change, and Niagara's Legends golf course turned out to be an excellent choice. more...
New York, NY - Leave it to Bose to find yet another way for you to get your musical fix. This time, it's by connecting your playback device to your Wi-Fi network and streaming tunes to whatever part of the home you want.
Over the past couple of years, the Framingham, Massachusetts-based company has embraced Bluetooth wireless streaming via its SoundLink product line, and you can get an optional Bluetooth interface for the company's SoundDock 10. But while these are great products, they don't really let you get at your online music services, media server or digital files easily. more...
---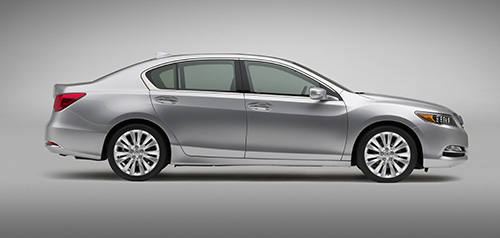 Acura is definitely not pussyfooting around! Honda's flagship division has released a pair of new top line models, both of which are very nice vehicles that offer consumers plenty of performance, high technology and abundant features for a not unreasonable dollar.
Don't confuse them with Acura's real flagship NSX, however. That new supercar is oozing its way toward the marketplace at glacial speed, whereas the new generations of the MDX SUV/crossover and RLX sedan are starting to appear on North American roads already. And so they should. They're far more mainstream than the someday-to-be-available hybrid supercar and so should appeal to a wide range of luxury vehicle shoppers. more...
Stretch a Hyundai Santa Fe enough to add a third row, keep it powered by a good V6 rather than downsizing to a four banger, and what do you get? The "giant economy sized" edition of the popular Korean crossover SUV.
And there's nothing wrong with that! Santa Fe has been a good vehicle for years now, and this newest generation is easily the best yet. It isn't surprising, either, considering the leaps and bounds the South Korean car makers have been making in quality and "compellability" over the past decade or so.
The new for 2013 Hyundai Santa Fe Sport 2.0 T rolled off with the Automobile Journalists Association of Canada's Canadian Utility Vehicle of the Year honours at least year's Canadian Car of the Year TestFest, and it was a deserving winner. more...
---
We welcome your comments!
TechnoFile: "The Tech Magazine for the Rest of Us!"
TechnoFile publisher Jim Bray's print columns are available through the
TechnoFile Syndicate.
Note: Unless otherwise noted, prices in this publication are quoted in US dollars.

TechnoFile is copyright and a registered trademark © ® of
Pandemonium Productions. All rights reserved.
E-mail us Here!
---