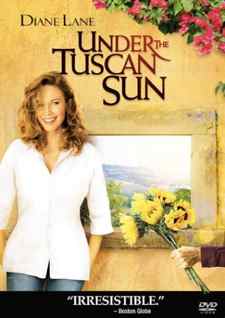 Under the Tuscan Sun on DVD
Hey, a chick flick that won't make guys gag!
Under the Tuscan Sun stars the lovely Diane Lane as Frances Mayes, a San Francisco writer who at the movie's beginning is undergoing a painful divorce.
She's devastated, feels useless, has writer's block, and is just plain miserable.
Meanwhile, her lesbian friends (are there really as many homosexuals in the world as Hollywood portrays?) – one of whom is pregnant – take pity on her and send her on a package tour to Italy. It's a homosexual tour, so Frances is a bit of a fish out of water, but the movie doesn't dwell on the persuasion of her trip mates – and in fact blows them off early into the film, which from that point on becomes a celebration of heterosexual love.
That's where Frances, captivated by the beauty of Tuscany and the warmth and charm of the people there, buys a house on a whim and decides to set up shop there.
The rest of the movie is Frances' search for life, her new life, meaning in her life, a new love, the whole deal. It could be maudlin, it could suck out loud, but it doesn't. It works marvelously.
Frances is a terrific person who ends up being cherished by all, including the foreign workers who renovate her old house, the married realtor who got her into the house, the flaky British woman down in the town – you name it, they all fall for the attractive, unhappy and confused American.
So does a handsome Italian man she meets by happenstance. And she falls for him too, and is reborn. Is this the new true love that can help her close the book on her unhappiness?
We won't say, but love is just around the corner throughout this movie and, as in life, when it comes it comes out of left field when she least expects it.
This is a lovely movie. Diane Lane lights up the screen (perhaps she could get a job as a projectionist if her movie career ever fades…); her performance runs the gamut of emotions and she is always believable. There are times when red blooded males will just want to reach into the screen and hold her close.
The rest of the characters, played by mostly lesser-known performers, are perfectly cast – from the paternal realtor to the relative innocence of the Polish boy who loves a local girl, to the lesbian friend who comes to Tuscany to download her baby and pick up the pieces of her own broken life. The movie takes us from a shattering moment, through trial and disappointment, to a shiny new day.
It's a wonderful trip.
And the scenery, production design, and overall look and feel of this movie are lovely as well.
Which brings us to the DVD. It's presented in either anamorphic widescreen or Pan&Scan – sold separately, unfortunately – and the picture quality is as lovely as the film. We received the widescreen version, fortunately, and really loved its look. The picture's a tad soft, but not through any DVD problem but more because it has a kind of dream like look that fits the mood very well. Colors are rich and vivid and deep and gorgeous.
Audio is Dolby Digital 5.1 surround and it's excellent. There's good use of the surround and subwoofer, especially during a particularly vicious storm.
Extras are quite extensive as well. First up is a running commentary with director Audrey Wells, a series of deleted scenes and "Tuscany 101," a making-of featurette. There are also cast and crew interviews and "an insider's look at filming in Italy.
Under the Tuscan Sun, from Touchstone Home Entertainment
113 min. anamorphic widescreen (1.85:1, 16x9 TV compatible) /Pan&Scan (Sold Separately), Dolby Digital 5.1 surround
Starring Diane Lane, Sandra Oh, Lindsay Duncan, Raoul Bova
Produced by Tom Sternberg and Audrey Wells,
Written and directed by Audrey Wells.