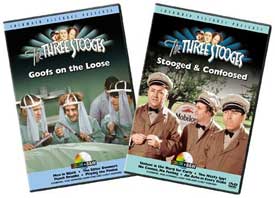 Stooges Get A Whole New Complexion
By Jim Bray
Remember colorizing? It was a brainchild of Ted Turner, back in the days before when he could still innovate. It was a horrid process by which technicians would go back to classic movies and put color into them, effectively painting a cheap mustache onto the Mona Lisa.
It looked cheesy; I watched parts of a couple of those old colorized movies and it was obvious what they'd done – which was to ruin some real classics.
Well now, Columbia Tristar Home Entertainment, part of the Sony empire, is revisiting the colorizing issue with a new digital process they call ChromaChoice. The company says their new process ups the technological ante over the old Turner stuff by starting with new, 1080i high definition video transfers that feature restored and remastered images to create the best quality available today.
But before that, each film is extensively researched and Columbia Tristar tries to make use of as many original source elements as possible. They apparently even go back to the Columbia Pictures archives to look at things such as whatever original props and color swatches they can find to help ensure that, when they do finally add the color, that the colors are as close to the originals as possible.
My initial reaction was one of horror at the thought of some black and white classics being ruined, but having seen these first two releases I have to say that Columbia Tristar has done a surprisingly good job.
Besides, since the first releases are a pair of Three Stooges compilations, it isn't as if they're messing with real art. Okay, I'm putting on my asbestos underwear! I used to watch the Stooges when I was a kid, but after that I discovered Abbot and Costello and that turned me off the Stooges, since A&C used a lot more wordplay than they did simple physical abuse, and I found that appealing.
So how does the colorized version look? Actually, surprisingly good. Now, these were low budget productions to begin with, and that fact still shows, but the color looks consistent with the quality one might have found from such productions if they'd been shot that way in the first place. So while they don't have the quality of "The Adventures of Robin Hood," "Gone with the Wind" or "The Wizard of Oz, it's still quite eye opening.
But what's really great about these DVD's is that Columbia Tristar hasn't forgotten about the purists. They've also included the original black and white versions on the DVD, side by side with the colorized ones, and not only can you choose which version you want to watch but you can switch between them virtually instantaneously using your DVD player's Angle control. It's pretty cool.
On my reference player the change from one version to the other isn't instantaneous, but it's quick enough, and A/Bing them side by side was what convinced me in the end that I actually preferred the color version. And I never expected that would happen.
I'm not sure I'd feel the same way if the films were a little more important, in the grand scheme of things, than the Three Stooges, but this ChromaChoice feature may actually succeed in bringing Larry, Moe and Curly to new generations of kids who may have never given them a chance before because they were in black and white.
And that's a good thing. I've been trying for years to get my kids to watch classic movies that happen to be in black and white, but they've never bitten. Perhaps this ChromaChoice method will succeed where Ted Turner and parental nudging failed.
The DVD's themselves are pretty good. They're presented in their original full frame aspect ratio of 1.33:1, so they aren't 16x9 TV compatible unless you stretch and/or zoom the picture to fill the 16x9 screen, but that's only to be expected from the original source material and I'd rather see that than have the film artificially cropped into widescreen.
Audio is old and mono and unremarkable, but that also works okay for this material.
As a self-styled purist, I'm not a fan of changing an original beyond the kind of restoration and remastering that brings it back to its original glory, but I have to admit that I can live with CTHE's ChromaChoice because it lets you experience both versions and watch whichever one you prefer. And if you just have to mess around with an original, this is the way to do it.
Here's a quick look at the individual shorts on each disc, courtesy of the manufacturer:
Goofs on the Loose
MEN IN BLACK (1934) Calling Doctor Howard, Doctor Fine, Doctor Howard. Three nitwits take medical malpractice to a whole new level in this Oscar-nominated short subject.
THE SITTER DOWNERS (1937) A sit-down strike not only wins three imbeciles the girls of their dreams, but a prefabricated cottage complete with wifely ultimatum: no house, no honeymoon! New to DVD!
PUNCH DRUNKS (1934) Whenever Curly hears "Pop Goes the Weasel," he turns into a fighting madman, so Moe promotes him into the next heavyweight champion of the world.
PLAYING THE PONIES (1937) You can lead a horse to water and make him drink if you feed him chili pepperinos, as the Stooges do to a broken-down nag, turning him into the thirstiest - and fastest - racehorse on the planet. New to DVD!
Stooged and Confoosed
VIOLENT IS THE WORD FOR CURLY (1938) Class is in session at the exclusive Mildew College for women, where Professors Howard, Fine and Howard teach the shapely student body their famous nonsense song, "Swinging the Alphabet."
YOU NAZTY SPY! (1940) The King of Moronica is overthrown, and three paperhangers are chosen to take his place: Dictator Hailstone, Field Marshal Gallstone and Minister of Propaganda Pebble. New to DVD!
NO CENSUS, NO FEELING (1940) Three gung-ho census-takers let nothing stand in their way of an accurate count, whether it be crashing a fancy bridge party, spiking drinks with Alum or invoking a riot at a professional football game. New to DVD!
AN ACHE IN EVERY STAKE (1941) When three icemen agree to help Mrs. Lawrence prepare a fancy birthday party, their particular specialty ? an exploding, gas-filled cake-goes off with a bang. New to DVD!