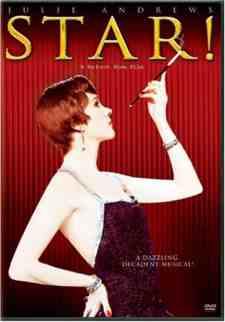 Star! On DVD
Julie Andrews is far better than the movie itself in this musical that has all the elements of greatness, but which ends up being ponderous in the extreme.
Robert Wise, whose movie musical credentials are first rate (West Side Story, The Sound of Music) directs William Fairchild's script based on the story of Gertrude Lawrence, British musical star from the era of vaudeville. According to the picture the movie paints, Lawrence was the Barbra Streisand of her day – at least the Barbra of the 1960's and early 70's before she became a self-serious parody of herself – a singer and actress at the top of her game and at the top of the world of celebrity.
There' so much to like about this movie it's a shame that it ultimately ends up being a bore.
We loved the gimmick of the overture, which is performed "live" by an orchestra in an orchestra pit in front of the closed curtain and proscenium arch of an appropriate theater. We loved the music throughout the film as well.
And we came away from Star! even more in awe of Julie Andrews' incredible talent than we were before - and that's saying something. She sings, she dances, she acts, she shows incredible timing and coordination – this woman can do anything!
The musical score includes some great numbers from the Gershwins, Cole Porter, and Noel Coward (who is wonderfully played here by Daniel Massey). Massey is great, and would probably have stolen any other movie, but Julie Andrews is so good that everything else pales in comparison.
Also along for the ride include such journeyman actors as Richard Crenna and Robert Reed as some of Gertie's suitors.
But this is Julie's film and she deserved another Oscar for Star!
The DVD's pretty good. The picture, presented in anamorphic widescreen (16x9 TV compatible), is sharp and bright and colorful and very pleasant. Audio is supposedly Dolby Digital 5.1 surround and while you can pretty well forget about the ".1" and the surround, the overall musical quality (which is all that really matters in this case) is pretty good considering its 1968 origins.
You also get a decent selection of extras:
• Commentary by director Robert Wise
• "Star! The Sound of a Legend": original 1968 production featurette
• "Silver Star": 25th anniversary featurette
• Julie Andrews and Daniel Massey screen test
• Still galleries, trailers, and TV spots
So while Star! is ultimately not a successful movie, it's a must see for fans of Julie Andrews, or for people who've heard of this legendary talent's skills but who may have never seen her beyond The Sound of Music or Mary Poppins (both excellent films but which appear to be comparative walks in the park so far as stretching her skills is concerned).
Star! from 20th Century Fox Home Entertainment
173 min. anamorphic widescreen (2.20:1, 16x9 TV compatible), Dolby Digital 5.1 surround
Starring Julie Andrews, Daniel Massey, Richard Crenna, Michael Craig
Produced by Saul Chaplin
Written by William Fairchild, directed by Robert Wise