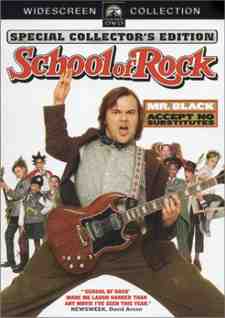 School of Rock on DVD
By Rudy Rhodes and Johnny Bray
A great rock n roll show can change the world.
Just ask Jack Black, who stars as a failed Hippster Duffus metal head guitarist in Paramount Pictures' School of Rock, co-starring Joan Cusack and a talented group of elementary school gonna-be rock stars.
Performance and charm make for an enjoyable show. Cusack is the Ice Queen wannabe-Stevie Nicks, and combine that with rock n roll references aplenty and an underlying message of being an individual and letting children explore all opportunities in finding their own identities and you have this movie.
But it's Black, with his comedic timing and delivery, that steals the show. There are times when his acting reminds us of the late Chris Farley, but it's his over the top musical performance as Meatloaf-meets-Angus Young that shine through the brightest.
School of Rock has all the elements in place for a great comedy; unfortunately it doesn't quite work as a whole. It's a little too kid-friendly, when it should have been aimed more at the generation who grew up with the music. There are a few jokes that create a laugh out loud atmosphere, but overall you can't help but be a little disappointed. It probably works great for the family atmosphere, but those looking for a Dazed & Confused-style rock n roll trip should watch Dazed & Confused.
Still, though, School of Rock is a sincere and heartfelt look at just how inspirational and powerful the dreams of rock n roll stardom can be.
One of Paramount's only hits last year, School of Rock is presented in a pretty cool little special edition featuring a great soundtrack and a wealth of extras. Presented in 1.85:1 anamorphic widescreen, the video quality is good, though not spectacular. Color and detail are fairly well done, and there's not much grain, but fleshtones look a little off, and it's pretty soft throughout.
But the audio track, in its Dolby Digital 5.1 incarnation, makes up for it. The dialogue-heavy movie uses mostly the front speakers for most of it, lulling you into a false sense of insecurity. But when the instruments start going, and Black and the kids start doing their thang, the surrounds leap into action and fill the room with the kind of rock n roll noise your parents undoubtedly hated. The separation between the instruments is very well done, giving it an authentic rock n roll show feel.
Director Richard Linklater and Jack Black provide an audio commentary for the film, with Black doing his comedy thing and Linklater doing his best to keep him in check. Equally good is the commentary by the kids in the film, who all seem wise beyond their years, and are not as off-the-wall and annoying we expected kids to be when left to do a commentary.
"Lessons Learned in School of Rock" is a 25-minute featurette that focuses mostly on Black, and so manages to avoid the typical irritation present with most promo featurettes. It doesn't have much to teach about the making-of the film, but it's entertaining nonetheless. "Jack Black's Pitch to Led Zeppelin" is exactly what it sounds like. Black and Linklater had to convince the gents of Zeppelin to let them use "Immigrant Song" in the movie, so they pitched it to them like a public service announcement, and got it.
"MTV's Diary of Jack Black" is 16 minutes of watching Jack Black do what Jack Black does, and if you're a fan of the man, you'll be a fan of the diary. The "Kids' Video Diary" is shorter and not as funny, but it shows a bit of their experiences at the Toronto Film Festival. Finally, there's a music video and a bunch of trailers to round out the disc.
School of Rock, from Paramount Home Entertainment
109 minutes, anamorphic widescreen (1.85:1) 16x9 enhanced, Dolby Digital 5.1
Starring Jack Black, Joan Cusack, Mike White, Sarah Silverman
Produced by Scott Rudin
Written by Mike White, Directed by Richard Linklater