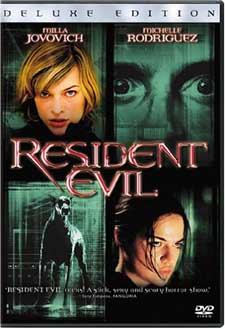 Resident Evil on DVD
Ladies and gentlemen, we'd like to present "Night of the Living Dead: The Action Movie" - now in its special Deluxe Edition
The new deluxe edition of Resident Evil is typical of DVD re-releases: it does everything it can to get you to buy it, but isn't really worth it if you already own a previous version.
So far as the plot is concerned, a deadly virus has been unleashed in a secret underground laboratory, causing people to turn into zombies. So it's up to a team of paramilitary commandos to infiltrate the base and find the antivirus before the virus escapes into the city, zombie-izing every living thing.
Milla Jovovich is Alice, a sexy amnesiac who wakes up without a clue. A team of commandos breaks into her house and claims she's one of them, and she needs to come with them on their mission. But rather than give her a chance to suit up, they drag her along in her red dress, which would be more suitable for clubbing (editor's note: not the baby seal type of clubbing). When they reach the base, one by one the team is killed off by the security system and zombies, leaving only the main characters to fight the effects of the virus.
To say any more would be to spoil the fun of the movie, which should go down in history as one of the best bad movies ever made.
The plot is tough to follow and completely inane, but it doesn't matter. You watch a movie like this to see sexy babes kick zombie butt, and that's exactly what you get. It has some good jumpy moments, cheap but cool action, and plenty of gore.
Just what you expect from a B-movie.
Director Paul W.S. Anderson (Mortal Kombat, Event Horizon), has done a good job, not trying to make the film anything more than it is.
Resident Evil will probably appeal more to fans of the video game, or those who have a high tolerance for bad but fun movies. It's not the kind you'd want to watch with the kids, but it's great to watch with friends.
The anamorphic widescreen video transfer of this new version appears to be the same as the special edition (not that there's anything wrong with that, since it's a good transfer), but the Dolby 5.1 sounds just a bit more intense. The same audio commentary (with Paul Anderson, Milla Jovovich, Michelle Rodriguez and producer Jeremy Bolt) is included, as well as a second with Paul Anderson and visual effects supervisor Richard Yuricich.
The special edition included 5 featurettes that ran for a total of about 48 minutes. The deluxe edition sports 11 featurettes that run for about an hour. With the extra 12 minutes, we learn little bits about specific scenes in the film, but so little time is spent on each that they can only say so much. The alternate ending is interesting to see, but hard to decide whether or not it's better than the one used theatrically. Finally, we get a bunch of trailers, including one for Resident Evil: Apocalypse.
Resident Evil: Deluxe Edition, from Columbia Tristar Home Entertainment
101 minutes, anamorphic widescreen (1.85:1) 16x9 enhanced, Dolby Digital 5.1
Starring Milla Jovovich, Michelle Rodriguez, Eric Mabius, James Purefoy
Produced by Bernd Eichinger, Samuel Hadida, Jeremy Bolt, Paul W.S. Anderson
Written and directed by Paul W.S. Anderson