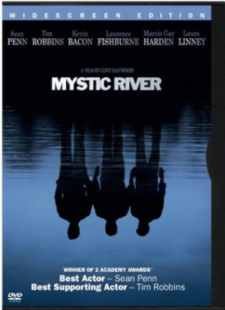 Mystic River on DVD
Mystic River is the kind of film that was made strictly for actors, directors, writers, and cinematographers to show what they're made of.
It's a tense, character-driven drama with no special effects or action sequences. It's a film that won its only two Oscars in the acting categories. It's a film that makes you appreciate a really good screenplay. And it's a film that makes you feel as if you're watching a really long episode of Law & Order that has nothing but the most talented people in Hollywood behind it.
Jimmy, Sean and Dave were friends as kids. They played hockey on the street, talked about stealing cars, and wrote their names in cement.
One day, while defacing some public property, they draw the attention of two men who appear to be cops. Dave is taken away, while Jimmy and Sean go to get help. As it turns out, the two men are child molesters waiting for a prime opportunity, and Dave provided them with such. The three boys' friendship ends, and falls into "nodding to each other on the street" territory.
Twenty-five years later, when Jimmy's daughter is brutally murdered, the three of them are brought back together as Sean is the detective in charge of the case and Dave is a prime suspect.
Having read the book, I was intrigued to see how it would be brought to the big screen. I knew it would be quite a challenge for everyone involved; they would have to get a great screenwriter, great actors, and a great director of actors. Plus, there are so many intricate details and plot elements that it would need to be a seven hour movie to get everything in there.
Enter Brian Helgeland. An Oscar-nominated screenwriter of such films as L.A. Confidential (and to lesser success, The Order), he manages to capture the power of the book while keeping the most important details in the story. The characters all still have their demons to work out, but you can't help but feel that if they'd just tell the truth from the start, they could all avoid a whole lot of crap.
Then you have Clint Eastwood. While he may not be the greatest actor in the world, and he doesn't have the most obvious visual style, you can't deny his ability to get great performances from great actors. Sean Penn and Tim Robbins both won very deserving Academy Awards for Best Actor and Best Supporting Actor, respectively. Penn blubbers his way through much of the film, but his knack for portraying several different emotions at once with such intensity almost make you feel them as well.
Robbins, who I like as an actor but not as a person, gives possibly his best performance to date. Dave Boyle is a man with problems, and Robbins does an excellent job of combining a complete lack of emotion with intense emotional fluctuations. The rest of the cast are almost as good, but their characters just aren't as significant. Kevin Bacon, Laurence Fishburne, Marcia Gay Harden and Laura Linney all deserve notice.
Unfortunately, as well made as the movie is, the story itself just feels like more of the same. We've all seen murders and investigations and fine actors as fine characters a million times before. It's the overall quality of Mystic River that makes it stand out against all the others.
If you're in the mood for a gut-wrenching, emotional tale filled with some of Hollywood's finest talent, this is about as good as it gets.
Mystic River is available in three versions: widescreen and full screen two-disc sets, and a three-disc deluxe edition that includes the film's soundtrack. We received the widescreen two-disc special edition.
Presented in 2.35:1 anamorphic widescreen, the picture quality is for the most part superb, though a little soft in places. Color and detail are perfectly sharp and crisp, and scenes set in the past feature a slightly muddy quality that works well. Audio is also very good, with a bass soundtrack that fills the room nicely. Surrounds are fairly reserved, handling only background effects like birds chirping or cars driving.
Disc one features an audio commentary by Tim Robbins and Kevin Bacon. Despite both being talented and well-respected actors, they don't seem to have a lot of interest to say. Robbins does talk a bit about motivations as an actor and director, but overall the track is pretty dry.
Pop in disc two and you'll be treated to a series of featurettes and interviews.
"Beneath the Surface" is a 22-minute series of interviews with the principal players, including Eastwood, Penn, Helgeland, Robbins, Bacon, Harden, Linney, and novelist Dennis Lehane. Development of the project is frequently discussed, as well as Eastwood's choices for actors.
Make sure you watch this feature after you've seen the movie however, because major plot details may (or may not) be revealed.
"From Page to Screen" is half the length and more script-related, and features clips from the same set of interviews.
Three Charlie Rose Show interviews with Eastwood, Robbins (each 48 minutes) and Bacon (19 minutes) are included. I always enjoy these interviews. Rose is never condescending and usually asks good questions, so the interviewees can usually talk about interesting things. We learn a lot about the movies themselves, and about the people, as well.
Finally, we get the film's theatrical teaser and trailer, presented in anamorphic widescreen and Dolby Digital.
Mystic River, from Warner Bros. Home Entertainment
138 minutes, anamorphic widescreen (2.35:1) 16x9 TV compatible, Dolby Digital 5.1
Starring Sean Penn, Tim Robbins, Kevin Bacon, Laurence Fishburne, Marcia Gay Harden, Laura Linney
Produced by Clint Eastwood, Robert Lorenz, Judie G. Hoyt
Screenplay by Brian Helgeland, Directed by Clint Eastwood