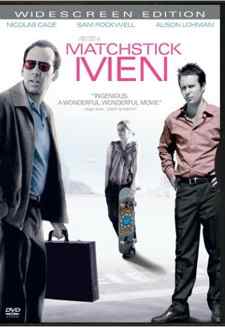 Matchstick Men on DVD
They're not con men. They're con artists.
It's no different than any other profession. It takes skill, brains, and a willingness to follow through.
Roy (Nicolas Cage) is one of the best there is, and his partner, Frank (Sam Rockwell) is well on his way. And now that Roy's 14-year-old daughter, Angela (Alison Lohman), has entered the picture, they have quite an impressive team.
The trio are planning to flimflam a flimflammee out of a lot of money, but they have to make sure Angela is up to the task. So they put her through a series of tests to find out of she has what it takes to play in the big leagues. But the stress begins to get to Roy, who's not only an agoraphobe and a germaphobe, he's also an obsessive compulsive. Sometimes it seems like he's not up to the task himself, but being the best in the biz also means getting things done regardless of the circumstances.
Matchstick Men is a cleverly written, phenomenally acted little crime caper in the tradition of Ocean's Eleven (and was also co-written by Ocean screenwriter Ted Griffin), Heist, and The Score. It's part quirky comedy, part crime thriller, and part stylish character movie.
The main problem with Matchstick Men is that it takes so bloody long to get going. For the first hour and a bit, absolutely nothing happens. Then, suddenly, everything happens so quickly that you have to stop and think to make sure what you think just happened, actually happened. It features some great twists and turns that we're pretty sure most people wouldn't see coming.
Cage is outstanding as Roy, the leader with more problems than not. You're perfectly willing to believe he has all these quirks because Cage plays him so naturally, and there's almost a hint of self-parody. Rockwell, who is one of those great, underused actors, unfortunately doesn't have quite enough to do this time around, but would probably steal every scene if he weren't playing opposite such talented individuals. Finally, Alison Lohman is equally impressive, considering she's a 21-year-old gal who seems to have no trouble looking and acting exactly like a 14-year-old.
Ridley Scott brings his veteran talent to the film, focusing as much on the characters as on the story. Had it not been done this way, the film probably wouldn't have worked nearly as well.
It may not be bringing us anything brand new, but Matchstick Men is worth checking out for the performances alone. It doesn't hurt, either, that it has an eventually compelling plot to keep you wanting to watch. A very high recommendation for fans of the genre.
While it wasn't exactly a monster hit, the movie still gets a very nice DVD package that features the kind of making-of documentary we don't see nearly enough of these days.
Presented in 2.35:1 anamorphic widescreen, the picture quality is very good overall, but has a slightly muddy tone that works well for the film. Colors are excellent with great detail and fleshtones, and no halo effect or edge enhancement. None of the whites drown out the actors' faces while the blacks don't hide anything we need to see. The muddiness works for the same reason it worked on Ocean's Eleven; but why that is, we're not quite sure.
Audio is Dolby Digital 5.1, and while there isn't a lot of surround use, the quality of what's there is more than adequate. The dialogue-heavy film is never hard to hear, with minimal volume fluctuation and front channels that share the load equally. The score manages to creep from all five speakers subtly, while some of the arguments that take place do use the 5.1 very effectively.
The DVD sports a very fine assortment of extras, including a 70+ minute documentary entitled "Tricks of the Trade." It's a video diary style look at the pre-production (25 minutes), production (28 minutes) and post-production (18 minutes). It follows Ridley Scott as he puts everything together, including the casting, costumes, and locations, then follows him during the shoot, and as he wraps everything up. It's a very well produced documentary that tells us a lot about the making of the film, but doesn't spend too much time on anything. Scott also provides a very good audio commentary for the film (which is typical of his commentaries), talking about the production, and providing plenty of tidbits to keep things entertaining. Finally, the film's theatrical trailer is also present on what is one of the best non-special edition DVDs Warner Bros. has ever produced.
Matchstick Men, from Warner Bros. Home Entertainment
116 minutes, anamorphic widescreen (2.35:1) 16x9 enhanced, Dolby Digital 5.1
Starring Nicolas Cage, Sam Rockwell, Alison Lohman, Bruce McGill
Produced by Jack Rapke, Ridley Scott, Steve Starkey, Sean Bailey and Ted Griffin
Screenplay by Nicholas Griffin & Ted Griffin, Directed by Ridley Scott