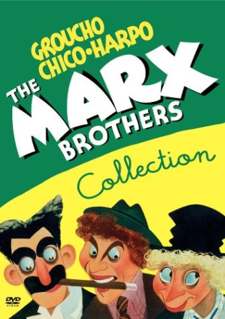 The Marx Brothers Collection on DVD
Even at their worst the Marx Brothers could still elicit a belly laugh or two, and that makes this boxed set a must own for fans.
Okay, it doesn't have my personal favorites, Duck Soup and Animal Crackers, but there's still a lot to love here. You get A Night at the Opera, A Day at the Races, A Night in Casablanca, Room Service, At the Circus, Go West and The Big Store - seven titles on five discs and how can you beat that?
Well, you also get some extras, which is even more delightful.
A Night at the Opera and A Day at the Races were the first flicks the brothers made for MGM hits, and they were well-deserved box office hits. They're also well produced – as long as you don't mind seeing the occasional wall bow outward when someone slams a door.
A Night at the Opera is the best of the bunch, as long as you don't mind sitting though some real operatic stuff, and it includes such Marx classics as the Stateroom scene, Groucho-Chico's contract negotiation, and the like, and of course it's always great to have Margaret Dumont's upper-crust persona along to be abused by Groucho and his bros. She wasn't a great actress, but she sure must have had patience!
A Day at the Races is nearly as good, but from there the quality definitely gets spotty. Go West and The Big Store are the worst, though of course that doesn't mean they aren't worth seeing. These are, after all, the Marx Brothers..
Warners has done a nice job on this boxed set including commentaries, vintage shorts (Our Gang, Robert Benchley comedies, MGM cartoons, etc.) and some later interviews (Groucho's 1961 interview with TV talk-show host Hy Gardner is particularly interesting).
The omnipresent Leonard Maltin brings his usual zesty enthusiasm and knowledge to a commentary track on "Opera" and there are some relatively redundant documentaries that, if nothing else, will give newcomers to the Marx Brothers some good background.
Video quality is probably as good as you could expect from 1930's vintage films. They're all presented in the original full frame aspect ratio of 4:3 (1.33:1), so owners of 16x9 TV's should remember this in case their TV's suffer from a burn in problem.
Audio, which of course is Dolby Digital mono, is unremarkable.
The Marx Brothers Collection, from Warner Home Entertainment
Includes
A Night at the Opera - features commentary by Leonard Maltin, All-new documentary "Remarks on Marx," Grocho on the Hy Gardner show, 2 vintage shorts, trailer
A Day at the Races - features commentary by Marx Brothers Encyclopedia author Glenn Mitchell, new documentary "On Your Marx, Get Set, Go!" 4 vintage shorts, audio-only treasures: musical outtake and more, trailer
Room Service and At the Circus - features vintage shorts, trailers, more
Go West and The Big Store - features vintage shorts, radio promos, more
A Night in Casablanca - includes Bugs Bunny in "Acrobatty Bunny" vintage short