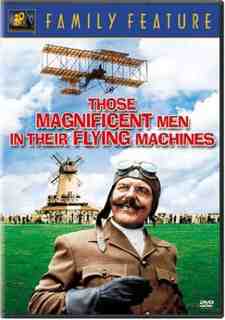 Those Magnificent Men in their Flying Machines on DVD
There were quite a few zany race-type movies during the sixties, from "The Great Race" to "It's a Mad, Mad, Mad, Mad World." This one's a British entry about a newspaper-sponsored London to Paris air race in the early days of aviation.
It's big and sprawling and looks terrific. It has its moments, too, though it's definitely not a knee slapper. It's a more staid, traditionally stiff upper lip-type of pre-Python British humor, and that's okay.
It's also nicely innocent, from a day when men were gentlemen (most of them, anyway) and women were ladies (most of them, anyway), a more polite and genteel age than the coarser society in which we live today.
The idea here is to invite the world's greatest aviators to race between two of the greatest capitals of the day (back when France apparently counted for something), and use the publicity to boost sales of the sponsoring newspaper.
That's all well and good, but what's a race movie without conflict? Well, the press baron behind the race (Robert Morley) is dead set on having a Brit win, for obvious reasons, and he charges his daughter's (Sarah Miles) main squeeze (likeably played by James Fox) to cross the finish line first for the greater good of the British Empire.
Even more conflict, albeit in a slapstick way, comes from the inevitable villain, played by Terry-Thomas. He'll stop at nothing to ensure his eventual victory, though he's also highly incompetent and more than a bit of a klutz.
And of course we must have an American involved, and in this case it's a flying cowboy (Stuart Whitman) who also has a hankerin' for Miles. And since Miles just wants to ride in an airplane – and Fox won't take her up because he's afraid of her father – Whitman becomes a handy guy to have around.
Most of the teams are stereotypes, whether Italian, German (the big cheese German is played as a stereotypical German by Goldfinger himself, Gert Frobe), or whatever. This is for its comedic value in an era before political correctness made movie makers afraid to offend anyone who isn't a heterosexual Christian white male.
It's a terrific-looking period piece, with some neat aviation technology represented in various forms, and it never takes itself particularly seriously.
The DVD's very good. Presented in anamorphic widescreen, 16x9 TV compatible, the picture quality is very good. The image is sharp, the colors are nice and there's good contrast.
Audio is Dolby Digital 5.0 surround, which means you can forget about any deep bass. There isn't a lot of surround, either, which isn't surprising for a 1960's vintage flick. The audio up front, however, is very good. The music spreads across the front very well, while the dialogue is mostly, though not exclusively, in the center channel.
They've even included the musical Entr'acte here, though it's a bit long.
Extras include a running commentary by director Ken Annakin, a "making of" featurette, photo gallery, and more.
Those Magnificent Men in their Flying Machines, from 20th Century Fox Home Entertainment
137 min. anamorphic widescreen (2.20:1, 16x9 TV compatible), Dolby Digital 5.0
Starring Stuart Whitman, Sarah Miles, James Fox, Alberto Sordi, Robert Morley, Gert Frobe
Produced by Stan Margulies
Written by Jack Davies & Ken Annakin, directed by Ken Annakin