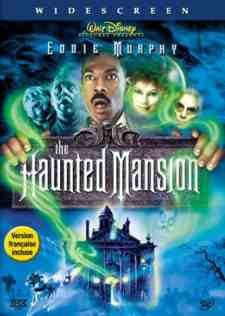 Haunted Mansion on DVD
Disney's second movie based on an attraction from its theme park, the Haunted Mansion doesn't work nearly as well as "Pirates of the Caribbean" but it's a decent family film with just enough chills to keep the kiddies on the edge of their seats without making grownups yawn.
Eddie Murphy stars as a driven real estate agent who, with his family, shows up at the mansion in question to list it for sale. It was supposed to be his wife who went there alone, for reasons we find out later, and the fact that the whole brood is there throws the house's residents into a tizzy.
Well wouldn't you know those residents are all dead and this beautiful though decrepit old home is haunted with them. And the head man of the dead thinks Murphy's wife (Marsha Thomason) is his long dead love, which leads to the conflict in the film.
Like the attraction on which it's based, Haunted Mansion works mostly because of its imagination and production values. It isn't very scary, though there are some quite funny moments (our favorite was when he scolded his daughter for slamming the door of their new BMW 7 series, then apologized to the car for his daughter's slight of the fine vehicle).
Murphy is good in his role, as are Thomason and the kids. Terence Stamp turns in a nicely soft-core menacing performance as the haunted mansion's butler as well.
The movie looks and sounds great and is suitable for all ages. So while it won't leave you on the edge of your seat, it also won't leave you embarrassed or in a cold sweat. Probably Disney's best scary flick since "Something Wicked This Way Comes."
The THX-certified DVD's up to Disney's usual standards. It's available separately in both anamorphic widescreen (16x9 TV compatible) and Pan&Scan editions. We got the widescreen version, fortunately, and the video quality is top notch. There's good detail and contrast and, since a lot of this movie happens in relative darkness, that helps.
Audio is Dolby Digital 5.1 surround and though we thought it was a tad muffled the overall sound quality is excellent, with very good use of all the channels.
Then of course there's the plethora of extras. In Disney tradition, you get a virtual tour of the manions, a bunch of DVD ROM features such as a "Morphing Ghost Host Maker" and the history of the real Haunted Mansion attraction from the Disney theme parks.
You also get an audio commentary with the film's writer, producer, and special effects supervisor, bloopers, deleted scenes and a music video.
In all, a lightweight, light hearted fright night you can watch with the kids on Halloween.
The Haunted Mansion, from Disney Home Entertainment
8 min. anamorphic widescreen (2.35:1, 16x9 TV compatible), Dolby Digital 5.1 surround
Starring Eddie Murphy, Terence Stamp, Wallace Shawn, Marsha Thomason, Jennifer Tilley
Produced by Don Hahn, Andrew Gunn
Written by David Berendbaun, Directed by Rob Minkoff