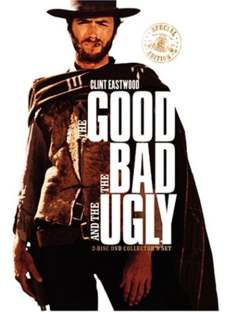 The Good, the Bad and the Ugly on DVD
Clint Eastwood is the good, Lee Van Cleef is the bad, and Eli Wallach is the ugly in this final entry in director Sergio Leone's spaghetti western trilogy.
It's a sweeping epic in which the three main characters form a variety of alliances of convenience in their ruthless quest to find a cache of Confederate gold.
It's also a gritty and at time violent western, where Leone brings a weathered and "lived in" look to the old west and isn't afraid to mess up his stars' faces in order to propel the story onward.
This new DVD is of the restored "original" version of the film that was edited down before its US release back in the 1960's. And it's a great disc, with a picture quality that at times is spectacular (though at other times we noticed some grain) and with audio that's probably about as good as they can get from the original tracks.
This two-disc special edition of the movie includes some 14 minutes of previously cut scenes, and to pull it off they got Clint Eastwood and Eli Wallach back into the editing suite to add their voices to scenes that had never been dubbed into English back then.
The extra material is good to have. There's nothing that really jumps out at you with a "Wow!", but it's still good to have the movie accessible the way Leone originally wanted it. And you get some pretty good background that was missing before.
The anamorphic widescreen picture is accompanied by a Dolby 5.1 soundtrack. There's good use of the surrounds and of the three main front channels, though we thought that sometimes they put voices off screen, from the left or right speakers, and while we understand why they did this (the faces are off screen, too), it's a little disconcerting at times.
Disc One also includes a running commentary from film historian and reviewer Richard Schickel. Disc Two has lots of extras, including featurettes on "Leone's West" (20 mins.), "The Leone Style" (24 mins.), and "Reconstructing The Good, The Bad and The Ugly" (11 very interesting mins.), as well as a documentary "The Man Who Lost the Civil War" (15 mins.).
And that isn't all. There's also an appreciation of composer Ennio Morricone whose score for this film is so memorable, Tuco's extended torture scene and a reconstruction of the "Socorro Sequence." It's a lot of good stuff.
You even get some collectible poster of the movie, in different languages.
In all, not a perfect but indeed an excellent presentation of a western classic.
The Good, the Bad and the Ugly, from MGM Home Entertainment
179 min. anamorphic widescreen (2.35:1, 16x9 TV compatible), Dolby Digital 5.1
Starring Clint Eastwood, Lee Van Cleef, Eli Wallach
Produced by Alberto Grimaldi
Written by Age Scarpelli, Luciano Vencenzoni and Sergio Leone, directed by Sergio Leone