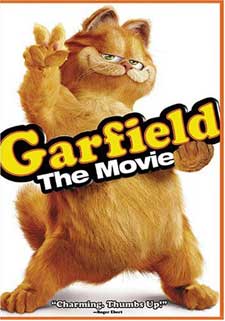 Garfield: The Movie on DVD
Garfield: The Movie is an inappropriate title for this film.
It should have been called "A Movie About a Cat Named Garfield," because the Garfield in the movie isn't the Garfield we grew up with.
Sure he's fat, lazy, selfish, and loves lasagna, but that doesn't make him Garfield. In fact, this version of the cat has no qualms about running and jumping all over the house, running from dogs, or dancing up a storm.
As the movie opens, Garfield (voiced by Bill Murray) goes around and does his thing for a while, either to show us what a typical morning with him is like, or to stretch the movie out to 80 minutes, (we're not quite sure which). Jon (Breckin Meyer) comes home just in time to take Garfield to the vet, because Jon has a crush on the sexy veterinarian (played by Jennifer Love Hewitt).
That's about the time true Garfield fans start throwing popcorn. In the comic strip, Jon has little to no luck with women. Period. Now, in this first act of the movie, Jon gets a date with a major hottie who thinks he's the greatest. Oh yeah, and the vet asks Jon to take in a mutt named Odie, much to Garfield's chagrin. In the comic strip, Odie doesn't do much other than take abuse from Garfield, who frequently gets the one-up on him. In the movie, Odie constantly one-ups Garfield, which has happened no more than a handful of times in the comic.
So when Odie is dognapped by a nasty trainer looking for his fortune, Garfield – who may have been at fault for Odie's disappearance – has to go out on his own to try and rescue the irritating (but somehow lovable) canine.
It's hard to fault a movie that tries desperately to please its target demographic. There are plenty of kid-friendly jokes here, and most young 'uns probably aren't as familiar with the cat as some of us. But for adults, none of the jokes seem to click, and we can't help but be angry with the filmmakers for so blatantly ignoring the Garfield we know so well.
Bill Murray was probably the only logical choice for the voice of the cat. After all, the cartoon Garfield was voiced by Lorenzo Music, who also provided the voice of Peter Venkman in the toon The Real Ghostbusters and Carlton the Doorman in the old "Rhoda" TV series. And in the movie Ghostbusters, Peter Venkman was, of course, played by Bill Murray, so it's kind of a case of the "circle being complete".
Now, we can understand that certain changes have to be made to bring a comic strip to the big screen, but they clearly didn't have enough ideas to make making Garfield worthwhile, so they should have just moved on. But if they'd done that, we wouldn't have anything to whine about right now. So maybe it's not all for naught.
Garfield: The Movie should be avoided by anyone over the age of 12, and by anyone who loves the classic cat. If they hadn't changed the characters almost beyond recognition, the movie could have been a greater success.
20th Century Fox appears to be undergoing some personnel changes. The studio that for a long time made the best DVDs out there, seems to be turning 180 degrees around. Films that would normally receive two-disc special editions are often only single discs, and in the case of films like Man on Fire and Garfield, have little to no extras at all. What you do get, however, is an "Inside Look," which is a shameless promotion of other titles soon to be released by Fox.
That being said, this is a pretty lame DVD. The disc features both 1.85:1 anamorphic widescreen and full screen transfers, and while the colors are pretty darn sharp, the picture looks extremely soft and is beaten down by the occasional grain-filled scene. Detail of the characters, and particularly the CGI Garfield, is good but the fleshtones on the actors are pretty dull.
Audio is presented in Dolby Digital 5.1, but there's not much going on. Dialogue and score seem to use mostly the center channel, while sound effects occasionally use the other two front speakers. Surround use is pretty much nonexistent.
Extras include nothing more than the aforementioned "Inside Look," in which we get to watch for four minutes as Chris Wedge (director of Ice Age) talks about his upcoming project, Robots. We have to say that the movie actually looks pretty good, but we object to our DVDs used solely for marketing purposes when we don't even get a lousy audio commentary. Fox better get their act together, or there'll be plenty of bad DVD reviews to come.
Garfield: The Movie, from 20th Century Fox Home Entertainment
80 minutes, anamorphic widescreen (1.85:1) 16x9 enhanced, Dolby Digital 5.1
Starring Breckin Meyer, Jennifer Love Hewitt, Stephen Tobolowsky and Bill Murray
Produced by John Davis
Written by Joel Cohen & Alec Sokolow, Directed by Pete Hewitt