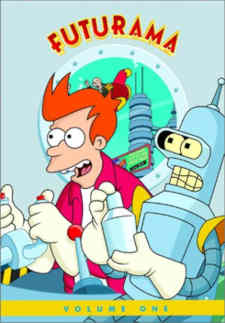 Futurama: Season One
If you've ever wanted a comical look into the future (1000 years into the future to be exact), you could start by checking out Futurama, from Simpsons creator Matt Groening.
In the year 1999, Fry is a miserable pizza delivery boy who wishes for nothing more than a better life. One night, he accidentally steps into a cryogenic freezing chamber and awakens exactly 1000 years later. After escaping from those who want to permanently implant a delivery boy chip into his hand, he seeks out his closest living relative, befriends a one-eyed alien and becomes an intergalactic…delivery boy.
The show then follows the various adventures of Fry and his companions in the 13 episodes that make up season one.
Obviously trying to recreate the success of The Simpsons, Futurama features the same kind of humor, but is not as well written. Some episodes are definitely very amusing and rival The Simpsons in cleverness, but overall it doesn't deliver as consistently (although in all fairness, The Simpsons took a couple of seasons to really find its feet)
"Fry & The Slurm Factory" is quite possibly the most enjoyable of the lot, parodying Willy Wonka and the Chocolate Factory. Fry wins a tour of the Slurm factory, but is horrified to discover the secret ingredient. The weakest is probably "The Series Has Landed," the second episode of the season, which finds the crew on the moon. It means well enough, but it's just not overly funny.
Trying to give us everything we love about The Simpsons, the opening to Futurama even features a varying element, much like The Simpsons' couch gag and chalkboard. When the title comes across the screen, we get a different subtext every time, such as "In Color" or "In Astro-Vision." Again, it's not as clever as the oft-mentioned Simpsons, but it's a noble effort.
Before it sounds like we're putting down Futurama, we should say that it is an entertaining enough show (infinitely more so than most of the crap on TV). It's hard to put aside time to watch it every Sunday night when it doesn't always deliver, but now that it's on DVD and we can watch it when we want, it's that much more satisfying. Fans of the show should not hesitate to pick up this set.
Especially when the presentation is so good. Few TV shows get this kind of treatment, including The Simpsons.
Presented in full screen, unfortunatetly in this time of changeover to widescreen HDTV, the picture is actually pretty good. We wouldn't expect reference quality here, so the fact that it's as good as it is makes us happy enough. It's clean, and looks better than it does on television, so we can't complain. The audio should have been 5.1 Dolby Digital, but is only 2.0 surround. Again, we can't really complain since this is merely a TV show, but it's still nice to have the best possible sound. Obviously, the rear surrounds are never used, but the front channels are used very effectively. Most of what you want is in the dialogue, and you can always hear it perfectly clearly, so at least you get what you need. But being a semi-sci-fi kind of show, it probably could have benefited greatly from a 5.1 track to use during the space or "action" sequences.
Extras include an audio commentary for all 13 episodes by Matt Groening and select other cast & crew members (but not the same for every commentary), deleted scenes on select episodes (all of which should have been left in the show), animatics, scripts and storyboards for the pilot, a concept art gallery, and a very short (less than 5 minutes) but amusing featurette.
This is a very nice presentation; now if only we can get the rest of The Simpsons seasons.
Futurama: The Complete First Season, from 20th Century Fox Home Entertainment
299 minutes, 1.33:1 full screen, Dolby Digital 2.0 surround
Starring Billy West, Katey Segal, John Dimaggio
Created by Matt Groening and David X. Cohen