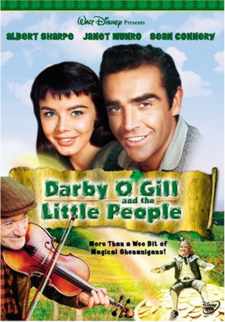 Darby O'Gill and the Little People on DVD
Back in the golden age of the Walt Disney studios they released not only classic animation, but classic live action films as well. Such titles as "Old Yeller," "The Swiss Family Robinson" and "20,000 Leagues Under the Sea" – and many more – established Disney's studio as not only a creator of great storytelling, but of innovative and family friendly fare as well.
Hence Darby O'Gill and the Little People, a delightful 1959 musical fantasy that features great entertainment, wonderfully creative special effects and an early performance by a young Sean Connery in which he sings his way into a young girl's heart.
Darby O'Gill (wonderfully portrayed by Albert Sharpe) is a very underestimated Irish fellow. He looks and sounds like an amiable dunce, a boozy teller of tall tales. But when he talks about his experiences with Brian Connors, King of the Leprechauns, he isn't just whistling Dixie (or should we say "whistling Dublin?"), as we learn through the course of the movie.
But Darby has problems. In his advanced years he's more fond of telling tales about the wee folk than doing his job of estate keeper, so his boss brings in a new man, Michael McBride (Connery), to replace him – though Darby's given a very good retirement package. But Darby's used to working, or at least playing at working, and doesn't know what will happen to himself and his daughter (Janet Munro) when he has to leave his home and turn it over to McBride.
But it looks as if things may work out alright for him when he manages to capture the King of the leprechauns himself (Jimmy O'Dea, in a marvelously fun performance). He's granted three wishes – and only three – and that leaves him with the challenge of what to wish for that can't be twisted against him by the wily King.
There's music and magic and marvelous special effects (most of which, according to the supplementary material, were actually done in camera without the use of opticals!) in this flick, the result being that this is the Walt Disney Studio at its absolute innovative best.
Incidentally, director Robert Stevenson would go on to helm another Disney masterpiece a few years later: Mary Poppins.
Albert Sharpe's "Darby" is worth the price of admission, but he's even better in the scenes where he's interacting with O'Dea's King Brian. And Connery fans simply must see him in action here; we can't think of too many films in which he's the romantic lead, let alone a singing character (other than a couple of lines in "Dr. No"), and he's very good.
The DVD is excellent. Unlike many Disney releases, this one doesn't feature a THX-certified transfer, but despite that the overall quality is just fine, thank you very much. It's presented in its original full frame (1.33:1) aspect ratio, which unfortunately isn't 16x9 TV compatible (so you'll have to stretch and/or zoom the picture to fill the wide screen if your set is prone to burn in) but we'd rather have the original version than something artificially cropped.
The colors are rich and the image is sharp and bright, just what we want from a film with such great color and design as this.
Audio is Dolby Digital mono and it's fine, though we noticed that the level on the movie is quite a bit lower than it is on the menus, which was kind of annoying.
You get some great extras, too. First up is a short featurette on Connery and his Disney experience, featuring the contemporary Connery himself. Then there's "Little People, Big Effects" a look at the movie magic that went into the creation of Darby O'Gill and the Little People. Last up is "I Captured the King of the Leprechauns," a full length episode from the Walt Disney TV series.
Darby O'Gill and the Little People, from Walt Disney Home Entertainment
91 min. full frame (1.33:1, not 16x9 TV compatible), Dolby Digital mono
Starring Albert Sharpe, Janet Munro, Sean Connery, Jimmy O'Dea, with Kieron Moore, Estelle Winwood, Walter Fitzgerald
Written by Lawrence Edeward Watkin, directed by Robert Stevenson