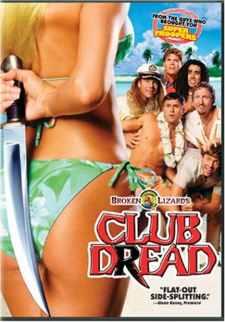 Club Dread on DVD
It seems so commonplace now that a group of people vacationing on a paradise island will inevitably end up being chopped to bits by a homicidal maniac.
Broken Lizard's Club Dread does what Scary Movie did: its best to make a parody of the whole slasher movie phenomenon. But it ends up being a mildly amusing disappointment.
After Broken Lizard released Super Troopers, a hilarious low-budget comedy, expectations were high for Club Dread. But Broken Lizard appears to be a one-hit wonder, having already run dry of good ideas. Club Dread seems more of an excuse for the troupe to fly to a tropical location and have beautiful women strolling around in revealing outfits.
Not that there's anything wrong with that.
We're sure you already know the story: Coconut Pete's Pleasure Island is a great place to have a great time, but when people start turning up dead, it's up to the employees to find out who the killer is and stop him before he kills them all.
Upon discovering that Broken Lizard's next project would be a slasher spoof, fans got a little insecure. It had been done before, and not been done well. But the Broken Lizard team seemed as if they could handle the task.
Apparently not.
Club Dread offers very few laughs, and the laughs that are available are more like moderate chuckles. Too much time is spent trying to make us jump and not enough time is spent trying to make us laugh. It seems the director wanted a project in which he could show off his chops a little more.
The running gag takes horror spoofing to the next level. In other movies, there are a bunch of "fake jumps" that entail a character running from the bad guy and being grabbed by someone, only to discover it's another good guy. Club Dread has it happening up to three times in a row, over and over throughout the movie. If that's all the goods they had, they should have made a different movie.
On the plus side, there's a lot of good scenery in the film. Beautiful women in bikinis are all over the place, and they're never shy. But there isn't enough blatant, gratuitous nudity to make it worth watching (though in all fairness there is a little).
Club Dread is an unfortunate failure all the way around. The potential was there, with a potentially great comedy team behind it, but once again it was done all wrong. Recommended only for those trying to settle their curiosity.
Super Troopers was a surprise hit a few years ago, raking in over $20 million on a budget of $6 million. Club Dread was a bomb even by Fox Searchlight standards.
The DVD features both widescreen and full screen versions, Dolby Digital 5.1, and an audio commentary by the crew. Color and detail are done pretty well, and there's not much grain. There's an abundance of skin in the movie, and fortunately the fleshtones are good as well. A few scenes look a little washed out and muddy, but overall it's pretty good.
The audio is okay, but as is typical of this kind of film, the surrounds aren't given much to do and the rest of the speakers are just doing what they do as well as they can. Dialogue, score and sound effects try to share the front channels, and for the most part do a good job, except during some of the more "intense" scenes, where the dialogue is a little muffled.
The audio commentary by the Broken Lizard team is more amusing than the movie, but gets tiresome pretty quickly.
Club Dread, from Fox Searchlight Pictures
104 minutes, anamorphic widescreen (2.35:1) 16x9 enhanced & 1.33:1 full screen, Dolby Digital 5.1
Starring Jay Chandrasekhar, Kevin Heffernan, Steve Lemme, Paul Soter, Erik Stolhanske, Brittany Daniel and Bill Paxton
Produced by Richard Perello
Written by Broken Lizard, directed by Jay Chandrasekhar