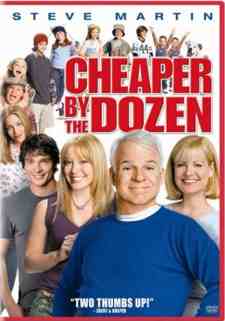 Cheaper by the Dozen on DVD
Steve Martin stars in yet another fatherly role, this time as the patriarch of a family that – obviously – has a total of twelve children getting underfoot in their small home.
Bonnie Hunt is his wife, Kate, and she's as good as Martin in this – and really deserved to have her name next to his above the title. But such is life.
He's a small time football coach, she's a stay at home mother who writes. The family as a whole loves to love each other, fighting like siblings do, and the entire shebang makes for a wonderfully raucous household.
Hey, this is a boisterous family, but it's a functional one – something Hollywood doesn't seem to portray very often so let's enjoy it while we can.
Since Hollywood at large isn't great at turning out family flicks that don't either pander or miss their mark completely, we didn't expect much going in. But we were very pleasantly surprised. This is a movie that a family can enjoy and that parents can enjoy watching with them; there's fun action for the kids and parents will identify with just about everything that's going on here – they may not have experienced it "x 12," but they've certainly been through enough of it!
Things start to fall apart for the family when Tom (Martin) gets offered his dream job: coaching a top college team. This means moving from their beloved small town house, uprooting the entire family and throwing their lives into a tizzy, but they do it. And just when they arrive in their new, upper crust and snotty neighborhood, Kate sells her book and must head off to New York and parts west for a book tour – leaving Tom to balance a challenging and time consuming new career and the family unaided.
Naturally, all hell begins to break loose.
Martin and Hunt are very good in their roles as the long-married couple who still love each other and find each other attractive. They wear their huge family like a comfortable pair of sweat pants and you can believe them. Martin, an underrated actor at the best of times, does a good job in these "Spencer Tracy-like" parent roles (though Clifton Webb had this role in Fox's original "Dozen") such as "Father of the Brides." Bonnie Hunt is also underrated; here she's warm and sexy and maternal, and it all works.
Then there's the motley assortment of kids, played by such names as Piper Perabo, Hilary Duff and Tom Welling – and current teen heartthrob Ashton Kutcher is also along, in a role where he gets to make fun of his on screen self.
The DVD's good, but not the greatest. The picture, presented in anamorphic widescreen (and Pan&Scan on the flip side of the disc), is pretty sharp but the colors are a little smeary. Audio is Dolby Digital 5.1 surround and while the quality's fine, it could have used a little more "oomph."
Extras include a full length running commentary by director Shawn Levy, and a "gang commentary" by the "Baker kids." You also get some deleted/extended scenes with optional commentary, "Director's Viewfinder" feature, and more.
Cheaper by the Dozen, from 20th Century Fox Home Entertainment
98 min. anamorphic widescreen (1.85:1, 16x9 TV compatible)/Pan&Scan (1.33:1, not 16x9 TV compatible), Dolby Digital 5.1 surround
Starring Steve Martin, Bonnie Hunt, Hilary Duff, Tom Welling, Peper Perabo
Written by Sam Harper and Joel Cohen & Alex Sokolow, directed by Shawn Levy