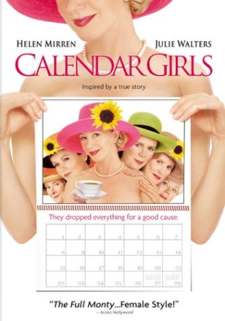 Calendar Girls on DVD
Given the excellence of such recent British offerings as "The Full Monty" and "Waking Ned Devine," we expected Calendar Girls to be pretty good.
It wasn't. It was exquisite.
Calendar Girls truly takes you on an emotional journey in which at one point you're laughing out loud, and a few minutes later your eyes are welling up with tears, then shortly after that you're laughing again. It's more than a comedy, more than a drama – and best of all it's a true story.
That story, for those who've been living under a rock, is about a group of Yorkshire housewives who bare their souls and their bodies to create a Women's Institute charity calendar so they can raise money for leukemia research. It's a look into the lives of some very real women, with real hopes and dreams, and problems – as well as a fascinating look at these ladies' trip through Andy Warhol's infamous "15 minutes of fame."
Helen Mirren stars with Julie Walters and a supporting cast of excellent, though not well known in North America, actors. Mirren is Chris, a bored housewife who always seems to have great ideas, though they generally blow up in her face. Walters is Annie, whose beloved husband begins his losing battle with leukemia early in the film and becomes the inspiration for the calendar stunt. Both of these actresses are outstanding in their roles, though the cast is so good uniformly that Mirren and Walters don't overshadow them.
The plan is for these middle aged (but at their most glorious) women to pose nude for a calendar – hoping that the "girly" (womanly?) pictures will prove more profitable than the boring landscapes they usually inflict on the public. And of course they're successful: their calendar sparks interest on both sides of the Atlantic (at least) and ends up raising hundreds of thousands of dollars for leukemia, as well as buying the sofa for the local hospital that was their initial modest goal.
And the movie shows us all of this, but there's so much more to it as well, from the soul searching before the decision to pose to the angst of the Womens Institute powers that be who are afraid of being embarrassed, to the reactions of friends and family members to the event, to the humorous embarrassment of the actual photo shoot.
Calendar Girls is a funny and moving story, and it deals with such big issues such as friendship, loss, the perils of fame, and the consequences of one's actions. It's a special movie that cries out to be seen and enjoyed by all who value a good story well written, acted, and directed.
It's also an excellent DVD. The picture, which is presented in anamorphic widescreen (16x9 TV compatible), is first rate. The image is overall a tad soft, but this is more due to the cinematography than a flaw in the digital disc and because of that the softness works to the DVD's advantage. It's kind of a look at life through rose colored glasses – even some painful and comparatively ugly parts of life. Colors are rich and deep and textured and the overall result is as artistic as the calendar photos of which the movie makes so much.
Audio is Dolby Digital 5.1 surround and it is reference quality. There isn't a lot of rear channel use, but the overall separation is superb and the music and dialogue are always balanced beautifully. You hear everything, the way it should be heard.
We were also particularly thrilled with the extras, not because there are so many of them but because they gave us a chance to meet some of the real women whose stories are told in the movie, thanks to a couple of short documentaries in the "extras" section. There's also a selection of deleted scenes.
Is this a perfect movie? Who knows? But it probably comes as close to being the perfect movie as anything else we've seen recently – and we've seen a lot of flicks!
Calendar Girls, from Touchstone Home Entertainment
108 min. anamorphic widescreen (2.35:1, 16x9 TV compatible), Dolby Digital 5.1 surround
Starring Helen Mirren, Julie Walters
Produced by Nick Barton, Suzanne Mackie
Written by Tim Firth and Juliette Towhidi, directed by Nigel Cole